RSSBy The Numbers
Thousands of people, many of them not yet born, stand to benefit from the generosity of Paul Metzger, the Laurel farmer who left $38 million from his estate to St. Vincent Healthcare and the Billings Clinic.
What's next in corporate travel technology? Your smart phone is your hotel room key? Yes, it's on its way and in some cases, already here.
Monthly Features
NEW YORK — Amazon is taking direct aim at mobile payment systems such as Square by introducing the Amazon Local Register, a credit card processing device and mobile app designed to help small business owners accept payments through their smar…

Colter DeVries, a business relationship manager with Wells Fargo Bank in Billings, has been getting a firsthand view of the energy boom in North Dakota and Eastern Montana. When bank managers said they were looking for somebody to help grow b…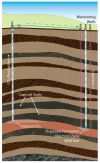 The effort to address climate change has gone underground, in a matter of speaking.