Monthly Features

Downtown Billings is losing two trendy clothing shops, while Shiloh Crossing will soon celebrate another arrival.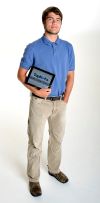 Magnus Johnson got a jump on a business career years before he was old enough to drive. His company, MagMHJ LLC, is a technology company that specializes in website development and other services.
Consumers saved an estimated $168 million in electricity last year as a result of improved efficiency of television set-top boxes, the industry said in a recently released report.