When Travis Stimpson was discussing his new restaurant venture with his partner, a theme began to emerge.
A longtime Billings chef is aiming to make the far West End of Billings a destination for lo…
His partner, attorney John Heenan, wanted something in his West End neighborhood. The two wanted something with a community feel.
"The words 'neighborhood' and 'community' kept coming up for us. … We talked about keeping it small, but unique to the area and Montana," said Stimpson, 36, a chef in Billings for the past 14 years.
They settled on the name Local Kitchen and Bar and extended the concept to all aspects of the place. Summer salads feature carrots and tomatoes grown in backyard gardens. Beer from Carter's, a Billings brewery, is served from the tap. Beef is sourced from Stimpson's family ranch south of Lodge Grass. The walls are adorned with paintings by Billings artist Chance Robinson.
Additionally, the restaurant donates profits one day a month to a local charity, which helps the community and gives Local customers more buy-in to the restaurant's success, Stimpson said.
"It's really, really working well for us," he said.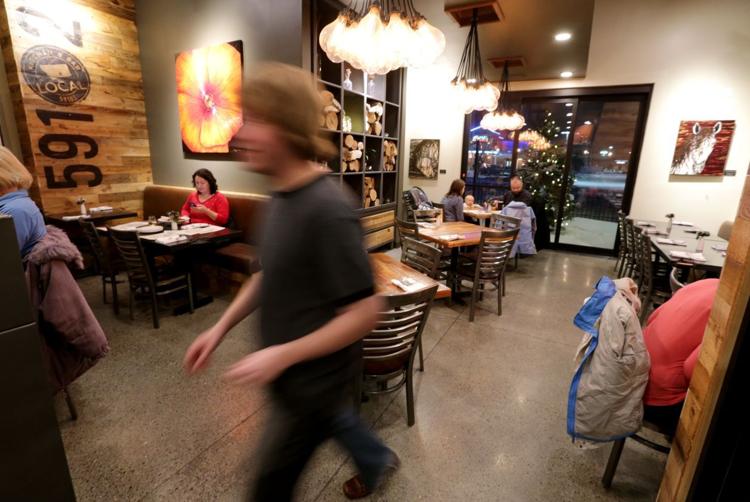 Local opened Sept. 21 at 1430 Country Manor Blvd., site of the recently shuttered zpizza. The restaurant is on the end of a strip mall facing the busy Grand Avenue near the intersection of 40th Street West, near the western edge of the city.
John and Meagen Heenan had an inspired idea. With a shared love for fine food, craft beer an…
Stimpson said he'd considered building in a vacant spot about a block away but jumped at the chance to lease his current space. Formerly a chef at Walker's American Grill & Tapas Bar and Lilac downtown, Stimpson said he wanted to bring the feel of Billings' core to its western edge.
It's a good spot to grow the business as development pushes westward, bringing more traffic and activity around Local, Stimpson said.
"As this develops, we still want to be in the center of a community," he said.
Heenan financed most of the $420,000 to $480,000 to gut the former zpizza location. The two also obtained a loan from U.S. Bank.
Stimpson said they had originally planned to spend much less, closer to $100,000, but increased their budget when they realized how much work it would take. They're betting a core customer group will put them on pace to recoup the investment.
"If we can generate a good following, then we can survive that," Stimpson said.
Local's menu is pure Montana: bison hash, steaks, burgers, lamb shank, chicken, soup, pizza. Stimpson, who started cooking on the family ranch, adds his own style to dishes, such as beer-battering cauliflower in buffalo-style sauce for an appetizer.
Local is open for dinner from 4 to 10 p.m. Monday through Saturday. The restaurant also serves weekend brunch from 9 a.m. to 2 p.m. Saturday and Sunday, which includes eggs, French toast, whole-wheat pancakes and shrimp and grits.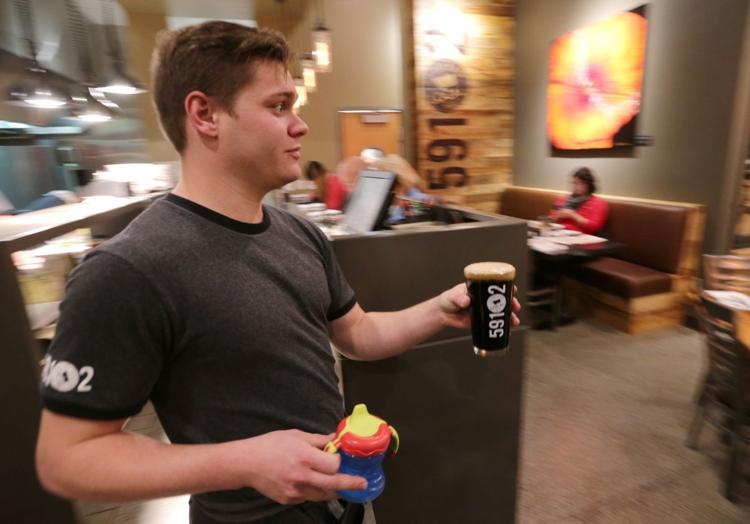 The restaurant seats 36, and reservations are usually required to guarantee a spot, Stimpson said. The number is 543-8601.
It's a tight fit during the winter, but Local opens its patio doors in warm weather, allowing even indoor diners to enjoy the sun, Stimpson said.
On the inside wall, a tall shelf is filled with chopped wood, Local apparel and other decor. The wood is fuel for the Beecher stove inside, where staff cooks the pizzas. In keeping with Local's theme, Stimpson chops the wood himself at his parents' ranch.
It's been a lot of work launching the restaurant, but Stimpson said it's worth it. After 14 years working other people's kitchens, he said he's glad he's got one of his own.
"You finally reach a point in life where you want to do your own thing and put your own stamp on it," Stimpson said.