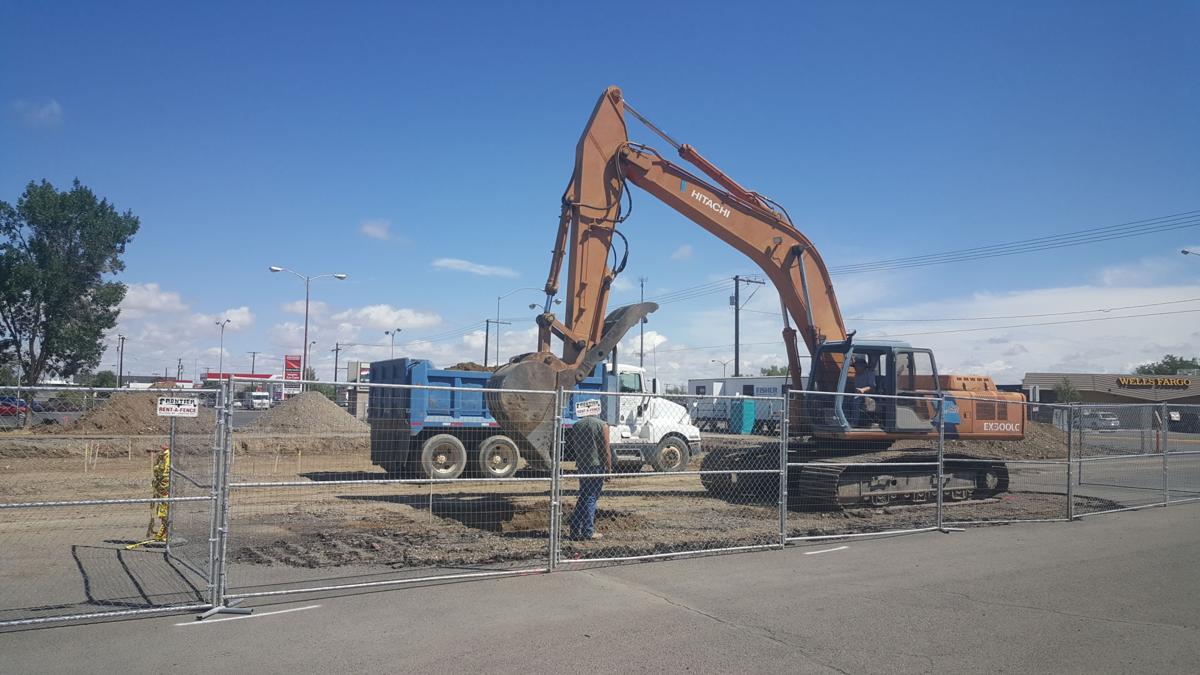 Altana Federal Credit Union has broken ground on a new 9,000-square-foot branch in Billings Heights.
The two-story branch is at 1280 Main St. between Wendy's and the former Forest Service Building. It will replace the Altana's current Heights branch in a mini-mall at the corner of Main Street and Milton Road, which is at most 1,000 square feet, according to the credit union.
The $3 million new branch will have three drive-up lanes and an ATM lane outside. Inside, Billings-based Altana is designing the building to meet changing consumer demand for branches at financial institutions.
Three teller pod stations will be set up for customers along with a technology bar and a concierge's stations, officials said.
"This free-standing facility will allow Altana to offer new technology and expand our services, while continuing to provide the convenience our members living in the area have become accustomed to. We are excited to share in the growth of this rapidly expanding area," Altana CEO Rhonda Diefenderfer said in a written statement.
The branch is expected to open this fall.
The credit union bought the land eight years ago with an eye on expansion. Billings firms Fisher Construction and CTA Architects are the contractors.
Altana, formerly known as Laurel Federal Credit Union, was founded in 1949 for employees of the refinery in Laurel. The credit union now has 18,000 members, 80 employees and seven branches in Billings, Laurel, Red Lodge and Columbus.
The credit union has total assets of $230 million.
New downtown restaurant
A Thai restaurant is taking shape in downtown Billings.
A sign outside the vacant space at 216 N. Broadway states that Imperial Thai Cuisine is coming.
The building was formerly home to Taste of India and still bears that establishment's sign above the door.
Taste of India closed in December 2014 and consolidated with its sister restaurant on the West End.
Car wash is coming
Remember the big car wash that was supposed to revitalize the industrial area near MetraPark?
Well, it's been delayed but is still expected to move to town, Tim Goodridge of the Billings Industrial Revitalization District told me last week.
The Splish Splash Car Wash is a $4 million automatic car wash, which recycles water, provides free vacuuming and can operate in sub-freezing temperatures. It would be between Fourth and Sixth avenues north near the west entrance of MetraPark.
Brett Meinberg, president of Denver-based parent company Car Wash Express, was in Billings 16 months ago touting his expansion plans inside the East Billings Urban Renewal District.
Almost not activity has occurred at the site, currently home to a used car lot.
Glendive comic convention
The nerds are coming to the badlands.
The Dawson County Economic Development Council announced this month that the Badlands Super-Con, the Eastern Montana version of Comic-Con, will be held Sept. 2-4 at the Eastern Plains Event Center in Glendive.
The three-day event will feature costumed super heroes and other characters, vendors for photography, art, sculpting, gaming, music, toys and food.
Signings with Jacky Vincent of the band Cry Venom (the former guitarist of Falling Reverse), interviews and a princess forum are scheduled.
The Glendive Chamber of Commerce will also sponsor the Badlands Super-Con Parade, and volunteers will collect food all weekend for the Dawson County Food Bank.
The event is an off-shoot of the San Diego Comic-Con International, the largest annual event of its kind. The San Diego event began 46 years ago as a way to celebrate science fiction, fantasy and comic book heroes. The events have spread nationwide and grown to include a celebration of all forms of pop culture.
Torres Cafe staying
Fear not, Mexican food lovers, the Torres Café at 6200 S. Frontage Road isn't going anywhere.
Owner Josie Torres-Quarnburg told me last week she'd gotten several calls over the past week from readers of this column, wondering if she was part of the Torres family opening Taqueria Zapotlan on Grand Avenue.
Both families are named Torres, and both had taco trucks they recently sold, but they aren't related, Josie said.
The Torres Café has been at its current location since 1994 and operated in the Billings area for 53 years.
Haikus from the valley