Have You Heard: Hardin restaurant expanding into Alpine Village in Billings; big changes at Rimrock Mall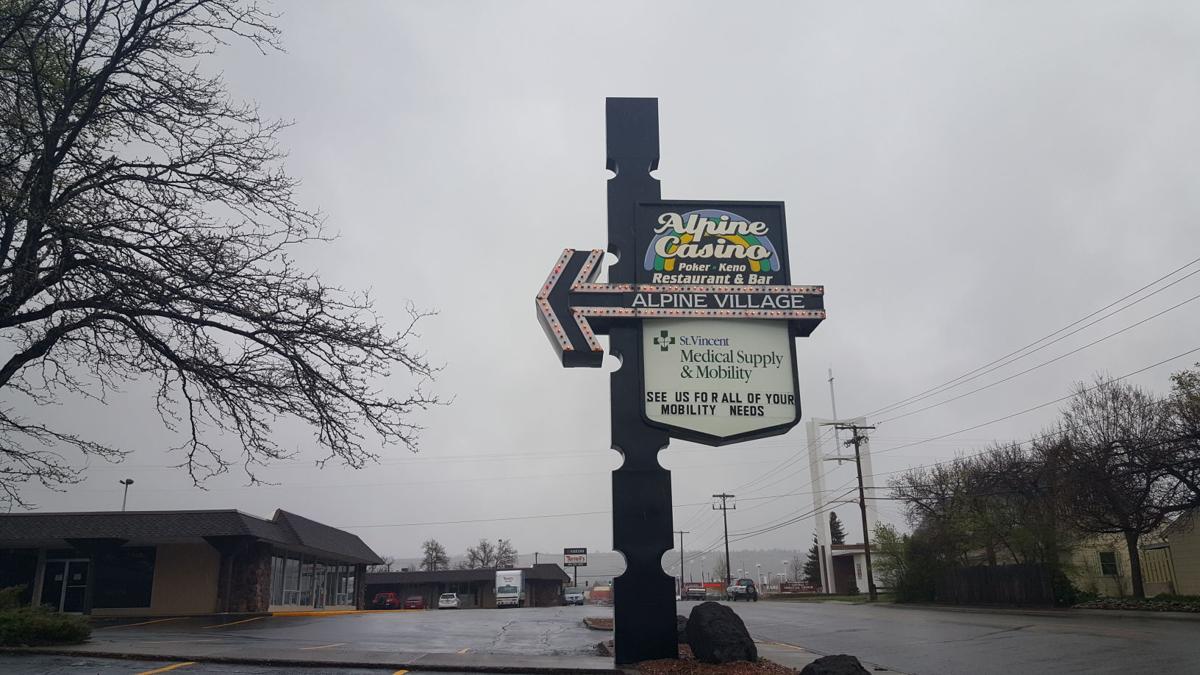 The Alpine Casino is under new ownership on Billings West End with a new restaurant inside opening in early May.
Greg and Kerri Smith of Billings bought the business last month and are expanding their Hardin-based 3 Brothers Bistro inside the casino at 1116 16th St. W. at Alpine Village.
"It just made sense. People have been coming here for years, both eating and playing. (The neighborhood) reminds us a lot like Hardin. It's almost like a little small town within a bigger town," said Greg Smith, 56.
Smith and his wife opened their first 3 Brothers Bistro in November 2014 at 316 N. Center Ave. in Hardin, about 45 miles east of Billings.
"I've always wanted to compete in Billings. I'm confident our brand will do well here," he said. The Smiths invested about $500,000 to buy the restaurant, which included the liquor license.
The restaurant inside the Alpine closed last month, but the casino and bar have remained opened. Smith said he plans to add live keno and live bingo inside the casino after the restaurant reopens.
The Smiths are also planning to "upscale" the wine and beer lists.
The new business will have 15 to 20 employees, and Smith said he's offered jobs back to all former Alpine employees. During the opening period, the Smiths will spend much of their time in Billings but are planning to develop management teams for each location.
The "3 Brothers" name refers to the Smiths' blended family: Greg's two sons, Isaac and Rainier Smith, and Kerri's son, Beau Mulvaney.
The couple formerly operated 3 Brothers Pizza in Hardin and 3 Brothers Briarwood Grill in Billings.
Smith said the good response at the Hardin restaurant prompted the expansion. Attracting a mix of locals and outdoor recreationists, 3 Brothers' business is up 36 percent compared to the previous quarter, Smith said.
"It's pretty humbling, the support," he said.
Changes at Rimrock Mall
It's shaping up to be a big start to 2016 for Rimrock Mall, starting with the January opening of a Mountain Mudd Espresso kiosk, four additional remodels and the big H&M store opening.
Last week, mall officials announced the opening of Mountain Mudd's first permanent indoor stand in Billings, serving lattes, caramel macchiatos, hot chocolate, chai and other drinks in the Rimrock food court.
Owner Tanya Weinreis now operates eight permanent kiosks, one at MetraPark during events and the Sweet Café inside Billings Public Library. The mall location opened in January.
Also at the mall, Zumiez, a specialty clothing store, underwent a remodeling to boost its women's clothing selection.
Riddle's Jewelry at the mall's center court began a remodel this month, adding a new diamond viewing technology and increasing its Pandora and Canadian Rocks Diamonds collection. The store is at its original location across the hall next to H&M during the remodel.
The clothing store Journeys is also closed for two weeks this month for remodeling. The store will reopen Saturday.
Then, the women's clothing store Vanity will close for three weeks May 2 to May 20 to undergo a storefront redesign and add space for merchandise, including graphic T-shirts, dresses and skirts.
The remodeling surrounds the mall's biggest event this year: the grand opening of Swedish retailer H&M noon Thursday inside the former Herberger's anchor space.
New lounge opens
Billings Heights has its second e-cigarette retail shop and lounge.
Old Skool Vape Society opened last month at 1749 Main St. suite A in a 2,880-square-foot space at a strip mall next to Walmart.
It's less than three miles from Vapor Craziness, which opened about 21 months ago at 315 Main St. Four other "vaping" shops, which sell modules for inhaling vapor, juices and other accessories, operate on Billings West End. All have opened within the last few years.
Beginning Jan. 1, all Montana retailers selling vaping products were required to purchase a $5 license. E-cigarettes, short for electronic cigarettes, are sold in convenience and grocery stores. Public health advocates have worried that the largely unregulated vaping juices, which often contain nicotine, could be harmful.
According to its Facebook page, Old Skook Vape Society has a lounge with a pool table. The listed hours are 10 a.m. to 9 p.m.
Montana's largest native investment firm, D.A. Davidson, has completed its expansion into Nebraska.
The Great Falls-based company announced last week it has formally completed its acquisition of Nebraska-based Smith Hayes Companies, which has three offices and 70 employees.
Smith Hayes managed about $4 billion in client assets and will take the D.A. Davidson name. Terms of the transaction were not disclosed.
D.A. Davidson is the nation's largest off-Wall Street full-service investment firm. The firm has 1,300 employees and manages $37 billion in assets.
D.A. Davidson also has an office in downtown Billings in the Hart Albin building.
FIB paying dividend
Good news for First Interstate Bancsystem shareholders: A 22-cents-per-share dividend is coming your way.
Officials for the Billings-based bank, which wholly owns First Interstate Bank, announced the dividend Monday. It will be paid May 13 to owners who held stock as of May 2.
First Interstate is one of Montana's two largest native banks with $8.7 billion in assets.
Someone who wants a trampling