Backyard Theatre presents "Almost, Maine," at Rock Creek Coffee Roasters starting at 7 p.m. Dec. 21-23.
The play is part of the company's annual senior project and is directed by Peri Russel. Admission is pay-what-you-will.
The play is set in the fictional town of Almost, Maine, a town that's so far north it's almost in Canada. And it almost doesn't exist because its residents never got around to getting organized. So it's just…Almost.
One cold, clear Friday night in the middle of winter, while the Northern Lights hover above, Almost's residents find themselves falling in and out of love in the strangest ways. Knees are bruised. Hearts are broken. Love is lost, found, and confounded. And life for the people of Almost, Maine, will never be the same.
Senior Project started three years ago to give high school seniors a chance to create a show behind the scenes and grow in the theater community.
"Theatre has had a close place in my heart for a very long time and I've always been on stage. I wanted to try behind the scenes on the creative process," Russell explained. "It has been very challenging, but has helped me grow. I appreciate all the work directors do."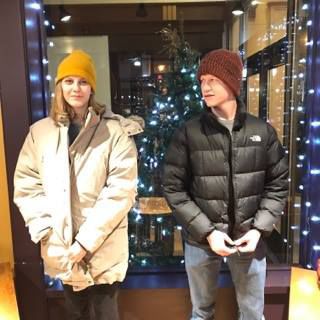 Actors Ben Scholar and Lexi Cooper have enjoyed watching their friend grow throughout the process.
"I love the theme of the show and the direction Peri has taken it," Scholar said.
Rock Creek has housed performances for Backyard Theatre in the past. The downtown venue adds an element to the show you can't get from being in a traditional space.