Noted artists Kevin Red Star and his daughter, Sunny Sky, donated an acrylic painting to Rocky Mountain College on Tuesday. 
The painting, "Thunder Bear" was presented during a ceremony in Tech Hall, which houses the Ryniker-Morrison Gallery where Red Star and Sunny Sky showed 60 works in January.
"Thunder Bear" was part of the exhibit, "Many Blessings," which included oils, acrylics, mixed media, lithographs, drawings, and watercolors in the Ryniker-Morrison Gallery.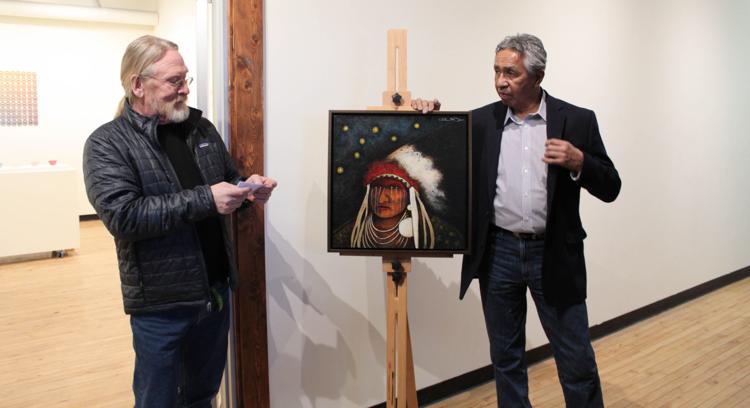 RMC President Bob Wilmouth and Mark Moak, professor of art at Rocky, thanked Red Star and Sunny Sky for their generosity and support of the college and its art programs. Rocky art students presented the artists with school baseball caps.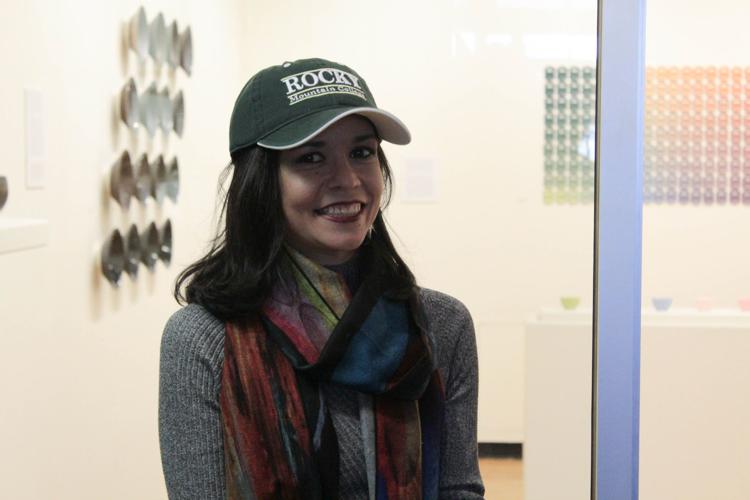 Kevin Red Star was born on the Crow Reservation in 1943. He was the middle child in his family and attended school in Lodge Grass. He grew up on a 7,000-acre ranch where he learned to hike, hunt and ride horses. He loved to draw as a young child.
At age 19, Red Star, who is now 74, was invited to attend the newly established Institute of American Indian Arts in Santa Fe, New Mexico. The goal of that school was to bring young people together and provide them with the best art education possible. Red Star studied art history, art techniques and Native American history.
He learned to compare his Crow tribe's designs to the designs of the Sioux, Cheyenne and Hopi tribes. Red Star became aware of abstract expressionist artists like Jackson Pollock, Willem DeKooning, Jasper Johns, and Andy Warhol and absorbed their ideas. He was offered a scholarship to the San Francisco Art Institute where he studied and attended exhibits at major art museums in the city. Red Star continued to study at Montana State University and Montana State University Billings.
In 1974, Red Star returned to Santa Fe as the first artist in residence at the Institute of American Indian Arts. His career and his art have taken him to Russia, Paris, Tokyo, and China, but he always returns to his home and family in Roberts. Red Star has just returned from Los Angeles where he annually attends and exhibits at the Master of the American West Show.
In 1997, Red Star was awarded an honorary doctorate degree in fine arts at Rocky.