When you walk into Fortin Gym next Friday night, you might be surprised to find 1,000 origami cranes and a forest of silhouetted trees turning the gym into a ballroom.
How does an enchanted forest fit into Rocky Mountain College's annual scholarship fundraiser Black Tie Blue Jeans?
Just ask artist Chance Robinson, who seems to have the golden touch when it comes to vision. His artwork was a big draw at the 2015 Black Tie Blue Jeans event, which raises money for scholarships for Rocky students. His two donated paintings in 2015 brought in $22,000 at the auction, helping the college raise $420,000, which was $100,000 more than the previous year. This year, the goal is to raise $500,000 for scholarships at Black Tie Blue Jeans.
Robinson, 21, is back this year designing the space to host a party for 600 guests and offering a big auction item — Chance Robinson Fine Art Studio Experience.
"I want this space to be different," Robinson said. "It's terrifying, scary to try something new. But it's how we grow."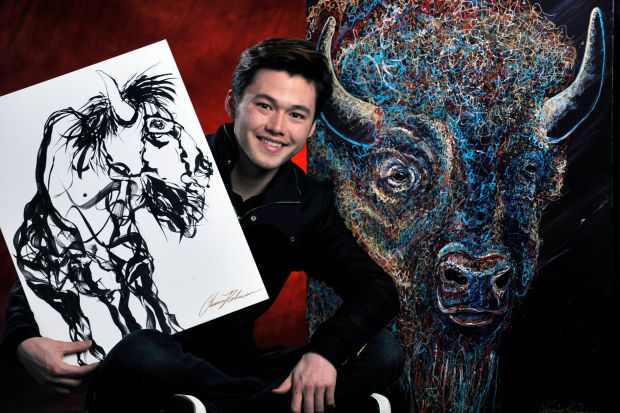 Japanese heritage
Robinson broke out as a professional artist while still a student at Central Catholic High School. He took classes at Stanford University and began developing a bold, expressive style that paid homage to his Japanese heritage. On a visit to Japan earlier this year, Robinson went through an ancient cedar forest where he photographed beautiful red-crested cranes.
Just a few months later as planning began for the Nov. 4 Black Tie Blue Jeans event, Kelly Edwards, vice president for institutional advancement, invited Robinson to design Fortin using an enchanted forest theme.
"I wanted to bring an Eastern aesthetic to a Western event, using elements of east meets west," Robinson said.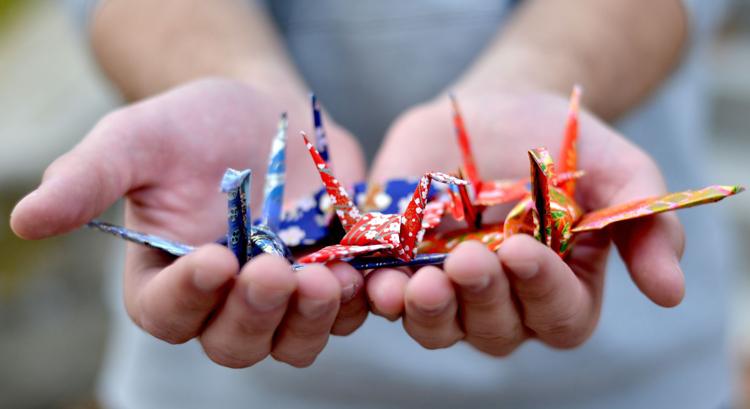 Student volunteers are helping Robinson make 1,000 origami cranes, which symbolize hope and peace and for this event, students coming into the future, Robinson said. The cranes will be incorporated into chandeliers to provide lighting for the party.
More than 100 Rocky students will also help out at the party by serving dinner and parking cars.
Robinson got his start in art taking classes at the Summer Academy, organized by Sally McIntosh.
"I had this incredible moment last year when I was walking around the campus. I remember being 7 or 8 years old and coming out of Fortin and thinking, 'Wouldn't it be cool to be a professional artist?'"
That dream came true for Robinson and now he said he wants to pay it forward by helping other students achieve their dreams.
"I love Rocky. I love the people associated with Rocky," he said.