Undeniably, there are more male chefs in Billings than female.
Organizers of this year's Zonta Sip and Savor discovered that when they lined up nine female chefs to pair with female wine experts and wine makers for the event, set for 4 to 7 p.m. on Sunday, Oct. 15 at Beyond the Box, 724 First Ave. N.
Both men and women are welcome to come to Sip and Savor. Tickets are $75 each, which includes nine dishes paired with wines. Tickets are available at Eventbrite.com or by contacting Renee Coppock at 255-7287 or rcoppock@crowleyfleck.com.
Coppock, lieutenant governor of Zonta Club of Billings, said they were unable to stack the event with all Billings chefs so they widened the search to include Red Lodge's Pollard Hotel and Fishtail's Wildflower Kitchen and Catering.
If you love food and want a unique experience where you can sample dishes paired with special wines, Sip and Savor, may be your big night. A plus is a chance to talk to the chefs and wine makers about what they are presenting.
Women in the kitchen seems like such a natural fit, but commercial kitchens are still dominated by men. There are a couple reasons for that — the heavy lifting and the fire in the kitchen, said Wendi Reed, chef and co-owner of Wildflower Kitchen and Catering.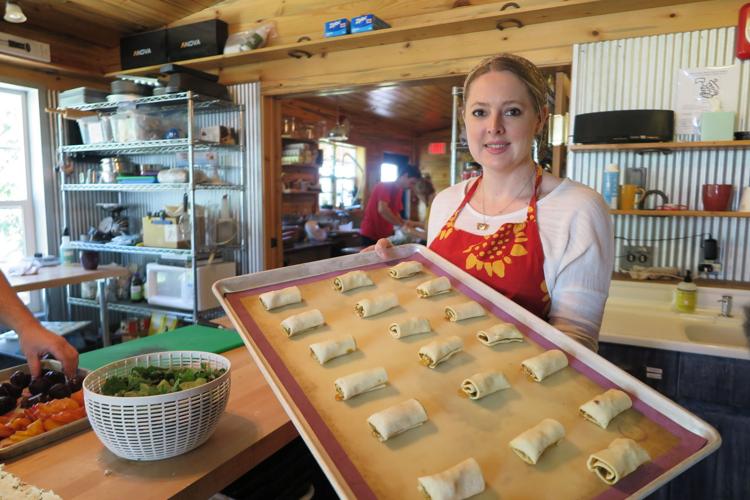 Reed said trends are changing, though.
"The Food Network has made cooking more trendy. It has also given access to so many people to show off their tricks of the trade," Reed said. "This has opened the door for women who are home cooks to do amazing dishes. There is a feminine touch in cooking that is brilliant."
Reed started her cooking career 18 years ago in her home state of California. She studied culinary arts at Johnson & Wales University in Colorado and often worked two or three jobs at a time to get ahead.
"I worked with so many people in L.A. who threw pots and pans, but it's different for me," Reed said.
Chef Megan Jessee said female chefs tend to be supportive of each other. She ran the Culinary Arts Program at Passages for many years and now works for the Montana Restaurant Association as education coordinator for the ProStart high school program.
Jesse said she likes cooking because of its intensity.
"It definitely appeals to my ADD head," Jessee said. "There is a lot of adrenaline."
For the last seven years, Jessee has helped get people into the restaurant business. Now she pairs high school student chefs with professional chefs.
The focus of the Zonta organization, which has chapters worldwide, is empowering women through service and advocacy. Even though the organizers of Sip and Savor hope to raise money Sunday night to benefit some of their local programs, Coppock said the event is more about bringing awareness to Zonta's programs supporting women, including college scholarships.
"Last year we netted around $4,000. We continued to use that in Zonta's efforts to empower women. It costs money to do the mentoring project at Passages. Last night, we did art classes at Angela's Piazza. We buy the art supplies and pay the artist Julie Pederson to teach art to survivors of domestic violence."
At Sip and Savor, guests will gather on the bottom floor of Beyond the Box for cheese and crackers and sparkling wine, then go upstairs to tables with the prepared dishes. Guests will go from table to table to sample food and wine and to get information on the advocacy component on Zonta.
In commemoration of October being Domestic Violence Awareness Month, the event will also feature the Silent Witness display. Wooden silhouettes representing a woman who did not survive domestic violence will be set up throughout the building.
Sip and Savor is an event showcasing the talents of area women and benefiting women. But it's also about sharing culinary knowledge and the joy of cooking.