Poet and filmmaker Juan Carlos Galeano is in Billings this week presenting his poetry and his film featuring folk tales from his native Amazonia.
Galeano presented a free screening Tuesday of his feature-length film "El Rio" at the Art House Cinema & Pub. 
Galeano, who was born in Colombia, but came to the United States when he was 17 to pursue an education, teaches poetry at Florida State University. He will read some of his poetry on Thursday at 7 p.m. at Cisel Hall at Montana State University Billings. The reading is free.
Galeano brings a poet's touch to filmmaking. He said he was familiar with the folk tales about the Amazon River and decided to interview shamans, fishermen and farmers in the Peruvian Amazon.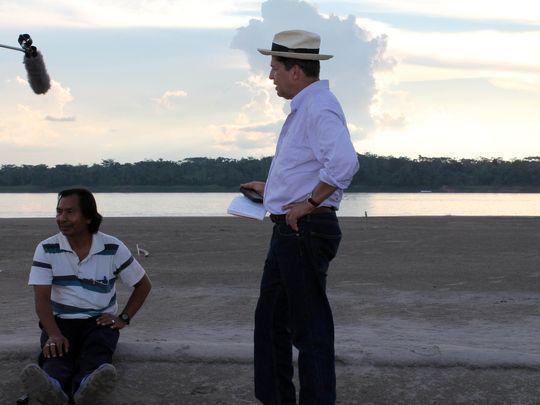 "I wanted it to be from the perspective of the Amazonians," Galeano told a crowd of about 60 people Tuesday at the Art House.
He earlier featured the folk tales in his book, "Folk Tales of the Amazon."
"I was really fascinated by the idea of guardians of the forest and the relationship of people and rivers."
Galeano pointed out that in Western culture, there are many constructs about the Amazon being a dangerous, threatening place.
"The folk tales are a totally different prospective," he said.
Many of the film's subjects, who spoke in Spanish with English subtitles, are decades-long friends of Galeano's. They talked about how unnatural attempts to control the Amazon River, like dredging it to prevent flooding in one area, often lead to disaster, including flooding other places.
"It's like opening a new vein," one man said, pointing to his arm. "It's not natural."
Galeano's trip to Montana, where he is speaking to students at Montana State University Billings and Rocky Mountain College, was sponsored by Humanities Montana.
MSUB professor Bernard Quetchenbach met Galeano through their poetry. The two professors are working together to schedule a trip to the Peruvian Amazon open to students and community members in August. For more information, email Quetchenbach at bquetchenbach@msubillings.edu.