He may be 19 years older than he was last time he played Billings, but Garth Brooks still brought the thunder Friday to a packed Rimrock Auto Arena.
Fans stood up when he hit the first chords of his hit, "Rodeo," and by the time he nailed "The River," thousands lit up the arena with their cell phones.
Brooks basked in all the applause and energy, bowing to the crowd and even blowing kisses. He squinted to read the signs and made hearts with his fingers to connect with fans.
"You're at a Garth show, there's going to be a lot of cowboy songs," Brooks told the crowd.
He's still the consummate showman and he has not lost his touch.
One of Brooks' backup singers, Karyn Rochelle, performed a short set to open the show, yodeling a bit and singing "Red High Heels," a song she wrote with Kellie Pickler. The song brought a dozen women to the front of the stage to dance.
Earlier in the day, Brooks said fans better get ready for a blow-out show Friday because his band is raring to get back on stage after a few days off.
Brooks and his wife and touring mate Trisha Yearwood took questions from local media for an hour Friday before doing a sound check for the first of five concerts at the Rimrock Auto Arena at MetraPark. The setup arrived Thursday morning in 20 semis, a record for any act playing in Billings.
The couple also set a record for selling the most tickets ever in Montana. For that distinction, Yellowstone County Commissioners Robyn Driscoll and Denis Pitman and MetraPark staff gave them a framed poster commemorating their Billings shows.
"Ah, that one's been airbrushed," Brooks joked when he saw his photo on the poster.
Fans were eager to get into the arena Friday, with hundreds lined up hours before the show. There are two shows on Saturday and two on Sunday.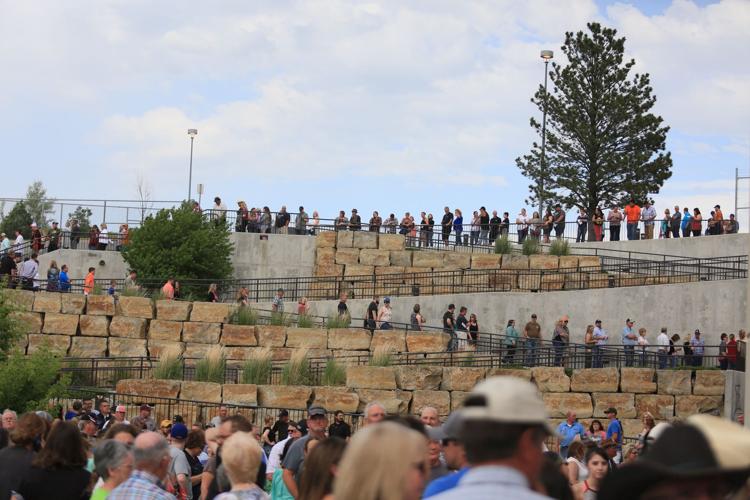 Jeremy Larson, 24, of Billings, bought tickets to all five shows, then had to borrow rent money from his mother. Holding up a sign saying, "You're the reason I play guitar," Larson said his dream is to get on stage with Garth.
"He's a walking legend," Larson said. "I'm probably going to be bawling my eyes out when I see him."
Brooks said he and Yearwood always meet with local media before shows because they're curious.
"I like people. I want to know who you are and what you do here," Brooks said.
Yearwood said she has two favorite moments on stage.
"When you hear an arena full of people singing your song, you know that's incredible," Yearwood said.
The other comes after they sing together when Brooks likes to whisper something into her ear.
"People think he's whispering, 'I love you,' but he's usually saying something funny or dirty just to make me laugh," she said.
Brooks said he hates it when an artist only plays songs from the new album and then throws in some hits during the encore. He'll play hits all night long, then throw in his newest single, "Ask Me How I Know."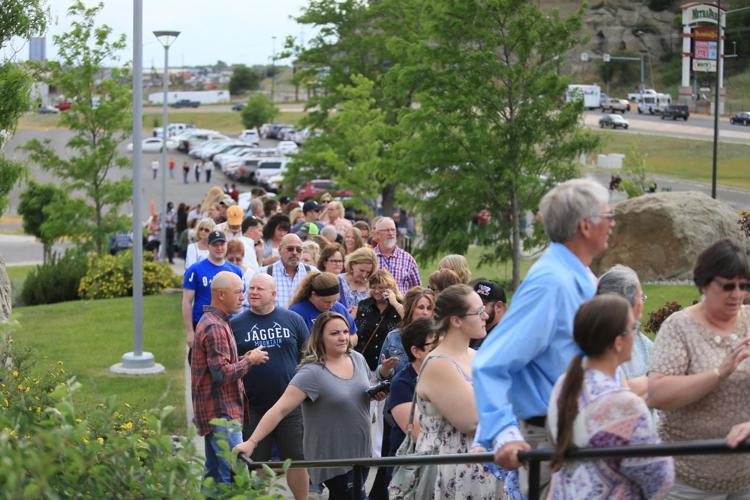 Two of his favorite songs are "The Dance" because he loves hearing all the stories about people who danced to it at their wedding and "Mom," a Bonnie Tyler cover because "I'm a momma's boy."
"My favorite song to play live is "Callin' Baton Rouge. That song just brings the house down," he said.
"Callin' Baton Rouge" is an Oak Ridge Boys cover, an interesting coincidence with the Oak Ridge boys performing next week in Billings at the Alberta Bair Theater.
Brooks almost always plays one of his biggest hits, "Much Too Young (To Feel This Damn Old)," a song he wrote for his good friend, Chris LeDoux, a Wyoming rodeo cowboy and country music star.
The line, "a worn out tape of Chris LeDoux," honors his good friend, who Brooks tried to donate part of his liver to in 2000 when LeDoux got sick. Brooks was not a match and another one was found, but LeDoux died in 2005.