Chris Robinson calls himself a "cultural schizoid." The former lead singer of the Black Crowes and front man for the Chris Robinson Brotherhood embraces his alternative view on the world. It does make for great songwriting.
Even before the Black Crowes parted ways in 2015, Robinson was working with the Brotherhood, a group so tight-knit, Robinson jokes, they could form a cult.
Capping off a prolific two years with three studio album releases, the Chris Robinson Brotherhood is touring in support of their latest album, "Barefoot in the Head." They will make a stop in Billings at the Pub Station Ballroom on Jan. 29. The last time Robinson played Billings was with the Black Crowes in 2006 at Magic City Blues.
Robinson said he didn't remember much about his only gig in Billings, but said the West holds a mystique for him, a place of "mind expansion."
"It's always like the wintertime when we get to be in the West. For someone that grew up in the Deep South, even though I live in a dynamic part of the country, the West has romance."
Robinson, who has lived in Northern California for almost two decades, recently announced a short tour with his latest project, As the Crow Flies, featuring Marcus King on guitar. The group will play Black Crowes songs almost exclusively.
Robinson said the Crow Flies tour in April and May won't impact his work with the Brotherhood, emphasizing that the Brotherhood will always be his main focus.
"Some people want to rebuild an old car. They feel good about that. For us, it's not building a car, but having the opportunity to go into the studio and work with good musicians and make music that is relevant. What a cool thing."
Robinson and his younger brother, Rich, performed together in the Black Crowes for more than 20 years but they have not spoken since the band dissolved. Rich's band, Magpie Salute, plays some Black Crowes material, but Robinson's Brotherhood does not.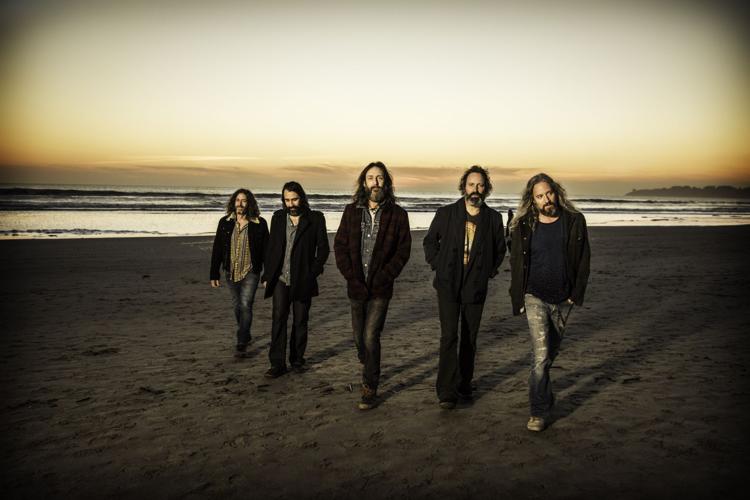 Chris Robinson's distinct vocals defined the Black Crowes and now the Brotherhood's sound, but there is also a funk and blues element to the music. He credits his bandmates for "blossoming" that sound.
"I bring these little verse-and-chorus ideas to them and then boom, it blossoms," Robinson said.
Robinson grew up in Georgia, the son of the late Stan Robinson, who discouraged his sons from becoming musicians. But Robinson said he knew he had to find his own way.
"I always knew that I was going to have to find something that ultimately I could receive great comfort and gratitude from. Music is a lot of things, it's dynamic. To be lucky enough to work at music as a career is something I never take for granted."
Now 51, Robinson said he and his bandmates have found a different kind of success — enjoying where they are musically.
"Everyone has been in a lot of bands and had a lot of different experiences. We love the material we're creating. Our audience gets bigger every year and we get deeper into our work. The shows are getting better. It's exciting."