The first airplane in which Whitne Burns ever rode was the emergency medical flight that spirited her to Denver for an emergency brain operation in February. 
The night started when she woke up out of a dead sleep with a splitting headache. Two days before, Whitne and her friends at Lewis and Clark Middle school, where she's a seventh grader, had been goofing around in the hallway when she fell and banged her head. 
It hurt, she said, and left her a little dizzy. But she finished her school day, went to volleyball practice and then headed home. 
The pain only got worse the next day, to the point where Whitne, who never takes pain pills, was asking her mom for Tylenol to help with the headaches. She went to bed that night and woke up a few hours later in excruciating pain. At that point, they rushed over to Billings Clinic emergency room. 
"We see a lot of people for headaches in the ER," said Nathan Allen, an emergency room doctor at Billings Clinic.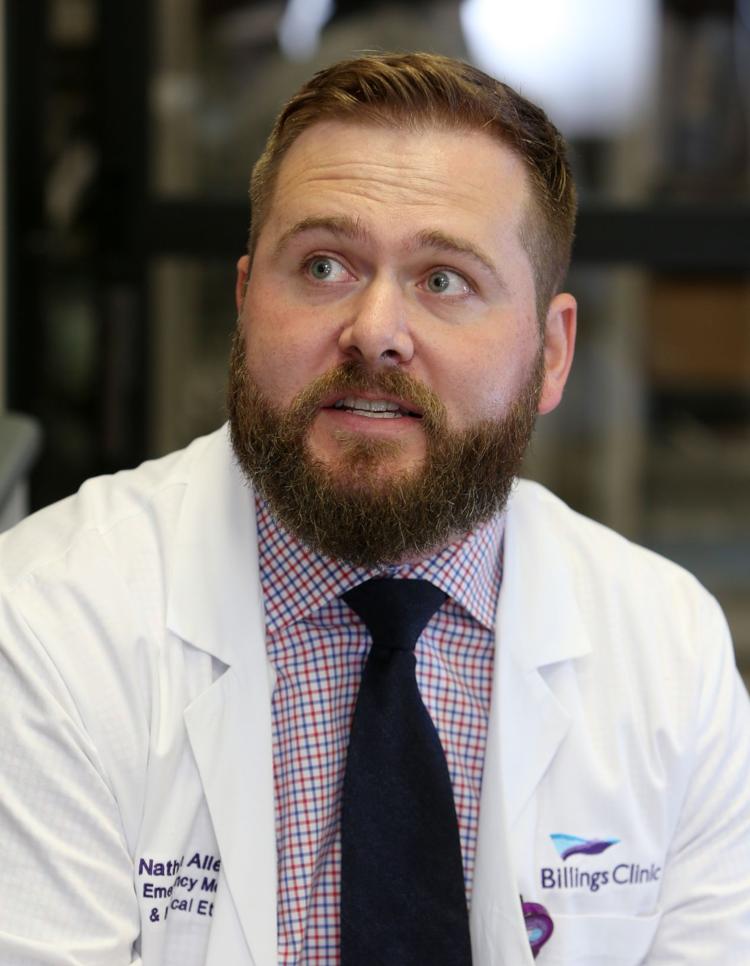 So Whitne's arrival wasn't out of the ordinary. Still, it was a headache that woke her out of a teenage slumber; Allen was concerned. 
She had a concussion, that was clear. But running through the back of his mind were all the ailments that could be related to the head pain. It seemed severe for it to be just a concussion. Finally, he decided to perform a CT scan. 
It showed a mass on her brain the size of a golf ball near the front of her head. Allen consulted with Marlin Richardson, a neurosurgeon at the hospital, and both decided it was clearly a tumor and that it would need immediate attention. 
"It was a shock," said Cindie Martinez, Whitne's mom. "We were scared."
The tumor had been there a while, Allen said. And it likely had just started to grow aggressively. Allen figures the headache that woke Whitne from her sleep was probably the first or second day that the tumor had been showing symptoms. 
Had the tumor not been discovered it could have been deadly. The one piece of good news from the night was that it wasn't cancerous. 
Billings Clinic, part of the Children's Hospital of Colorado Care Alliance, prepped Whitne for a flight to Denver while her mom tried to get news to the family about what was happening. No one had their phones on and Martinez ended up pounding on the door of her own mom at 3 a.m., tears running down her face to tell her what was going on. 
By the end of the night, Whitne and her mom were on their way down to Denver, flying for the first time. 
"So that was something," Whitne said with a laugh. 
"Whitne was great," Allen said. "Really tough."
Once in Denver, doctors at the Children's Hospital of Colorado performed further tests on Whitne and then a few days later prepped her for surgery.
It was a six-hour ordeal that removed most of the tumor from her brain, but surgeons weren't able to remove all of it. The tumor sat too close to the memory cortex of Whitne's brain. Doctors worried a surgery that was too agressive would have damaged some of the recall function in Whitne's brain. 
But overall it was a success and Whitne is on the mend and feeling great.
Her speech was midly affected by the surgery and she's just finishing up speech therapy to help correct it. The site of the incision is just visible a few inches above her left ear. She can't go underwater while it continues to heal and she can't play sports for three months.  
In the meantime, Whitne will continue with doctor's appointments. She'll receive MRIs every three months for the next year while her doctor monitors what's left of the tumor. 
All of it, her mom says, is a small price to pay for finding the tumor early and getting rid of it. "It's like a miracle," she said. 
After returning from Denver, Whitne wasn't quite ready to let it go. So last month she bought a stuffed bear and headed back to the Billings Clinic emergency room to see Allen. 
"I wanted to thank him," Whitne said. 
It was a touching moment for the family and for Allen. Emergency care doctors see a lot of trauma. 
"You meet and interact with people at their most vulnerable," Allen said. "You don't always get to see the successes."