The West High seniors at a West End horse barn Wednesday morning were supposed to be listening to nurses and a doctor from Billings Clinic as they talked about their equine therapy program.
But it was the three horses inside the corral that kept stealing the seniors' attention. The horses were restless and playful and at times a little aggressive. A few times they broke out into a galloping run in the corral and the feistiest of the three kept kicking his companions. 
It was anything but dull. And just the right thing for a group of students less than a month from graduation. 
"Seniors in May," Janna Lind said with a laugh. "Hard to get them interested in anything."
Lind teaches history and A.P. U.S. government at West. And every year she teaches one introduction to psychology course, which is what brought her class to Rustic Stables on Wednesday.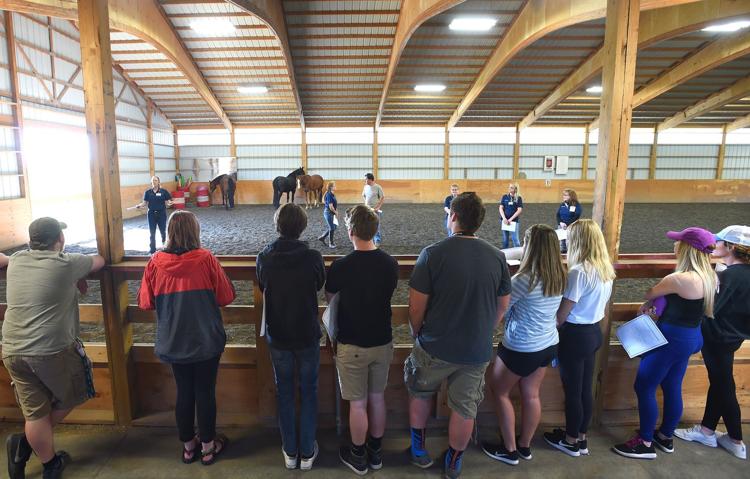 The field trip was set up to give the students a chance to see Billings Clinic's equine therapy program in action and to get a sense of all the careers associated with it. 
"It's interesting," said Katie Angel, one of Lind's seniors. 
Angel has long loved animals and the idea of using contact and interaction with horses to help people heal was intriguing to her. 
"Animal-based therapy, that seems really interesting to me," she said. 
In the corral with the horses was Elizabeth Walter, a psychiatrist at Billings Clinic and the hospital's lead doctor on equine therapy. With her was Sheila Buschette, an equine specialist, and Patty Yoder and Brenda Schreckengost, both registered nurses who specialize in behavioral health. 
The program is designed to help people who struggle with anxiety and mood disorders and depression. There's no horse riding — rather, patients work with Walter and her staff and spend time interacting with the horses.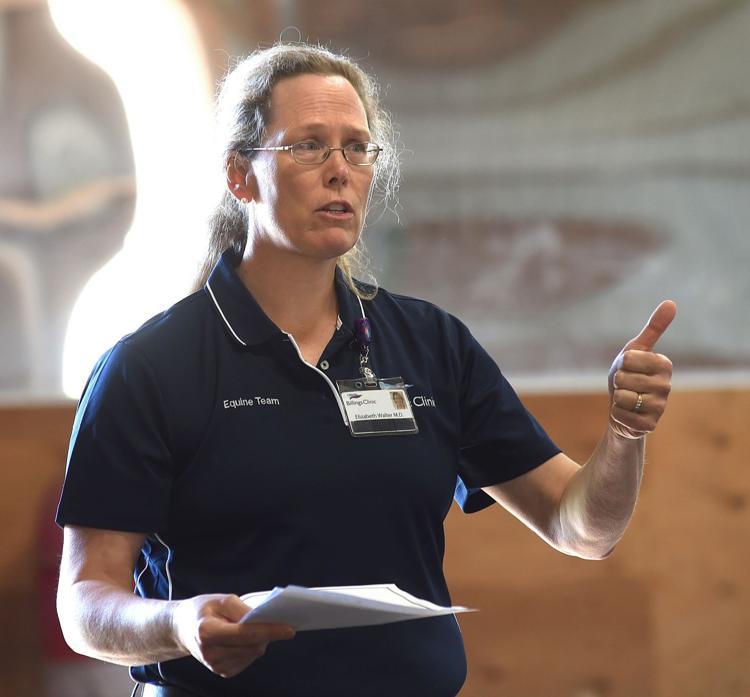 Yoder admits to having had some doubts about equine therapy when she first began to work with Walter. 
"I was a skeptic," she said. "But it's amazing to watch what happens with the patients."
Buschette, who was raised around horses and spent her youth in competitive dressage, is the program's horse whisperer. 
"We're asked a lot to explain how it works," she said. "It's hard. It just works."
Equine therapy is still relatively new and so the work Walter and her team are doing simply adds to the study of animal-based therapy.
"We are on the forefront here looking at the benefits equine therapy might have for people," she said. 
Seniors Noah Howey and Dominik Weber watched the whole demonstration, intrigued by how well the horses worked with Walter and her staff and how intuitive the horses were with the people around them. 
"It's kinda of interesting that there's more than one type of therapy for people," Howey said.
"It's interesting to know this option is out there," he said. 
Weber is keeping his post-high school career options open. He's interested in both geology and psychology. 
Howey's interested in becoming a dentist.
The morning at Rustic Stables wrapped with some questions from the students as Walter and her staff stood among the horses. Most of the high-schoolers wanted to know how well the horses worked with the patients and whether they'd ever had any mishaps.
Buschette then used the opening to talk about how neat it's been for her to watch the patients who come and spend time with the horses change and improve. 
"These people are becoming a part of their own healing," she said.