Extended hunting seasons for cow elk are being questioned by some Montana Fish and Wildlife Commission members, sparking debate among wildlife managers about the proper steps to reduce the state's ever-growing elk population.
"We think it's time for cow-only elk hunting in the general season … in districts significantly over objective," said Nick Gevock, conservation director for the Montana Wildlife Federation, at the commission's meeting on Dec. 7.
"I totally agree," said Dan Vermillion, of Livingston, who is the chairman of the Fish and Wildlife Commission.
Case in point
Vermillion pointed to Hunting District 580, on the east side of the Crazy Mountains, as an example of why Montana Fish, Wildlife and Parks should go to a cow-only elk hunt in specific areas. He said elk populations for the district are 200 percent over objective. The objectives are based on landowner tolerance.
The problem is that public access to hunt elk along the east side of the Crazy Mountains is limited because there's only one public access to Custer Gallatin National Forest lands in that area. Some of the private land is leased to outfitters for hunts, or outfitted by landowners. Most outfitters are selling bull elk hunts, usually to out-of-state hunters, for about $5,000. There's less interest in cow elk hunting by outfitted clients.
So going to a cow-only hunt in the area would essentially be a poke in the eye to outfitters, as well as a blow to their bottom line. It would also be a shot across the bow to landowners, demanding that public access to the elk be allowed or there will be consequences.
"At what point are we as a department going to either change the elk objective numbers or get serious about how to bring these numbers into objective?" Vermillion questioned.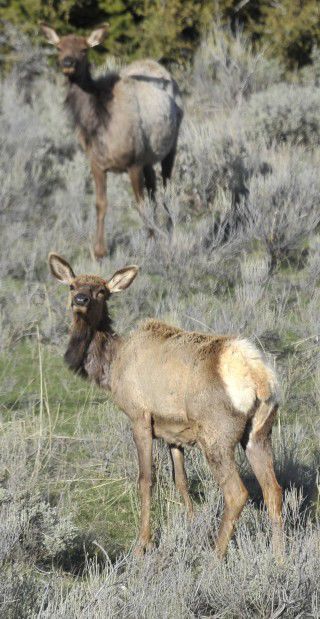 It's working
John Vore, FWP's Game Management Bureau chief, said the department has been serious, using the shoulder seasons to reduce elk populations. Now in its second season, shoulder seasons allow elk hunting mostly on private land as early as August and continuing through February in some hunting districts.
Last year, Vore said the 10 hunting districts with shoulder seasons that lasted to Feb. 15 reached 95 to 96 percent of their total harvest objective, a figure that includes the harvest during the general and extended seasons. But hunting districts like 580, along with a few others, halt the season by Jan. 1, essentially cutting the late hunt in half, he said.
"Sixty percent of those hunting districts with long shoulder seasons met those criteria and met 96 percent of the harvest criteria" despite weather that wasn't always conducive to hunting, Vore said.
"In order to harvest elk, and harvest a lot of elk, you need to have a season that runs later than the general season," he added.
The suggestion of a cow elk-only season in some hunting districts didn't sit well with commissioner Richard Stuker, of Chinook. He said bulls can cause a lot of damage, even on property where landowners allow public hunter access. He also said that raising the population objectives for the number of elk allowed in a hunting district isn't the answer, either.
"Otherwise, in about five to 10 years we'll be in the same boat" as elk numbers continue to climb, he said.
According to FWP's mathematical calculations based on 80 percent of elk being counted, elk numbers have climbed from about 163,000 a year ago to an estimated 176,000 across the state, a nearly 8 percent increase. The actual number of counted elk — not every area is counted — last year was about 141,400 elk, up from almost 130,700. The objective the FWP wants to reach is around 92,000 elk, which would be a 47 percent reduction in the current elk population.
Relying on hunters to reduce elk populations isn't easy. Last season, more than 113,500 elk hunters spent more than 1 million days afield to harvest 24,500 elk. Only about 12 percent of all hunters were successful, though, because some hunters took two elk.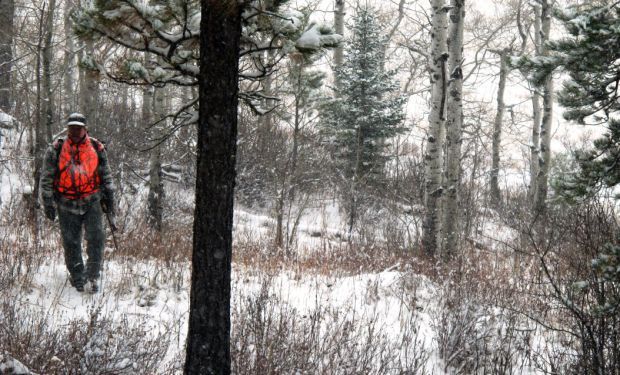 Legislative stick
Vermillion said the extended elk hunting season isn't only defined by FWP, hunters and landowners. The Montana Legislature also swings a very large stick, one that is often aimed squarely at Fish, Wildilfe & Parks' forehead.
"The department — unfairly in my opinion — gets beat up by the Legislature for not reaching those numbers," Vermillion said.
That was one of the objectives of the shoulder seasons, to give landowners a way to thin elk herds outside of the general season. If landowners do not help out by allowing hunter access, and elk populations don't decline after three years, then FWP would be able to say they tried but were blocked in their efforts by uncooperative landowners.
No matter the reason, Vermillion said not reaching the objectives means the Legislature will be holding FWP accountable.
"It bothers me we have to play so much defense," he said.
"This is the issue we get beat up on all the time."
Hunter harvest
Last season, hunts in the state's 43 districts with expanded seasons increased the harvest of cow elk by 33 percent, Vore said.
"So it is a tool that does work," Vore said. "But of course, it's not going to work if we don't use it."
Commissioner Shane Colton, of Billings, said he thinks the population objectives for elk are set too low in some hunting districts.
"If we were to manage down to those numbers we would be shot in the streets by hunters, outfitters and landowners," he said.
Colton called the numbers antiquated and said a "lot of subjectivity" went into establishing the figures.
"I'm still stymied by the idea that we're hunting elk seven months of the year," he said. "Who would've thought that would happen in Montana?"
He also chided FWP for pushing shoulder seasons as the answer, noting that one week an elk may be worth thousands of dollars to an outfitter and the next it's "treated like a rodent" to be exterminated.
"I really struggle with the idea that this is where we're at," he said.
Backing off
Vermillion said he would have pushed FWP for an antlerless-only elk season in HD 580, east of the Crazy Mountains, if it weren't for the creation of a group attempting to solve the public access issue in the area.
"It probably would have been suicide to do it," he said, but Vermillion has disagreed with legislators and landowners on the topic before, putting himself in the hot seat when his commission appointment came up for renewal before the 2015 Legislature.
Even with the shoulder season hunts, Vermillion doesn't see how some of the hunting districts can reach the objectives.
"The department will have to prove to me in August 2018 we should continue" shoulder season hunts, he said. August is when the department will finalize the seasons for 2019, which is also a year that the Legislature meets and will closely follow the third season of the extended elk hunts.
The dilemma
Vore told Vermillion and the other commissioners that FWP wants to use the shoulder seasons to "full effect" next hunting season, expanding the late season hunts out to Feb. 15 in hunting districts like 580.
Martha Williams, who is still in her first year as FWP director, said she has heard a lot of the same complaints as the commissioners, but she wants to learn more from the current course the department is on before recommending any changes.
"It's not whether we revisit the objectives, but when," she said. "I am paying attention," but didn't think it was prudent to make any changes now.
"We need to do something and figure something out or the Legislature will be telling us what to do," Stuker said.
"I'm not naïve," Colton said. "I understand why we have (shoulder seasons).
"But I don't want the Legislature setting our seasons and quotas," he added. "My preference would not be to expand (the shoulder seasons) all out to Feb. 15. But if we don't, then the Legislature will say we were on track and you shot us down. It's just an unfortunate situation for us to be in because there are other tools and other methods than a seven-month elk season that we now have."