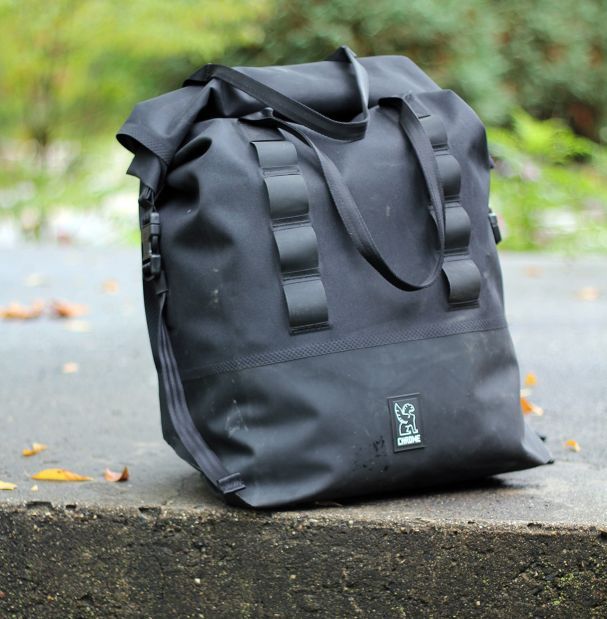 Roll the top down, then buckle it shut — the procedure is common practice for anyone involved in kayaking or whitewater rafting. Not so much bikers.
But this year Chrome Industries took a cue from the water sports world with a collection of bags equipped with roll-top closures. Called the Knurled Welded line, they are constructed with heavy-duty poly/nylon and made for bike touring or foul-weather city commuting.
The line name, Knurled Welded, comes from a manufacturing process visible at the seams. The two sides of the material are knurled or dimpled to fuse together. Next, the material is welded with a radio-frequency process to create a permanent seal.
The result is a 100 percent waterproof bag. Perhaps don't go swimming with it, as water might seep through if the top is not rolled tight enough. But in any kind of terrestrial weather your goods are safe inside.
Granted, this is not the first roll-top bike bag line. But Chrome's take is sleek and performance-oriented, not simply an adapted dry sack with straps.
GazOutdoors Blog
Brett French, the Gazette outdoor editor, brings you great outdoor info, advice, and events in addition to what you get in the Billings Gazette.
Contributors

Outdoors editor for the Billings Gazette.
All the news from the outdoors scene, delivered to your email inbox daily.
Outdoors Links