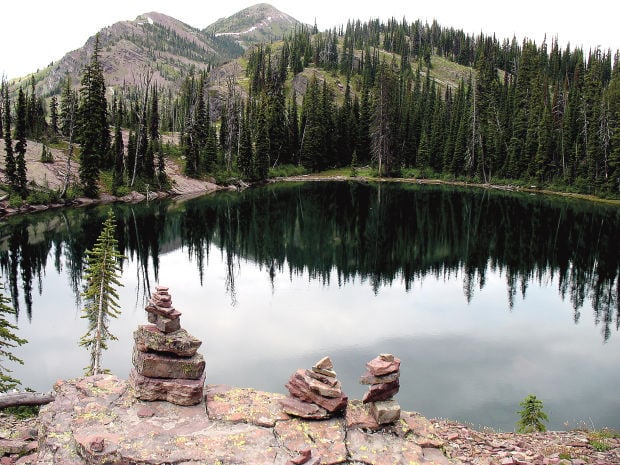 SEELEY LAKE — Close enough to host a bachelor party, but far enough to experience the Bob Marshall Wilderness, Pyramid Lake serves many people their first taste of Montana's backcountry.
A steep but relatively short hike from a trailhead above Seeley Lake, Pyramid Lake has a couple different trails to its basin. One has been decommissioned, but tracks show continued stock use on that most-direct route. The more recent alternative packs some nasty switchbacks, but nothing as rugged as the incline they replace.
There's even an extra lake involved, although this can be a hazard if you're hiking with younger packers. The unnamed water appears right at the point where it seems like a really good idea to quit carrying a heavy backpack. The fact that several nice campsites dot its shore and fish dimple its surface doesn't help the argument that there's more climbing to do.
Nor does the fact that the spur trail to Pyramid Lake has often lost its sign. While almost everyone passes near the Seeley Lake Ranger Station en route to the trailhead, that's in the Lolo National Forest. Pyramid Lake resides in the Flathead National Forest, but is so far down its southern extent that maintenance crews from Kalispell don't get there too often.
Keep an eye out for the spur shortly after cresting the ridge that guards the interior of the Bob Marshall Wilderness. It's on the left, and delivers you to the lakeshore in a few minutes. Continuing down the main trail may deliver you to Choteau in a few days, if you brought enough food.
GazOutdoors Blog
Brett French, the Gazette outdoor editor, brings you great outdoor info, advice, and events in addition to what you get in the Billings Gazette.
Contributors
Outdoors editor for the Billings Gazette.
All the news from the outdoors scene, delivered to your email inbox daily.
Outdoors Links