A man has been charged in a vehicle theft Wednesday during which the owner pursued his stolen pickup, eventually jumping in the bed and kicking out the rear window.
Rusty Shane Castro, 23, appeared in Yellowstone County Justice Court on Thursday. He is charged with felony theft and a first offense misdemeanor theft. Prosecutors say he stole the pickup owner's cellphone, as well.
Castro stole a 2004 GMC pickup that was parked outside Big Horn Boots, 1945 Grand Ave., according to charges. The truck was left idling, police said. The theft was reported at 10:30 a.m.
The owner of the truck, named Dudes Adams, was inside the business visiting his girlfriend, Robin Kreuz, The Gazette reported. Kreuz saw the car being stolen, and the two called 911 and jumped into Kreuz's car to follow.
At one point during the pursuit, they boxed in the driver of the stolen truck and Adams jumped in the pickup bed, Kreuz said. Adams then kicked in the rear window and attempted to grab the driver, but the driver bailed from the truck, leaving it to crash into a light post near 13th Street West and Avenue C.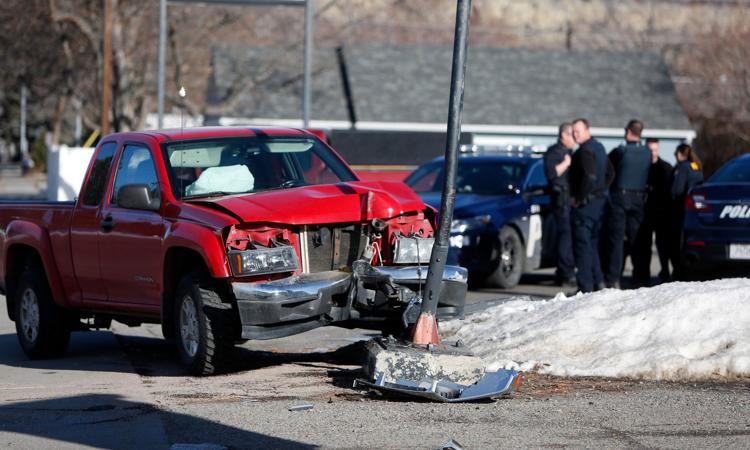 The driver ran from the scene, but officers arrested him about 12 blocks away from the crash, police said in a press release.
Castro told officers he decided to steal the pickup because he and his brother were trying to get back to Lame Deer, according to charges.
Adams suffered a collapsed lung and face injuries, and was taken to the intensive care unit at Billings Clinic after the crash, Kreuz said. 
Justice of the Peace David Carter set bond at $20,000 and required GPS monitoring should Castro be released. Castro is scheduled to appear in district court on Feb. 7.