Nearly 30 years after prosecutors say he attacked an 8-year-old Billings girl, Ronald Tipton pleaded not guilty on Monday to three felony counts of rape in a case that is likely to face appeals and take years to complete.
The arraignment of the 55-year-old White Sulphur Springs man reactivates a case that went cold in 2002 when DNA testing exonerated Jimmy Ray Bromgard. He was freed after wrongfully serving 15 years in prison.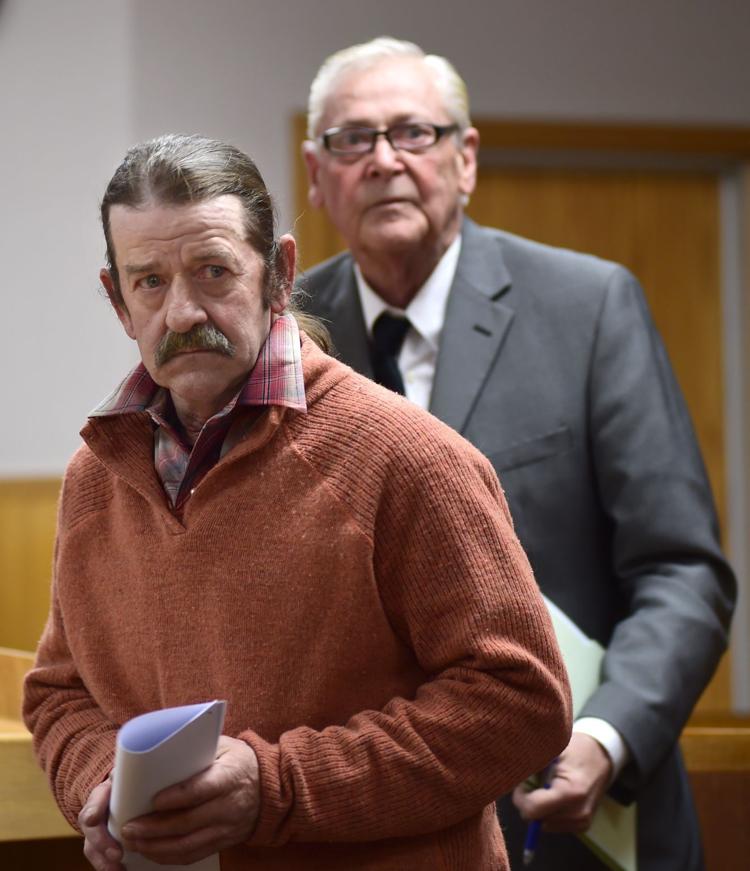 The victim, now 37, said she was hopeful the charges could ultimately bring justice to her family after years of wondering about her attacker, recalling the disbelief she felt when prosecutors first told her of the DNA match to Tipton.
The Billings Gazette does not name victims of sexual assault without their consent, and because this crime was committed against a minor, her name also is excluded from court filings.
"I thought after all this time, he would never be found. I honestly thought he might have died," she said. "I hope that Ronald Tipton goes to prison. I understand I have no call on if that happens how long that will be, but I think that's what should happen. He put so many of us through so much hell for so many years."
In the years following the 1987 attack, Tipton lived in Billings, White Sulphur Springs, Nevada and Washington, often with relatives, and picked up a handful of misdemeanor drug and theft convictions along the way.
In April 2014, he accepted a plea deal for two years' supervised probation in a felony drug case tied to his family's operation of a marijuana farm, ostensibly for medical purposes. Among the conditions of the agreement was that he submit a DNA sample to the Combined DNA Index System, more commonly known as CODIS.
The DNA of a White Sulphur Springs man matches that from the 1987 rape of an 8-year-old Bill…
In December 2014, his DNA profile pinged a match to a suspect profile from the 1987 rape kit. As required by law, Billings detectives traveled to White Sulphur Springs in January to collect a new DNA sample and to confirm the match.
According to court documents, Tipton is accused of entering a home near Pioneer Park through the bathroom window about 4:30 a.m. on March 20, 1987. Prosecutors say he then went to the 8-year-old girl's bedroom and stuffed a cloth belt into her mouth, threatening to kill her if she made noise. Charging documents state that Tipton raped her three times before fleeing, which is when the girl told her father what happened. Tipton told detectives in January that he did not remember raping anyone in 1987, according to court records.
Without a change to state law in 2007, prosecutors would not have been able to file charges in the case. That amendment to the statute of limitations allows charges to be filed in rape cases within one year of a DNA hit, even if the usual statute of limitations has passed. Last month, a summons was issued for Tipton to appear in court on the charges.
After entering his plea before District Court Judge Gregory Todd on Monday, Tipton was released back to his Meagher County home on the condition he continue to comply with supervision requirements from his 2014 case.
He is represented by Billings criminal defense attorney Robert Stephens. The longtime attorney is probably best known for his work in the case of Sabine Bieber, who in 2005 was found guilty of killing a child with a lethal dose of cold medicine.
Stephens said "the passage of time" would make the case difficult for both the state and defense, saying concerns about his client's right to due process will be at the forefront of discussions with the Yellowstone County Attorney's Office.
Spurred by the FBI's admission that its forensic work involving hair analysis — and its trai…
"There will be speedy trial issues," Stephens said. "And whether or not the state acted diligently using the DNA samples from CODIS."
Yellowstone County Attorney Scott Twito had earlier said that the case would be difficult to prosecute because of its age and inevitable questions about the reliability of witnesses nearly three decades later. He also noted that the constitutionality of changes to the statute of limitations in 2007 had not yet been tested in court, although similar laws in other states have not been struck down. He said part of the reason it took his office so long to file the charges after the DNA hit is to build a stronger case that could withstand legal challenges.
Deputy County Attorney Juli Pierce said Monday that prosecutors are prepared to respond to any motions that Stephens files in this case.
Although the victim said she would prefer Tipton be detained until the case is resolved, she said she understands the delicate situation of prosecuting a case that's so old.
This time will be different from the short trial of Bromgard and the brief flurry of news reports following the 2002 exoneration, both of which stirred up painful memories for her and her family. She said she knows it could take several years as the case winds its way to conclusion this time.
"I want everything to move forward, and I want it to go as far as it needs to make sure he actually pays for his crime," she said. "Somebody spent more than 14 years in prison that shouldn't have. And this has always been an incredibly difficult thing for me to deal with and for my family to deal with."
On the phone from a home she owns with her husband and shares with a cat and a dog, she said she has moved on from the attack as best as anyone could be expected. While she said her memories of the attack are usually stored in "a pretty big compartment" that's "pretty strong," she said the trauma of the experience remains with her, as she expects it will for the rest of her life. Just like the original trial and the exoneration, she expressed gratitude for the "overwhelming" support of family and friends, who are prepared to help her see this through.
"I feel like I'm preparing myself for the long haul," she said.