Police, fire and airport officials labeled Wednesday's full-scale active shooter training at the Billings Logan International Airport both a success and a learning experience.
"We teach them to use these concepts as a tool, and they used those concepts in the circumstances that presented themselves today," said Sgt. Brandon Wooley of the Billings Police Department after the 45-minute exercise was complete. "There are obviously things we need to improve, but the response was quick and thorough. With trauma injuries, the sooner we can get people to the hospital, the greater the chance they'll survive."
"It probably wouldn't really happen that fast," said Shane Ketterling, the city's assistant director of aviation and transit, "but overall I thought it went well. We had a lot of observers who will get together and critique the exercise and then share information with each other to learn how we can improve."
In advance of the 10:15 a.m. exercise, nearly three dozen volunteers reported to the airport's Operations Center for "moulage," or the application of mock injuries for training purposes. Volunteers were assigned red, yellow or green injuries, depending on the severity.
Two volunteers in the red group, those with the most severe injuries, were friends Brittnee Olson and Brittney Kendall. Olson sported a gunshot wound to the head, while Kendall's neck had a gaping hole.
Volunteers received breakfast and lunch and a thank-you bag for their efforts.
"It sounded like a fun thing to do and the chance to help out in the process," Kendall said as her neck was being bloodied by airport firefighter Lisa Swanson. "I've been in the medical field, so I know how to be a victim."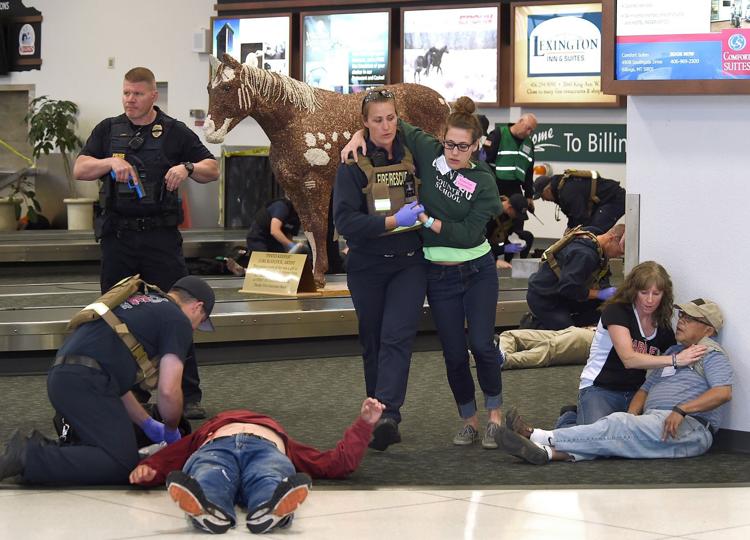 So did a number of her colleagues. Once the exercise began, a few cried out for help, while others with non-life-threatening injuries assisted their fellow victims who were strewn throughout the baggage claim area.
Other victims hid themselves in terminal bathrooms and other areas to be discovered by police and then aided by paramedics.
One victim provided a bit of comic relief: "I don't want to die in an airport!" he wailed to first responders. "Take me to the bus terminal!"
Airport firefighter Jason Johnson spent six months planning Wednesday's exercise.
"What we wanted to accomplish today was interagency cooperation," he said. "Usually we train by crashing a plane, but because police and fire departments have implemented their rescue task force, we could have a full-scale active shooter exercise."
Early on during the training session, which was held between flights while the airport remained open, the "shooter," a dummy, was killed by police in a terminal restroom. Police used blue training weapons that don't fire, while firefighters showed up in new body armor acquired through a $50,000 grant from Conoco Phillips and $5,000 more from Billings hoteliers.
Equipped with the 30 or so sets of body armor, firefighters have been training with police to get firefighters, most of whom are paramedics, into scenes of heavy casualties quicker than they could during previous mass shootings dating back to the 1999 Columbine High School massacre.
"We've learned how to move with law enforcement serving as a protective element," said Capt. Jason Lyon of the Billings Fire Department. "(Police) are dedicated to protecting people and solving the problem. We're caring for victims."
That combined approach "serves as a force multiplier," Lyon said.
While the new armor is similar to what soldiers wear into battle, it's lightweight to allow responders to move easily, Lyon said. It's designed to stop rounds from a high-powered rifle, and there's enough to equip every firefighter on every piece of fire apparatus for a given shift.
On their backs, paramedics responding to potential mass casualties now wear backpacks stuffed with individual first-aid kits, which can be quickly dispensed near victims. Each kit has enough supplies to initially treat victims before they're loaded into a waiting ambulance.
Triage and transport both played roles during Wednesday's exercise. Once victims' wounds had been prioritized, the most seriously injured were placed in ambulances and taken to St. Vincent Healthcare or Billings Clinic, where their wounds were evaluated before the victims were bused back to the Operations Center for lunch and departure.
"This is a real paradigm shift for law enforcement, and we've had to adjust," Wooley said, in order to get rapid treatment and transport available to the victims of a mass shooting. "Surgery is the definitive treatment for a penetrating wound, and these guys (paramedics) treat and transport people every day.
"When things are disorganized, it takes a lot longer" to get victims the medical care that can save their lives, he said, adding he is "absolutely pleased" with Wednesday's first-ever airport active shooter training.