After suffering the worst drought in the nation, Montana ranchers with little grass to feed livestock are selling off their calves early, marketing reports show.
More than 40,000 cattle have moved through auction barns in Miles City and Billings since July as Eastern Montana ranchers cope with drought-scorched pasture land with little green for cattle to chew on. The U.S. Department of Agriculture Marketing Service tracks the sales.
Stockyards have moved 6,000 animals more than they did during the same weeks in 2016 and 11,000 more than in 2015. Sales numbers were tabulated from the date of the 11,699-acre July fire in Central Montana. The eastern two thirds of the state suffered the worst drought in the nation last summer.
Bart Meged, Miles City Livestock owner, said it was the drought that drove cattle to market early, not the fire.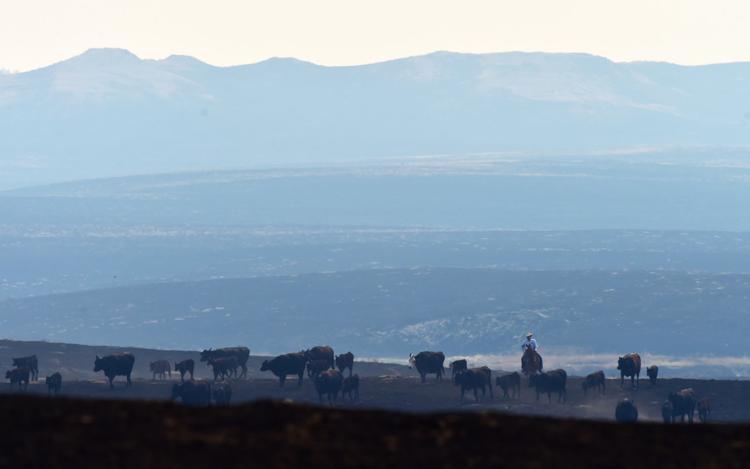 "The numbers are weather related. They don't have hay to feed. They don't have the grazing, and feed's too expensive," Meged said. "It's just not cost-effective to feed $160 hay."
Large round bales of hay have become extremely expensive in a part of the state where fields burned to beige by June and spring seeded crops didn't sprout.
Northeastern Montana got some relief as early fall rain moistened the soil. Meged said he encountered a farmer this fall cutting green spring wheat that came up in late August.
This week, 66 percent of Montana pasture and range was rated poor to very poor by the National Agricultural Statistics Service. The area affected is double the five-year average.
Improving cattle prices are also helping sales, Meged said. Always a factor, low prices kept cattle out of the auction yard in early fall two years ago as ranchers waited for a better deal.
While Eastern Montana burned in the sun, the Yellowstone Valley did OK, said Joe Goggins, of Public Auction Yards. Ranchers around Billings started out the summer with good grass and an unusually wet spring.
"We put up two years' worth of hay," Goggins said. "Yellowstone Valley had a great feed year. You get east of Billings and north of Billings and they were in drought."
Calves have been coming in lighter in the weeks leading up to October, but things are turning around a little bit for ranchers who have pasture greening up late after September rain and snow.
Meged said he was called out into the Dakotas by a rancher, who was tempted the turn the auctioneer back after rain filled his potholes and greened his field.