Some Billings city officials say they're delighted with all the information transmitted every minute of every day by small $260 devices installed in more than 100 city vehicles, including street sweepers, dump trucks, and even the supervisors' work vehicles.
Just wait until winter, Street-Traffic Division supervisors say, and the city's automatic vehicle location devices will really start earning their keep.
Bill Kemp, who manages the division, said the devices — the information they gather and transmit is displayed on a large monitor in the supervisors' office and on computers scattered throughout the building — have been paying off since they were installed in March, and could prove even more valuable once the snow flies.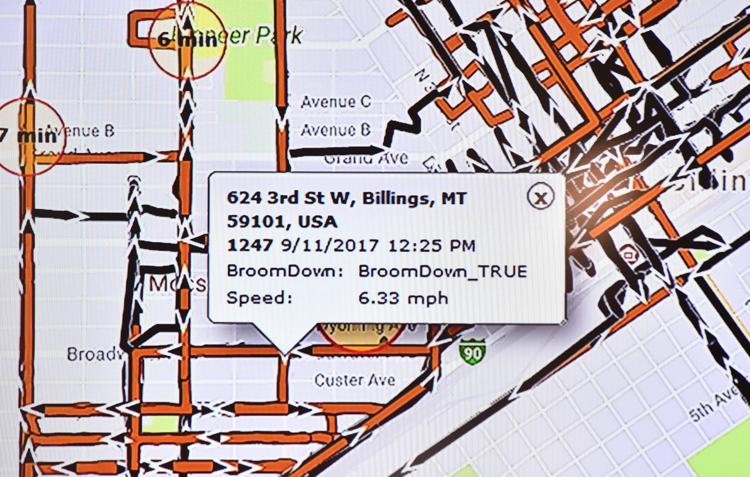 During significant snowstorms, plow operators typically work 12-hour shifts. At the end of each shift, the information gathered from the device will create a report indicating when every block of every street in that operator's territory was plowed. That report will help the next shift of snowplow operators more efficiently plan which streets they'll clear first.
"They've been doing it long enough that they know all the routes," Kemp said. "But these are very good tools."
It's not about tracking people, said supervisor Don Sweatt. "It's about tracking the amount of work that gets done."
During the summer, a dispatcher has used the devices to determine at a glance which city truck is in the best position to handle a particular call — say, removing a dead deer, or clearing glass from the pavement after an auto accident.
Sweatt said he's heard from sources attending American Public Works Association meetings that most other communities with populations around 100,000 have had the devices for years. "We are behind, so it's nice to start catching up."
The devices are also used to protect city employees when complaints are lodged, say, going too fast with their equipment, or a street-sweeper not cleaning a city block. A quick check of the record shows how fast equipment is moving and which streets have been recently cleaned.
On occasion, the data bears out the complaint.
"Once we got a call that a two-block area of Fifth Avenue hadn't been swept in months, and sure enough, it hadn't," said supervisor Ron Palmer. "We called the woman back and told her we are on our way."
"I have great confidence in these guys," Kemp said. "We tell them if you're doing the work you're supposed to be doing, you have nothing to worry about."
Privacy concerns
Each driver has signed an administrative order laying out the city's policy. According to the policy, employees acknowledge they understand that they have no expectation of privacy when using city vehicles and that they are subject to discipline based on the data the devices provide.
"There was a cloud of suspicion when they were introduced," said Juan Ojeda, a city equipment operator. "The talk around the water cooler was about Big Brother watching you. At first, people wondered if the administration was looking at them with a magnifying glass. I think that's a normal reaction when something like this is implemented."
"Now, we just go about our business. We're too busy to pay attention to a GPS unit," he said. "Is it cost worthy? That can be debated, but I see many benefits."
Among them, he said, is operator safety. If a vehicle has not moved for a while and the operator is not responding to the dispatcher, another driver is asked to go check on them.
"This first year has been kind of experimental," Ojeda said, "but we are going full throttle with it now. We will see how it works out."
Operators aren't terribly concerned about the added scrutiny, he said.
"When you drive a city vehicle, you're being watched by the public," Ojeda said. "If there is an anomaly, somebody is going to call."
In a January memo to the city council, Public Works Director Dave Mumford said the devices, "give supervisors a real-time look at how and where equipment is allocated, how it is being used, and its status. It also saves costs and improves customer service by being able to dispatch the nearest vehicle to a complaint. AVL systems have the potential to save the City significant time, money and, potentially, lives."
The data collected can help the department "correct and improve unsafe driving habits and inappropriate use of city vehicles," Mumford added. "AVL can also provide information to refute groundless claims against the city regarding vehicle accidents."
The devices — including software licensing, training, and ongoing support — cost the city almost $35,000 during the 2016-17 fiscal year.