MANDAN, N.D. — President Donald Trump said Wednesday he's with farmers and ranchers in North Dakota "100 percent" as they cope with a deep drought, but said nothing about the state's request for a presidential disaster declaration.
Trump told several hundred supporters gathered at a Mandan refinery that he understood the devastation the drought has brought.
"We are with you 100 percent," Trump said, then noted the widespread flooding from Hurricane Harvey in Texas, adding: "They have the opposite. You are better off."
Trump's appearance at the Andeavor refinery in Mandan, near the state's capital of Bismarck, was primarily to make the case for tax changes in Congress. But some in North Dakota had hoped Trump would use the occasion to announce a presidential disaster declaration due to the state's worst drought in decades.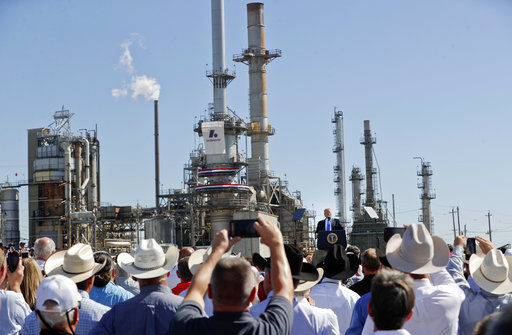 Such a declaration could unlock direct disaster payments to farmers and ranchers hit by the drought. The federal government has already provided some aid such as emergency loans. Nearly one-fourth of the state is in extreme or exceptional drought, the two worst categories, and two-thirds is in some stage of drought.
Gov. Doug Burgum made the request nearly a month ago. Burgum said Wednesday he made the case for a declaration to Trump as they shared a ride from the airport to the refinery, and planned to travel again to Washington on Thursday to lobby for it.
Trump also found time during his remarks to tout his support of the Dakota Access pipeline. He pushed through final approval of the $3.8 billion project to move North Dakota oil to Illinois shortly after taking office. The project had been stalled due to a lawsuit and protests by American Indian tribes and environmental groups.
Trump during his speech noted the opposition but also said opponents "didn't know" why they were against the project.
Opponents worry about the pipeline's impact on the environment and cultural sites. Greenpeace issued a statement before Trump's speech saying the pipeline battle "was and is about indigenous sovereignty and the protection of Native land and water supply."
Trump said pushing through the pipeline's completion was "the right thing to do."
He is the first president to visit North Dakota since Barack Obama visited Cannon Ball, on the Standing Rock Reservation, in 2014.