As Puerto Rico struggles to rebuild its power grid and roads and come up with an accurate count on the deaths from Hurricane Maria, two Puerto Rican residents are grateful to spend their holiday safe in Billings.
Annette and Aram Garcia Sr. arrived in Billings in mid-October, "trading the hurricane for the snow," as Annette said. Before they arrived, their son Aram Garcia Jr. and his family waited three long weeks to get word that his parents were OK.
Category 5 Hurricane Maria hit the American territorial island of Puerto Rico on Sept. 20, destroying most of the electrical grid and many roads. The prolonged blackout and lack of communication worried the Garcia family, who own the Imperial Thai restaurant in downtown Billings.
Aram Jr. grew up in Puerto Rico with his two older sisters and parents. He had faith in his parents' ability to survive another hurricane. He believed they could tough it out as long as they had to. Yet, the wait was excruciating.
In early October, Annette was able to drive three hours from Utuado in the central mountains of Puerto Rico to San Juan, the capital and largest city, to get cell service. The main north-south road was washed out, so travel was hazardous, and gas was almost impossible to buy. Annette said she waited in line one day for eight hours to buy gas and left without any.
Her voice on the phone felt like a miracle to Aram Jr.
"I kept telling my children, 'They are OK. They're going to call,' " Aram Jr. said. "Their survival skills are good. But we had gone so long without hearing, no text, no calls. That was scary."
The next step was to bring his parents to Billings. Three months after Hurricane Maria, many parts of the island are still without power because the power grid is operating at about 70 percent. The death toll was officially set at 64, but several news organizations, including the New York Times, believe it is much higher, more than 1,000. The prolonged blackout hampered medical treatment for the most vulnerable, and some deaths occurred because of a lack of medical care.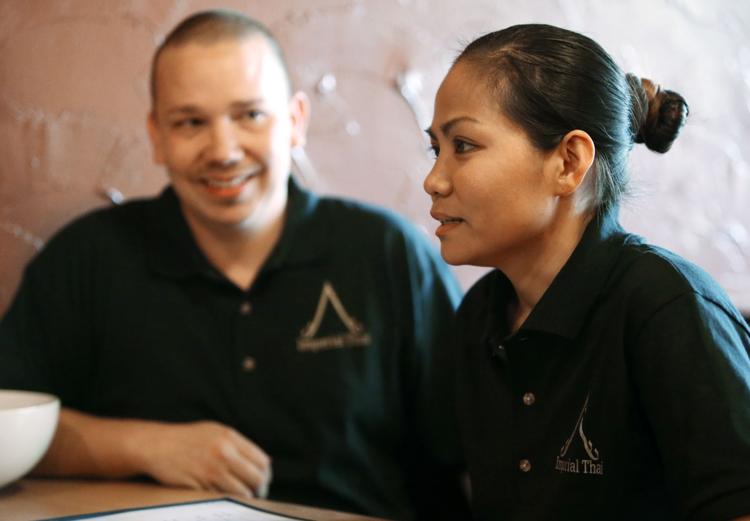 Together for Christmas
Annette and Aram Sr. have temporarily moved in with the Garcia family, which includes Aram Jr.'s wife, Kanda, and their three children, ages 11 to 15.
Annette's 92-year-old mother is still on the island, so Annette wants to return to Puerto Rico in January. It will be her first Christmas in Montana, where her son and his family have lived for eight years.
Annette and Aram Sr. waited out the hurricane along with 15 other people in Annette's mother's house. They had packed ice in coolers, anticipating the loss of power and refrigeration. They used cables to anchor their wood house to the ground.
After the storm, they were able to get water from a spring and cooked their meals over a wood fire in the yard.
They spent the darkest hours of the storm singing, telling stories and playing games. They dealt with the storm's devastation with good humor and faith, but they were relieved to finally arrive in Billings.
"It felt good to get here," Annette said.
The Imperial Thai will be closed for Christmas, but for the past two months, Annette and Aram Sr. have been helping in the family restaurant, even though Annette said cooking Thai food is so different from her cooking style that she doesn't work in the kitchen. Rather, she and Aram Sr. sweep floors and set tables.
Her two daughters live in Florida and Las Vegas. Since the hurricane, 200,000 Puerto Ricans have fled to Florida as Puerto Rico works to rebuild its infrastructure.
The grandchildren are enjoying having the grandparents here for the holidays and are relieved that they survived the hurricane.
Kanitha Garcia, 16, said she worried constantly about her grandparents.
"I wondered how they were getting their food and how they were living," Kanitha said.
Her brother, 15-year-old Pichit, agreed the wait was stressful.
"It's been really fun having them," Pichit said.
The family is a blend of religions. On the Puerto Rican side, they are Catholic and on their Thai side they are Buddhist. They honor all religions in their home, Aram Jr. said. Kanda immigrated to the U.S. in 1995 when she was 14.
"I am letting our kids pick their ways," Aram Jr. said. "They are always asking questions, really good questions. We respect that."
Holiday foods will also reflect their cultures. Annette loves coquito, which she describes as a Puerto Rican eggnog made with coconut milk. She also hopes to make roast pig, which cooks in the oven for 10 hours. Two Thai favorites with the children are garlic stir-fry and Imperial curry.
"We will do a lot of eating on Christmas. It's been really, really fun," Annette said of her time with her grandchildren.