In the end, it all came down to "Talmud."
That's the final word that Aidan Veress, an eighth-grader from Gardiner School in Park County, spelled to win the Treasure State Spelling Bee Saturday at Rocky Mountain College. He took first place for the second year in a row after a nearly three-hour contest.
Aidan will once again represent Montana in the Scripps National Spelling Bee May 27 to June 1 in Maryland. The finals take place the evening of May 31.
A total of 58 students in grades four through eight from around the state competed in the spelling bee, after winning their county bees. The national spelling bee became a fee-only competition in 2009, and only schools that register with Scripps can compete.
Under the bright fluorescent lights in Rocky's gym, the contestants sat in rows of white folding chairs on the floor, all wearing numbers around their neck — their only identity during the bee. The audience mainly of friends and family sat in the bleachers facing the spellers.
The students showed poise when they stepped up to the microphone to spell a word. Some used a finger to scrawl the word on their other hand, while others drew letters in the air.
Some stood still while others fidgeted. Occasionally a speller reacted with a scowl or a smile when they heard their next word.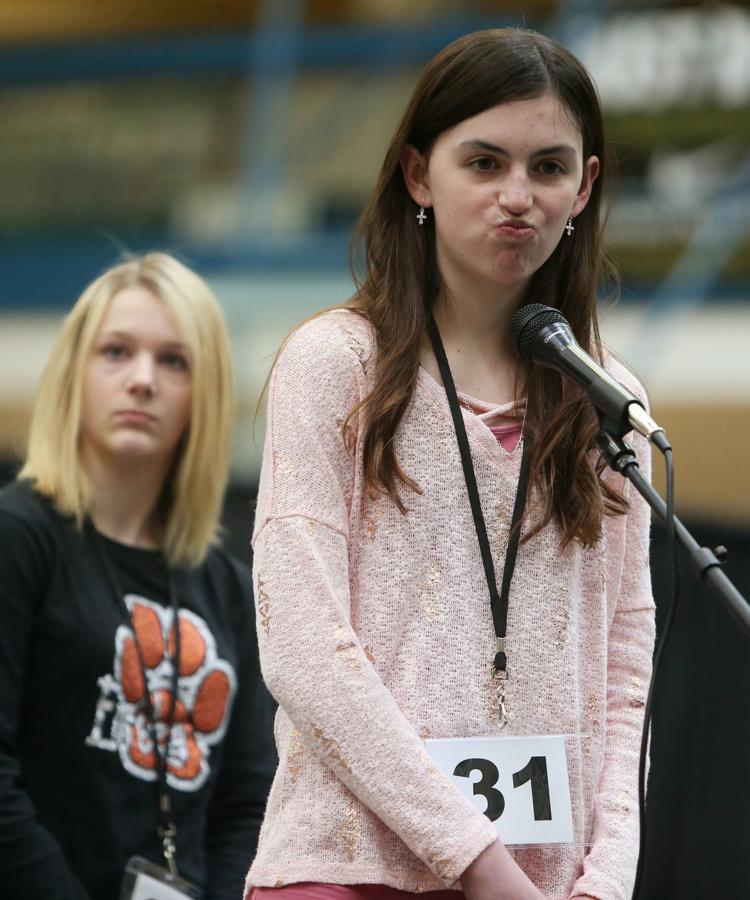 Contestants started out with a practice round, a sort of dress rehearsal for the real thing. Then the bee got underway and the number of students slowly decreased as they stumbled over words.
Some tried phonetic spellings, like "stroodle" for strudel and "ductal" for ductile that sounded similar but weren't quite right. Others used a "v" when a "w" was the correct letter, added extra letters or left one or two out.
Fifteen students departed after the first round and another 17 went out after round two. In round six, with 11 contestants remaining, judges progressed to more challenging words, and by round eight, five students were left.
Both Aidan and Reagan Remmers, a seventh-grader from Target Range School in Missoula, sailed through the early rounds, confident each time pronouncer Jaclyn Terland gave them their next word. Reagan easily spelled graffiti in the same round Aidan nailed hegeoponics, and when she spelled gestalt, he got barabara correct.
Neither relied much on extra help from Terland in the form of a definition, word origin, alternate pronunciation or sentence. Finally, when they were the only two left, they struggled with a series of difficult words that stumped them both.
At one point, Reagan misspelled "horotelic" and Aidan missed "nectarivorous." At another point, Reagan correctly spelled her word and Aidan missed his. To win, she had to spell one more word, but got it wrong.
Finally, Aidan spelled etymon, then got the win with Talmud. A shy smile broke out on his face as he looked up at the people clapping in the bleachers.
Afterward, he said it "feels really, really good" to win again. Since he'd been through last year's contest, Aidan said this year was easier because he didn't feel as much pressure.
Though the last several words were difficult, he relied on a word he already knew to help him decipher "edymon."
"I actually knew etymology was the study of languages so I knew it was going to be 'edy,'" Aidan said.
Having been to the national contest before, he thinks this year will be a little easier "because I know what the format is."
Linda Veress, Aidan's mother, said the second time wasn't easier for her.
"There were some really good spellers toward the end there," she said. "Sometimes it's a matter of luck what word you're going to get."
When it came to the handful of words, she laughed that she hadn't heard of many of those words herself. Veress is happy for Aidan to get one more chance at the national bee.
"This is his last year competing so we'll enjoy the experience," she said.