Boulder Elementary isn't representative of the Billings schools that have adopted Ron Clark Academy principals.
Most tend to have a high proportion of students from low-income families and low test scores, reflecting a national correlation. Boulder is one of the most economically well-off schools in School District 2, and has relatively high test scores.
"You can't get locked on those things," said Parent-Teacher Association President Megan Egge. "I think any school can do better."
Boulder became one of several Billings elementary schools to adopt a house system used by the academy, a private school in Georgia. Students in houses compete for points awarded for things like performing good deeds or using good manners. Teachers also incorporate different teaching methods.
Egge and other PTA members volunteered last week as students were sorted into four multi-grade groups that they'll remain in for their elementary careers.
The PTA also helped pay to send Boulder teachers to the Ron Clark Academy in Atlanta, which runs a pricy teacher training program. Egge also visited, and became a believer.
"I think it brings your school together as a community," she said.
Bursting excitement
Students popped black balloons, with slips of paper assigning their house spilling out. As more and more students joined houses, the volume oscillated between deafening and near-deafening. Students chanted house names and cheered when someone joined their team.
Most students looked excited, with some downright ecstatic. A few looked perplexed by the whole thing.
The Ron Clark approach is predicated on over-the-top enthusiasm. Its namesake founder became famous for, in part, dancing on top of desks with students. The school has a slide near its entrance to use as a student reward.
The approach is also demanding. Students are expected to follow a 55-point code of conduct. Almost every student at the Ron Clark Academy — which selects students to fill out a student body that economically reflects the surrounding, mostly poor neighborhood — has gone on to attend college.
The Atlanta Journal Constitution quoted training costs at $425 per day, and that doesn't include travel costs from Montana.
Boulder principal Jeri Heard also used special-fund discretionary school money to help pay for the trips. So far, 17 teachers have visited the academy; Heard hopes to get the whole staff there.
"The reason it's going to be successful is because of our staff," she said, citing widespread buy-in.
"We have a few that are a little more resistant, but they're team players. It's what's best for kids," she said. "We're moving forward whether we have total support or not."
'Disneyland of schools'
First grade teachers led the charge toward Ron Clark at Boulder. In addition to the school, Clark has written several books.
"We thought, 'this is something we have to look into,'" said first-grade teacher Kerra Olson.
She was one of the first from Boulder to visit Atlanta.
"It feels like the Disneyland of schools," she said.
Like Disneyland, the academy has corporate funding streams and fundraising mechanisms that most public schools can't harness. But local sponsors chip in to help provide the likes of house-themed T-shirts and prizes in Billings schools.
"It's different. It's not Billings," Egge said. "There are few parallels between our schools, but there are a lot of good methods and teaching practices we can benefit from."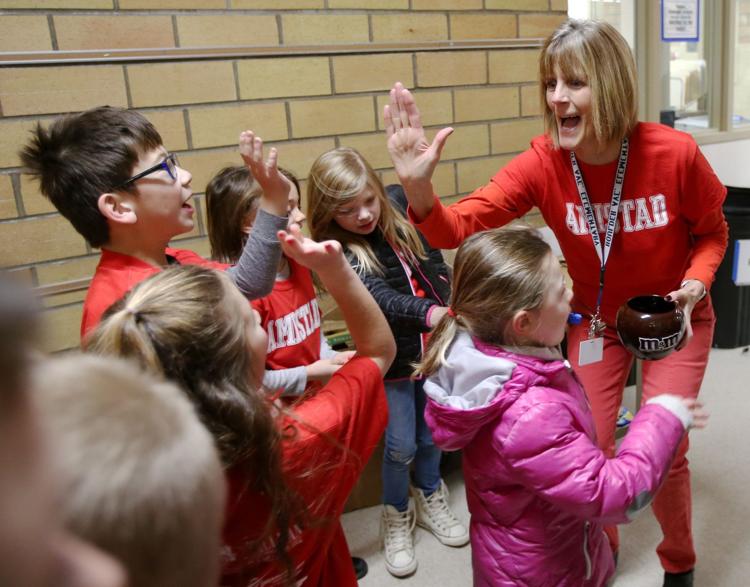 Some of those practices demand more of teachers, like an additional attention to movement and awareness of how students track teachers around the room.
It also expects students to learn more and understand topics more thoroughly — "not just repeat back information, but show what you know," Olson said. "You have to bring your A game."
Grassroots
The house sorting was a pre-holiday surprise for students, who were excited about joining with students in other grade levels.
"It's just a really big diversity," said fourth-grader Dylan Garcia.
"It's kind of cool to have competition against each other," said fifth-grader Rebecca Washington.
The cheering and balloon popping never would have flown with the nuns who taught Kathy Olson. The SD2 administrators who oversee school principals still raved about the enthusiasm behind Ron Clark.
"It's transformative," she said. "Schools should be exciting."
So far, Newman, Beartooth, Washington and a handful of other elementary schools have adopted Ron Clark principles to some degree, but Olson said there's no push from the SD2 central office.
"I would rather see it be a grassroots thing by the school," she said.