The man hit by a falling tree branch at Veterans Park on Friday remains hospitalized and was moved on Monday to the intensive care unit. 
Dave Myers was at the park with his son Westley, 3, and his wife Heather for the weekly movie night on Friday, where they were watching "Moana." 
Myers' lung was punctured when the limb fell and it broke three ribs, Heather Myers said. Doctors are still trying to determine if it bruised his heart, she said. 
"It's kind of touch and go," she said. "But he's stable."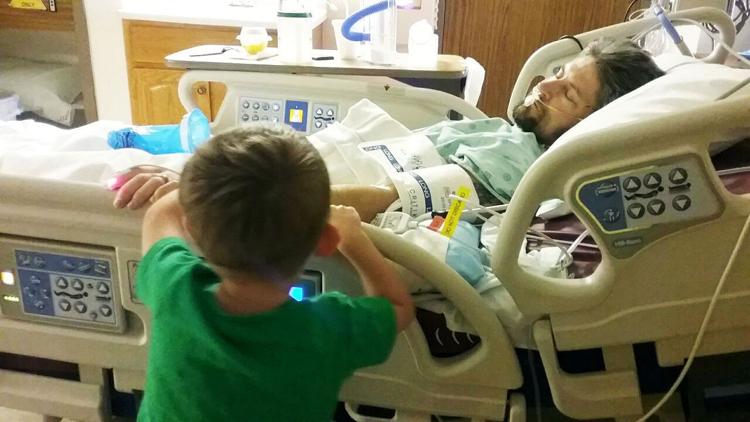 Heather Myers said they have not been contacted by the city nor have they tried to contact city officials. She said they're still trying to figure out what their next step will be. 
Myers is an avid "Star Wars" fan and frequently dresses up as a Mandalorian warrior — a race that includes the bounty hunter Boba Fett — in a costume he made.
He and other costumed fans started a local branch of the international costume group Mandalorian Mercs. The Billings group, in costume, has attended local movie premieres and frequently appears at public events to help raise awareness for various charities. In April they were at the Walk MS:Billings event. 
Myers, originally from Washington state, joined the U.S. Navy and served as an internal communications electrician on the USS Russell after high school.
He and Heather came to Billings for her work in June 2010. She's now a stay-at-home mom, and Myers works at the Yellowstone Paper Company. The small business offers no benefits and Myers has no insurance, she said. 
"We're a little worried about how we're going to stay afloat," Heather Myers said. 
To help, Domino's Pizza in Billings is hosting a Dough Raising Night on June 28. For customers who fill out a form, 20 percent of their order that night will go to help the Myerses cover medical bills.
The family has also set up a GoFundMe site.