It's been two years since Kathy Novasio sat on an emergency flight from Billings to Denver watching medical staff work continuously to keep her 11-year-old daughter's airway open.
Earlier that day Ahna Novasio, then 11, had wanted to go to school despite a sore throat and neck which had lingered beyond antibiotic treatments weeks earlier.
"She's a little gunner and said 'No, no, no," she didn't want to miss school," Kathy Novasio said.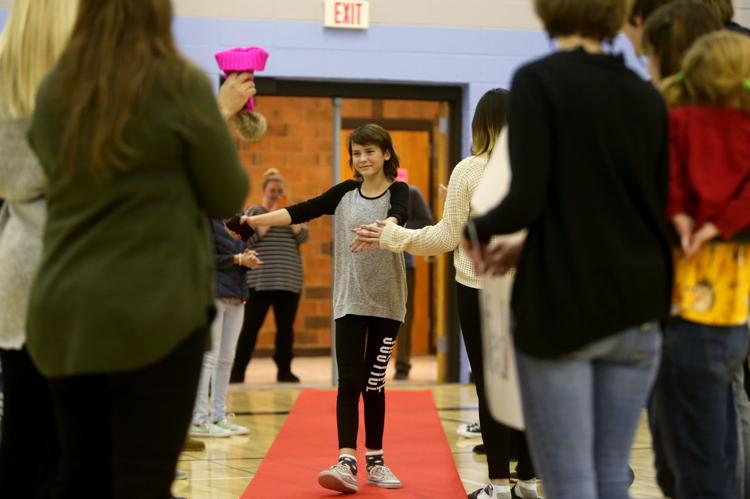 A few hours later Novasio got a call from the school saying her daughter wasn't feeling well and that she should go home. Doctors that day initially thought Ahna was showing signs of mono. When the results of an x-ray test came back, Kathy Novasio said she and her daughter were told to go straight to the emergency room. Later in the afternoon when the results of a CAT scan came back, the Novasio's were told they needed to travel even farther.
"They finally came in and said she had cancer and I needed to pack a bag. There'd just be room on a flight to Denver for she and I and a small bag," Novasio said. "Basically she had a mass in her thymus gland. She's got leukemia. It's a t-cell leukemia and the leukemia cells, the t-cells built up in her thymus gland. That was what was causing the swelling in her neck. It was about to block off her airway."
That was in November 2015. Chemotherapy treatments, visits to hospitals and conversations with doctors and nurses have become regular parts of the lives of mother and daughter since. Chemotherapy has forced Novasio into isolation at times when her white blood cell count was dangerously low.
The two have coped with the illness in different ways. Kathy Novasio said it helps her to talk about it, whereas her daughter is more reserved with her feelings.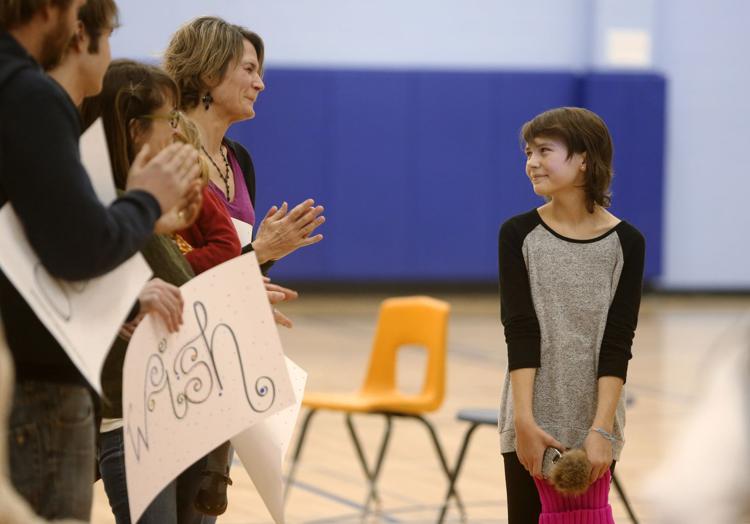 Both have benefited from the affection of a pair cats, Napoleon and Rosebud, which Kathy Novasio said she and her daughter picked out after trips from Denver.
Ahna is currently in remission and her chemotherapy treatments are expected to stop toward the end of March 2018, her mother said.
Thursday, Ahna Novasio was given something else to look forward to when Montana Make-A-Wish Foundation presented her with tickets to the upcoming Grammy Awards during a surprise assembly at Castle Rock Middle School.
And it was definitely a surprise, Ahna confirmed. "I thought it was going to be something like for school because they said so on the intercom," Ahna said. "And then I came in and that happened."
Family and friends visiting school for the event waited temporarily in the parking lot on a cold December day as Kathy Novasio received cellphone updates about her daughter's location in the school. As she passed the windows facing the parking lot, the group crouched and waited until the coast was clear.
After the rest of the school had assembled in the bleachers, Bruno Mars, one of the musicians Ahna hopes to see at the Grammys, began belting over the gym sound system. A plastic fabric red carpet was stretched across the floor from a side entrance of the gym and at its end waited Ahna's family holding signs saying "Your wish is granted."
"She's always been my toughest kid," Kathy Novasio said. Characteristically, Ahna kept her composure even as some of the adults around her grew visibly emotional. School counselor Shannon Toney told the school a little bit about Ahna's journey. Her voice quavered as she talked about Ahna's character. "She's the kind of person I want to be," Toney said. "She's the kind of person I want my kids to be."
Toney said throughout her treatments Ahna has maintained straight A's. During Ahna's frequent trips to Denver, Toney said she would get calls from Ahna about assignments she was missing. "She would be looking at what she was missing and trying to figure out how to make it up while she was doing chemo," Toney said.
Montana Make-A-Wish Foundation is working to set up a shopping event for Ahna to find something to wear for the star-studded show, according to Make-A-Wish Montana development manager Lea Hackey. Ahna, accompanied by family, will ultimately get a five day free trip to New York City as part of her wish.
"It's pretty big, just considering everything she's been through," her brother Alexander Novasio said. He described his sister as frank with her words and feelings.
Ahna said she wants to see "a bunch" of stars at the Grammys, with one in particular. "I want to see Bruno Mars," she said.
Asked if there was anything she didn't have a chance to say during an interview with The Gazette, Ahna was straightforward. "You could say that I'm awesome."