Gena Lager has experienced the highest highs and lowest lows of motherhood.
She and husband Ben have enjoyed the exquisite moment of holding a newborn in their arms. They are parents to five sons and one daughter, and a sixth son is due in June.
But the Billings couple have also known the soul-crushing loss that comes with two stillborn births and two miscarriages. Even with that, Gena can find a silver lining.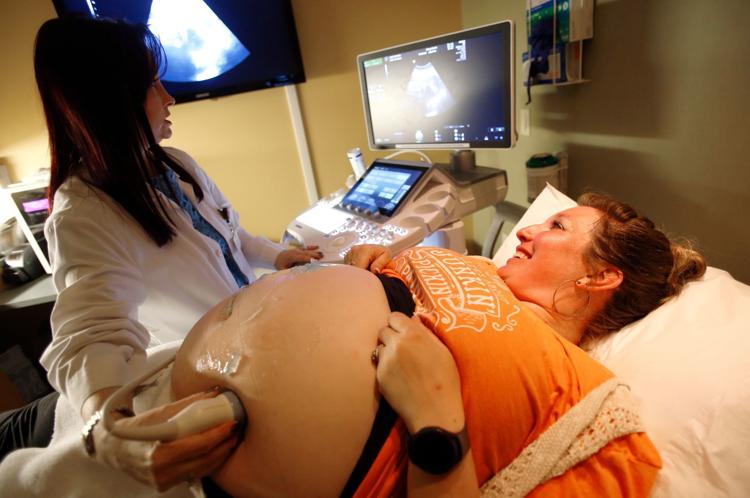 "I love that I can say at this point that I'm grateful for everything I've gone through," she said. "It gives me some opportunities to relate to any mom, anywhere they've been at or what they've walked through."
The story of Gena, 35, and Ben, 33, goes back a long ways. The pair met at the Big Timber city pool when he was 8 and she was 10.
"We went to youth group and became really good friends," she said.
Even then they talked about someday having a big family, Ben said.
"My mom one is one of eight, and her biological grandmother was one of six," he said. "We talked about having lots of kids."
Ben admits he was the shy one. They started dating when he was 16.
"Then I started going through some personal stuff at home with family and (Gena and I) ended up breaking up," he said. "We went our separate ways for a while, and I ended up going to Fresno for a while."
In that time Gena met someone else, got pregnant, thought long and hard and decided to keep the baby. She was living in Townsend at the time.
She named her son Josiah, wanting him to have a strong name "because of the situation I was in. So I prayed about it a lot and I picked his name" out of the Old Testament.
Josiah, Gena explained, was an 8-year-old king "who changed the course of Israel and followed the Lord in the midst of other ungodly kings."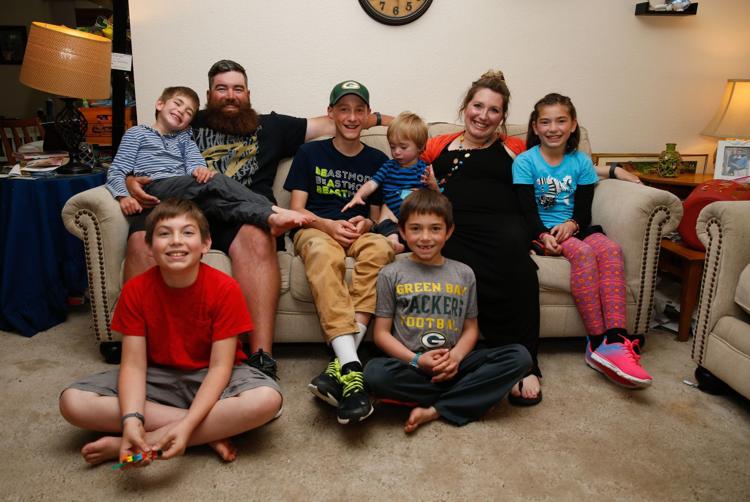 That trend continued with her other children, who all know the character traits of their biblical namesakes.
"They talk about it a lot," Gena said. "It's had a lot more impact than I realized. It has been really neat."
A new family
Both Gena and Ben wound up back in Big Timber and bumped into each other in February 2004, Ben said.
"We ended up talking till I don't know what time it was in the morning," he said.
They started dating again, he said, intending either to get married or, if it didn't work out, never see each other again.
They married Dec. 31, pregnant with their first child. Four days later, driving near Big Timber at twilight on an icy road in poor visibility, they collided at the crest of the hill with a three-quarter-ton truck.
"She wasn't breathing," said Ben, who sustained a huge knot on his head. "I called 911. I thought she had died."
By the time an ambulance arrived on the scene, Gena, who had regained consciousness, was taken by ambulance first to the Big Timber Medical Center and then to St. Vincent Healthcare in Billings.
"They told Gena she was going to miscarry within 24 to 48 hours, so we stayed there a little while," Ben said.
Remarkably, the amniotic sac released fluid and then filled again, keeping the pregnancy intact. Gena was eventually released from the hospital, but had to return every three days for an ultrasound.
At 24 weeks, she was readmitted to St. Vincent, where ultrasounds were done every day to track the fetus' progress.
"The baby kept growing," Gena said. "The doctors couldn't explain why I was wasn't miscarrying."
Then on March 3, 2005, when the baby was at 27 weeks gestation, the ultrasound revealed his heart had stopped beating. The boy, whom the couple named Elisha, was delivered two days later.
"They gave us lots of time with him, to hold him," Gena said. "Our pastor and his wife came up and dedicated him. The nurses did casts of his hands and feet in a memory box, with some of his hair."
Before the car crash, Gena had bought a teddy bear for Elisha. She had knitted a blanket for the baby and picked out a preemie outfit, figuring he'd be small when he was born.
"After we got home, it was hard for Josiah to understand why the baby was in my tummy, but he didn't come home," Gena said.
She dressed the teddy bear in the preemie clothes and wrapped him in the blanket, allowing Josiah to carry him around. It also gave her comfort.
"Sometimes your arms ache," she said. "It's like a real thing when you don't have that baby to bring home."
That wasn't all she and Ben held onto.
"I'm a very firm believer if it wasn't for our faith and not having a hope to hold onto that there was a purpose for our life, and even for Elisha's life, we probably would have blamed each other because our marriage was so young," Gena said.
They also sought counseling to help them through the difficult time, Ben said. It was a way to "untangle the past baggage of our lives" and figure out who they were together and how to move forward.
Growing family
In this time, the couple also had moved to Billings, first to live in an apartment and then to buy a three-bedroom home in August 2005. And then in September they found out they were pregnant.
Gabriel Isaac was born in May 2006. He was what obstetricians call a "rainbow baby," born healthy after a couple loses an infant to miscarriage or stillbirth.
"'Isaac' means laughter, and we were so happy to have him," Gena said. "Still today he's our big sweetheart. He's our one who always gives a hug."
It was a long time before the baby crawled. She figured it was because whenever he squawked, big brother Josiah would surround him with toys. He was spoiled by the family who was so grateful for this new addition.
Gena, a planner by nature, decided a two-year gap between children was perfect. But when Gabe was 9 months old, she started feeling awful.
Thinking she might have mononucleosis, Gena went to a walk-in clinic, where they tested her for mono, and also did a pregnancy test. Baby Lydia was born in November 2007.
"She's got dark-brown eyes and hair, like her dad. She's quiet like her dad and goofy like her mom," Gena said. "We call her our little unicorn because it's a miracle we had her after so many boys."
'A rough year'
When Lydia was 9 months old, Gena and Ben discovered they were again expecting, and they told their family and children the good news. When Gena was 12 or 13 weeks along, in October 2008, she was in the kitchen one day when she felt her water break.
A call to a delivery nurse at St. Vincent let her know she was likely in the midst of a miscarriage and to keep an eye on it. A visit to her obstetrician's office at Billings OB/GYN confirmed it.
The couple bought another teddy bear, in honor of the boy they named Asa.
"We came home and told the kids Asa went to heaven to live with Elisha, and this would be his bear," Gena said.
Toward the end of that year they got pregnant again, only to suffer another miscarriage in February 2009. With the death of two grandmothers in seven months and the second loss of a pregnancy in four months, "it was a rough year," she said.
They hadn't told the children or their family about the pregnancy, and decided not to buy a teddy bear. But that didn't stop Gena from grappling with the loss.
"I was pretty frustrated," she said. "I asked God, 'Why do you let me get pregnant to take it away?' "
Medical help
Not long after, Gena bumped into Amy Lix, the registered diagnostic medical sonographer with Billings OB/GYN, at a store, who asked how things were going. When Gena shared her anxiety over the two miscarriages, Lix encouraged her to call the office as soon as possible with her next pregnancy.
A medical solution, in the form of progesterone, might be the answer to her problem, Lix told her.
Dr. Chimene Dahl, Gena's OB, who sat next to Gena during her interview with the Gazette, said that in early pregnancy, a woman's ovary has a cyst called a corpus luteum that secretes progesterone. That's what helps maintain the pregnancy until the placenta takes over.
"For these patients having recurrent miscarriage, you can prescribe supplemental progesterone in case their ovaries aren't making enough," Dahl said.
Baby boys
When the couple became pregnant that spring, Dahl prescribed progesterone for Gena. Their next child, Gideon, was born February 2010.
The delivery, their quickest up to that time at 10 hours, went well and the baby was healthy. But when he was a week old the infant developed RSV, a respiratory virus that hit Gideon hard and landed him in St. Vincent's pediatric intensive care unit for 10 days.
"Right around the five-year anniversary of Elisha's death we were on the same floor of the hospital waiting to see if another one of our baby boys was going to make it through," Gena said.
He recovered, but for the next nine months suffered colic, which was rough on the couple. When they found out they were expecting again in fall 2011, Gena struggled.
"When I got pregnant with Job I cried for two months," she said. "I thought 'I can't do another colicky baby. He will break me.' "
Her worries were unfounded. Job, born in May 2012, was "a super laid-back baby, just as easy as pie," Gina said.
When he was born, the nurse placed Job on Gena's chest, with Ben standing next to her. The infant's face took their breath away.
"Job looked exactly like Elisha when he was born," she said. "It was eerie, but it was also so fulfilling even after all these pregnancies that maybe we'd get a little glimpse of what he would look like as an older child."
Growing home
In fall 2014 the couple decided to try for another baby. When they got pregnant, they decided it was also time to buy a bigger home, and they signed a buy-sell in January.
In February, when the baby was 20 weeks gestation, they went to Billings OB/GYN to have an ultrasound to find out if they were having a boy or a girl. Lix, who had been with them through all of their pregnancies, performed the ultrasound and couldn't find a heartbeat.
"I remember her saying, 'It's not fair, you guys don't deserve this,' " Gena said.
In one sense, it was harder than in the past because the couple thought they'd never have to go through another stillborn birth. But they found comfort in their community that had helped them through the first one.
They named the baby Levi and bought a teddy bear to remember him. Their church family at Faith Chapel came around them too, Gena said, helping them move into their new home.
"It was bittersweet," she said. "Levi was the whole reason we bought the house, and we never brought him home."
Dahl, Gena's OB, remembers that time, as well.
"Gena handled it amazingly well; your faith got your through it," she said. "The nurses and staff were always so impressed that you were so tough."
The family visited California in July 2015 and unbeknownst to them, Gena already was pregnant with their next child. Jebediah was born in March 2016.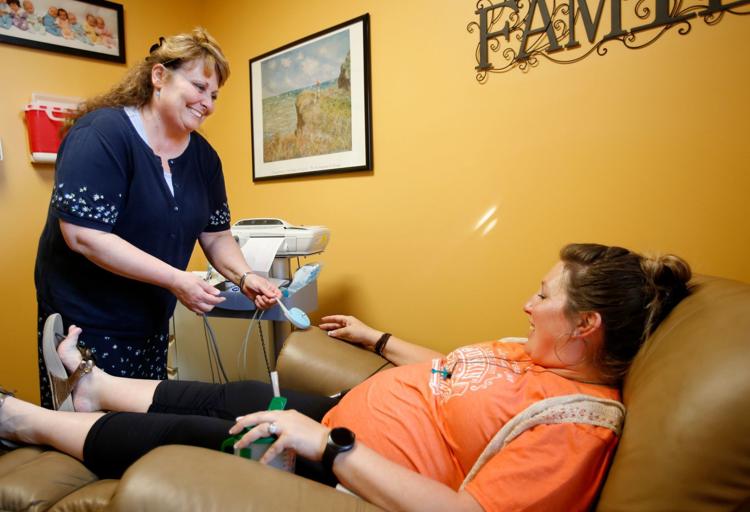 His position at birth meant he needed to be delivered by caesarian section. But the infant was the lightest of all the births, at 5 pounds, 5 ounces and healthy.
"He was so tiny, he was a ferocious nurser," Gena said, smiling. "It's pretty much all he did the first months of his life."
Jebediah was a balm to the family's heart after losing Levi. The other children, who felt the loss of Levi more keenly because they were old enough to understand, showered their latest sibling with love.
"They're so enamored with him," Gena said. "He's not starved for attention at all."
'I give her all the credit'
In September 2017, Gena became pregnant with another son who is due in June. For now, Gena and Ben are calling the baby boy "Siete" (Spanish for seven).
They have a couple of baby boy names in mind. But Ben wants to see which one best fits the infant after he's born.
The baby's birth month is poignant. It's the same month both Elisha and Levi were due.
On a day that celebrates moms, Ben has kind words for his wife and the mother of his children. She gives them snuggle time, laughs with them, home-schools the older ones, has just the right touch with them and "the kids just love her."
"They're such amazing kids, outgoing, people-loving, respectful, smart," he said. "I give her all the credit for that. Her whole life is devoted to being a mom, that's is all she wanted to be and now she's nailing it."
For her part, Gena has learned the fragility of life.
"I think losing that child the first thing in our marriage gave us a different perspective on children," she said. "It made us realize that every moment with these children is precious, and once that moment is gone, it's gone."