Most mornings, a 37-foot-long Freightliner M-2 Business Class hybrid truck backs out of the Billings Public Library, hauling 3,000 books, DVDs, books on tape and CDs.
The vehicle is the Billings Public Library Bookmobile, and it's piloted by Patti Skonicki, a longtime librarian who moved, along with her 22-year-old daughter and their three horses, to Billings from Missouri nearly three years ago.
"I was just tired of living in the city," Skonicki said. "I always wanted to move out West." 
Skonicki, who has degrees in German and Spanish, taught one year of Spanish before becoming a librarian, working the majority of her career in the Normandy School District in Ferguson, Mo., where she raised her children. For much of her career she had aspired to become a public librarian, but Skonicki said an excess of qualified librarians in St. Louis left her little opportunity to transition from being a school librarian.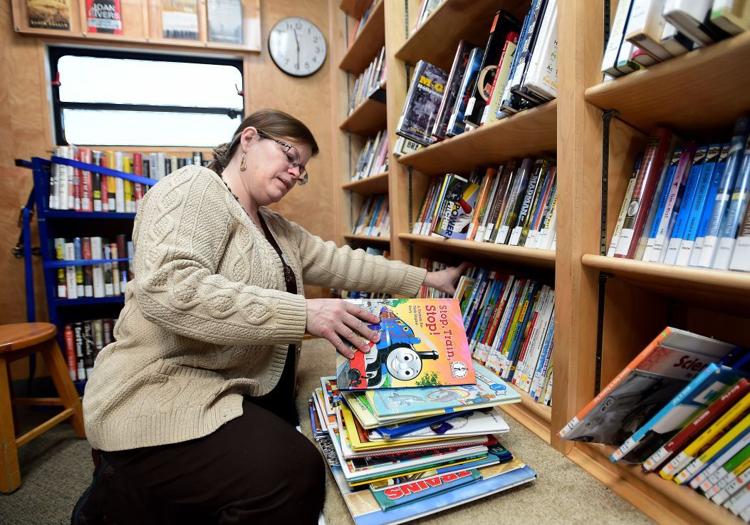 Skonicki makes more than 40 total stops a month throughout Yellowstone County in the vehicle that draws some of its power from rooftop solar panels. In the first four months of 2015, she estimates Bookmobile users checked out 5,000 items. Although she doesn't have year-end figures yet, that rate of rental would have put her on pace for 15,000 in a year. Weather can be an issue, with the potential for ice always on Skonicki's mind, but she guessed there hadn't been more than three weather-related cancellations since she started. 
In addition to stops in Broadview, the Bookmobile provides its services to a variety of other communities, anchoring down in Acton, Worden, Shepherd and Lockwood, and as far away as Custer. 
"You get way on top of some of these hills and you can just see for miles and miles," Skonicki said. "It's pretty amazing out here. I like watching how it changes through the seasons." 
After massive snowfall hit the area a few years ago, Skonicki said the rapid snowmelt created "miles of inland sea" along a flat spot between Broadview and Acton.
Skonicki started working with the Billings Public Library two years and seven months ago, replacing Jerry Dalton, the library's Bookmobile driver for nearly 40 years. Although she was hired as a Bookmobile librarian, Skonicki had to earn a Class B CDL driver's license first to legally drive the massive machine. Co-worker Mary Leichner and Leichner's husband Steve both had CDL licenses and were able to help train Skonicki and get her rolling.
Before she gets going in the morning, Skonicki conducts a routine check on the truck, which includes an inspection of the truck's air brakes.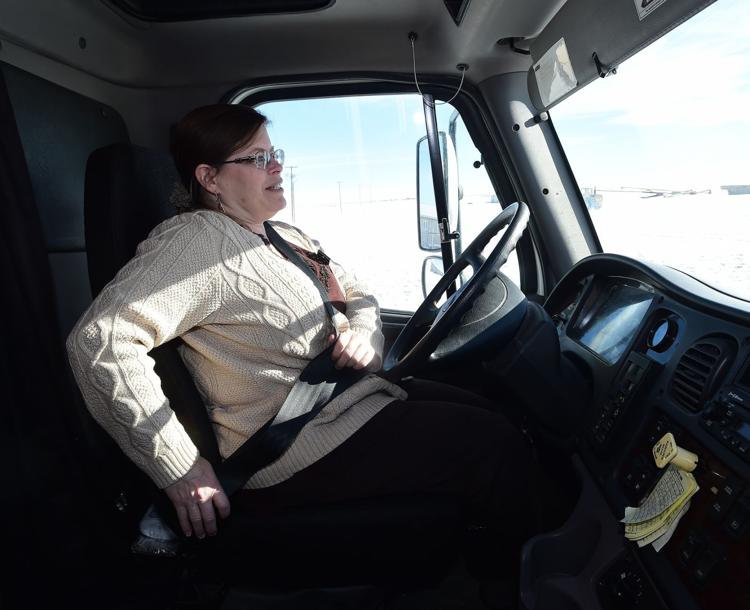 First stop: Broadview
Skonicki first arrives at the Mountain View Hutterite Colony, which sits about 45 minutes north of Billings.
She reaches the colony after traveling miles of rising and falling snow-covered gravel road, occasionally shared with farming vehicles and various food delivery trucks coming to and from the colony.
Three teachers handle duties for the Anabaptist community's school of just under 20 children ranging from kindergarten through eighth grade. All the students dress similarly: girls in blouses and long skirts with polka-dotted bonnets secured over their hair; boys in broad-shouldered black cloth jackets fully buttoned with an undershirt's patterned collar folded over.
"They're really responsible," Skonicki said of the students. "They hardly ever lose anything." 
When Skonicki arrived Jan. 21 around 10 a.m., several boys had pulled aside window curtains and pressed their faces to the glass, watching with eager, darting eyes as she pulled up alongside the unadorned schoolhouse.
"They don't watch a lot of TV or have a lot of outside entertainment. I try to never miss because I'd feel really bad if they missed it," Skonicki said. "They get excited. It's funny. It's kind of overwhelming sometimes." 
The older students were the first on board the Bookmobile, carrying their items for return in plastic Billings Public Library bags. Their teacher, Theresa Allen, charged them to look for a mystery book in addition to the other books that catch their interest and can't be found in the colony school's small library.
"It really helps to expand their reading and they love to read," Allen said. "This is a great service. We appreciate it."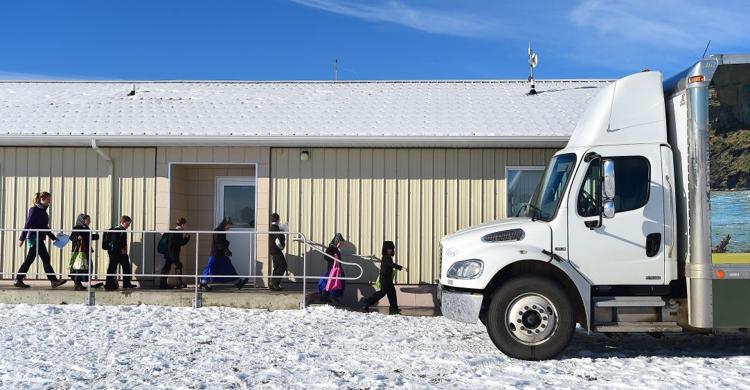 Students waited to return stacks of books that when placed on on "Ms. Patti's" check-out desk stood as tall as some of the shorter, younger students. Darren Kleinsasser brought Skonicki "just 12."
One boy got the newest "Guinness Book of World Records," while others went for sports-related youth readers, including a biography of basketball star LeBron James. Skonicki said that "Archie" comic books are also popular. Megan Schaff, who teaches kindergarten through fourth-grade, said her students "love 'Junie B. Jones'; they'll read it over and over." One girl checked out "Mushy Gushy Valentine" and another got "Yucky Bucky Fruitcake." 
Waiting in line for checkout, boys chatted about sports in accented English, the result of their unusual linguistic education. Hutterites at the Mountain View Colony, in a manner similar to other Hutterite colonies, speak Low German and write in High German, both historical dialects of the modern language.
After the stop, Skonicki began a routine repeated often throughout the day: shelving returned books, re-positioning upside-down or backwards books, and chipping away at the lists of book requests from students at the colony and elsewhere kept in an inches-thick stack that is held together with a binder clip.
"It's just nice to be wanted," Skonicki said of the colony's appreciation.
Peak hour
Skonicki's next stop was farther north at the Broadview Senior Center, where she got a few more customers, including Maggie Conover, a former Broadview School teacher born in 1922 who moved to Broadview in 1935 from Monarch.
"There was no high school in Monarch, so I graduated, then went to Normal School," Conover said. "Then I married a local fellow, and we were married for 71 years. He passed away a few years ago, and here I am, still living in Broadview and still reading books."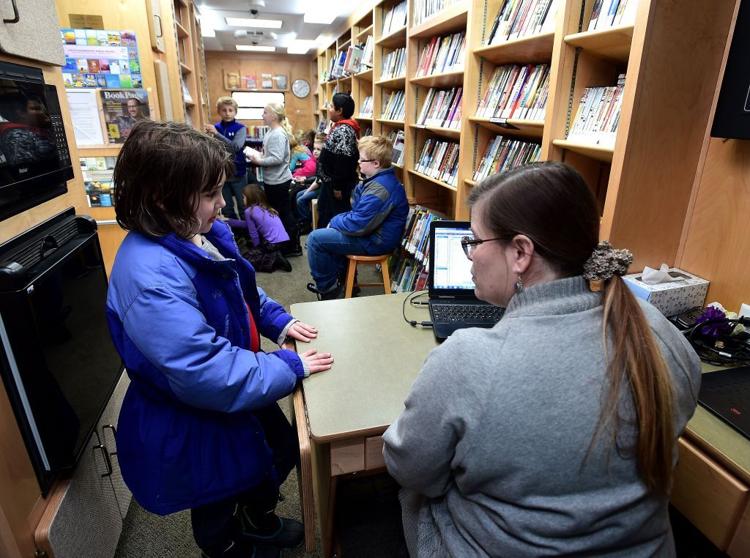 Conover said Broadview is lucky to have the Bookmobile. "I take home six or seven books, cause you know, when you live by yourself, you don't do too much else, not even housework because you don't make any mess."  
After Conover checked out, she and Skonicki joined the roughly 40 locals assembled for the Senior Center's $3 Thursday lunch of beef Stroganoff, salad, beets, muffins, bread and pie.
"I've met so many people, and being new to Billings, it's nice to meet new people," Skonicki said. "I know Yellowstone County really well now, at least the parts I go to." 
After lunch is Skonicki's longest stop of the day, the Broadview School. There, Skonicki remains for two hours as children from the different grade levels filter through, checking out books, making requests and reading along the carpeted seating in the Bookmobile.
"It's kind of funny, I see the grandparents at the Senior Center and then I see their grandkids over here," Skonicki said. "It's just not the ones in the middle so much." 
Kevin Nelson, a Broadview native in his 50s, is one of those people in the middle. He said while he doesn't use the Bookmobile much, he sees its value because his children and many other members of the community have used it.
"I know my mom had Parkinson's disease for most of my life," Nelson said. "I know when she was still alive she would look forward to it to listen to books on tape. 
"It's definitely a thing for the whole community," he said.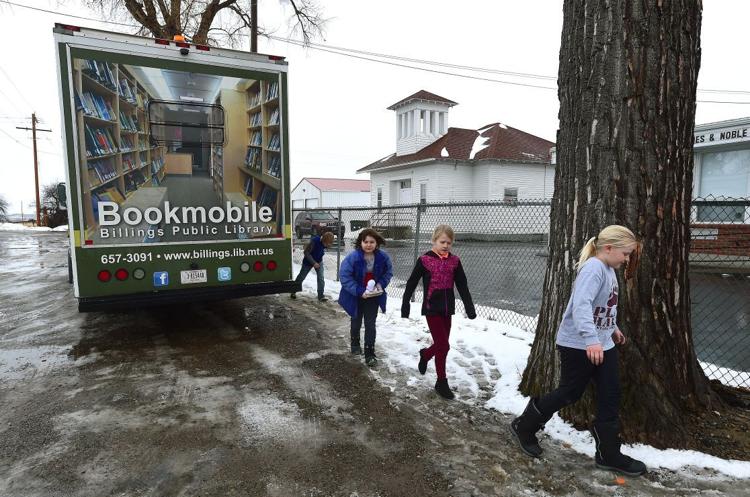 Fifth-grader Alita Monsen showed up with a long list from her older sister Liella, one of Skonicki's most reliable customers who was missing the Bookmobile for a dentist's appointment. Alita estimated her sister has, at the most, checked out 15 books at once and typically has them all read by the time the Bookmobile returns two weeks later.
"There's lots of books here that aren't in the big library at school," Broadview sixth-grader Tim Lane said while scanning the reviews on the back of a Tim Tebow biography, including one from Chuck Norris.
"Chuck Norris is a person?" asked Lane, to which a classmate replied, "I thought he was a myth."  
At one point Skonicki worked with a student determined to make a multi-dollar replacement fee payment using one dime and for the remainder, pennies counted out into 5-cent piles.
"They look forward to this all week," said sixth-grade teacher Shannon Little Bird, adding that she knows "because they ask me 100 times a day." 
Wheeling home
After Broadview, Skonicki tidied her shelves and traveled back south for Acton. She passed through the handful of homes and grain elevators that make up the town of Comanche as the skies began to darken and the temperature fell.
There was no action in Acton for the Bookmobile, giving Skonicki quiet time to continue inventory and submit book requests before beginning the drive back to Billings.
Skonicki usually stays at the library after returning around 5 p.m. She spends the time tying up loose ends before commuting to her home west of Pompeys Pillar. Mary Leichner, a library staffer, helps restock the Bookmobile in the evenings, choosing items mainly from a sense of librarian's intuition for popular titles and trends that she's accumulated over the years. She and Skonicki also retrieve requested books when possible. When Skonicki arrives the next day, the traveling library is ready to roll again.