Six-year-old Elijah Salley is an aspiring artist who loves math, enjoys putting together Legos or playing Minecraft, is outgoing and has a great sense of humor.
But for the past eight months, much of the Billings boy's focus has been on cancer. Diagnosed in early March with acute lymphoblastic leukemia, Elijah and his mother, Tara Salley, who live in Billings, flew to Children's Hospital Colorado for his initial treatment.
Since then, however, he has undergone subsequent rounds of inpatient chemotherapy at Billings Clinic. Elijah is the first pediatric patient to receive the inpatient treatment at the Billings hospital, thanks to a care alliance agreement signed in February with CHC.
Through the formal alliance, the Aurora, Colorado-based hospital provides training to the medical professionals at the Billings Clinic, as well as support, expert advice and ongoing coordination in cases like Elijah's.
CHC physicians and others visit Billings quarterly for case reviews, for updating protocols and for training. It also includes collaboration via telemedicine.
And when a more specialized type of care is needed, the alliance can streamline coordination between the two hospitals.
"It accelerated our ability of achieving the goal of doing inpatient chemo," Billings Clinic pediatric nurse Tammy Johnson said. "It would have been more challenging than without it."
There has been an informal arrangement between the two hospitals for years, said Dr. Jack Staddon, pediatric oncologist/hematologist at the Billings hospital.
"The care alliance was a formalization and deepening of longstanding relationships between pediatricians and pediatric subspecialists at Children's Hospital Colorado and those here in Billings," he said.
That has made all the difference for the Salley family. Tara, a physician assistant, and her husband, Gabriel, a real estate broker, have three children, Elijah; Alexis, 17; and Robert, 20.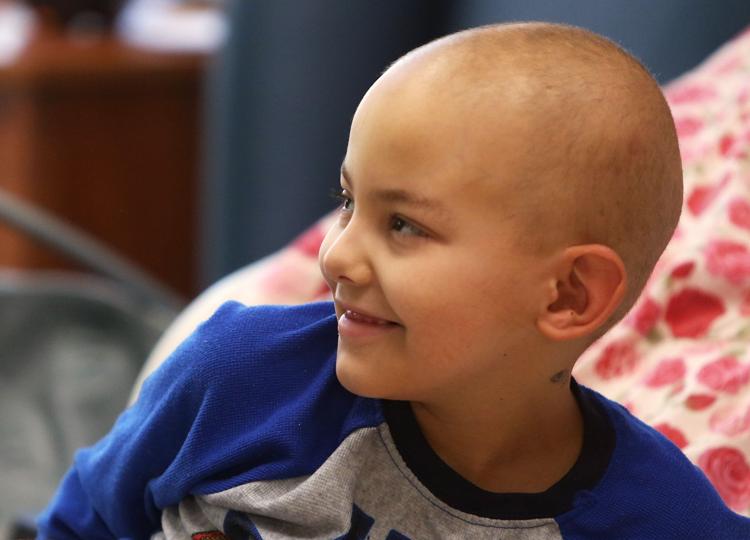 On Feb. 27, after the family had returned from a vacation, Gabriel noticed a lump in Elijah's groin and thought maybe it was a hernia.
"We took him to a walk-in clinic to see, and they discovered it was a very large lymph node and he had enlarged lymph nodes everywhere," Tara Salley said.
A day later, Staddon examined him, and by March 1 Elijah was diagnosed with leukemia. Salley and her son flew to Denver the next day to start treatment at CHC.
They stayed in Denver for about six weeks, with Elijah in the hospital for 11 days during that time.
"We're fortunate enough that our closest friends live in Golden, so we were able to live with them when we were down there, which lifted a big financial burden," Salley said. "But not every family is that lucky."
Elijah responded well to treatment, Staddon said.
"He went into remission and has done actually very, very well in his treatment course," he said.
In the meantime, Johnson said, the wheels were set in motion for pediatric patients to receive inpatient chemotherapy at Billings Clinic.
"When our floor opened in January 2016, our goal was to do inpatient pediatric chemotherapy within 18 months," she said.
Two certified pediatric hematology/oncology nurses from CHC traveled to Billings for two days in April to teach pediatric charge nurses how to deliver chemotherapy. The staff did some further hands-on training in the clinic's adult infusion center and the pediatric outpatient infusion center.
Then Johnson spent a week at CHC to learn hands-on processes, such as charting, and safety measures. It also included working with nurses at the bedside to see how they interact with patients and administer the chemotherapy, as well as time at the outpatient clinic.
"Our goal was to have everybody ready to go by June first," she said.
By the time Elijah was ready for his first inpatient chemotherapy session in Billings in mid-June, the clinic was ready for him. Most of his treatment will be outpatient, Staddon said, but Elijah will require two months of inpatient chemotherapy clustered into in three- to four-day stays.
Expected complications, including fever and low white and red blood cell and platelet counts, have also required additional hospital stays. Throughout the entire process, Staddon has worked closely with the physician team in Denver "so their experience is able to inform our care."
It's helpful to dip into the experience of a large center that has several cases like Elijah's instead of just the one, he said.
"He's really been able to get the best of both worlds," Staddon said. "He gets subspecialized care and knowledge from Denver and the individualized care I've been able to do here as more of a general pediatric oncologist and hematologist."
Salley also has been grateful to stay close to home for the extended treatment. It allows her to work, keeps her close to her husband and other children and lets family and friends visit Elijah.
"Children's Hospital Colorado is an amazing facility, but it's very big," she said.
It was difficult to get to know the large staff of nurses and doctors. Here, she knows all of the nurses by name, and Elijah has bonded with Staddon.
"This is much more personalized, and it just feels more like family," Salley said.