Students will return to classes Monday at St. Francis Catholic School, but the gymnasium, music classroom and some other parts of the school will still be out of commission while remediation crews address extensive flood damage after a water main broke earlier in the weekend.
On Sunday, a steady, droning hum was audible throughout the first floor of the school, where dozens of fans and dehumidifiers had been set up to dry out a portion of the school that had been submerged in up to 4 feet of water.
Billings Catholic Schools President Shaun Harrington said he didn't yet have an estimate of how much damage the burst water main had caused. He expected the building's insurance will fully cover the damages.
Physical education, band and other classes that use the gymnasium and music rooms will be displaced, but he said all of the regular classrooms had been spared. The gym, locker rooms, choir room and the "commons" area near the front entrance had all flooded to varying degrees, as had several connecting hallways and storage rooms.
Harrington said that the flooding was inadvertently discovered on Saturday by a nearby resident who had gone out for a walk.
"He saw a guy spinning brodies in the parking lot and was going to tell him to knock it off," Harrington said.
When the neighbor walked over, he saw water pouring out from under the door. He gave one of his friends a heads-up, who in turn let a school official know about the flooding.
Standing in a hallway leading to the outside patio, Harrington compared the burst 4-inch water main to a geyser.
"This area in here was probably under 2 or 3 feet of water," he said.
The most significant damage may have been to the gym's hardwood floor, according to Steve Hanlin, who owns SERVPRO of Billings, one of the two restoration companies working on the flood damage.
A system of fans and dehumidifiers were set up Sunday to push dry air underneath the hollow, 2-inch gap beneath the wooden floorboards. It had completely filled up with water Saturday, Hanlin said, and it wasn't clear whether the floor would still be usable after it finishes drying.
A hardwood floor specialist was scheduled to inspect the school gym Monday, to determine whether it could be salvaged. Harrington hoped it would at least remain usable through the end of the school year, if it does need to be replaced.
"We didn't have a gym before. If we don't have one for a few months, yikes, but we'll figure it out," he said.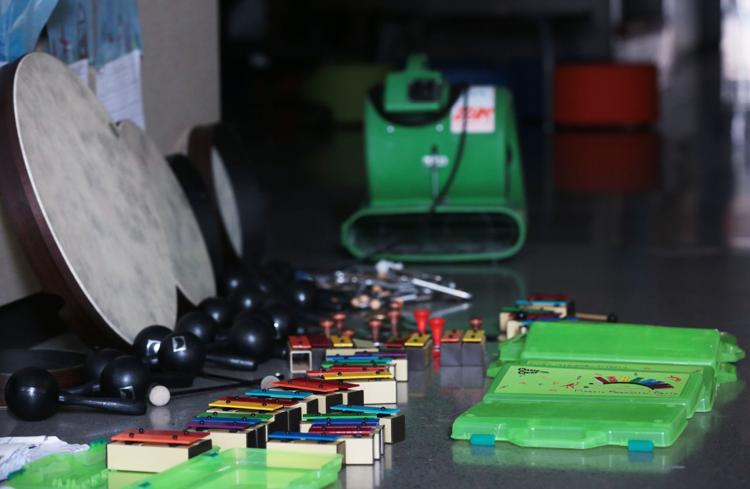 Getting the affected areas fully dried out could take up to a week, said Andrew Newman, of Newman Restoration. About a dozen workers were at St. Francis on Sunday, setting up fans and blowers, moving furniture to dry areas and tearing sodden insulation out of the walls.
The fact that two remediation companies were called in once the flooding was discovered is a testament to the extent of the damage, Newman said.
"For Billings, this is a major loss," he said. "You don't see these every day."
Billings firefighters, school officials and volunteers had worked until almost midnight Saturday to rescue what they could from the floodwaters.
Music teacher Glenda Newman said she was thankful that none of the instruments appeared damaged beyond repair — although she likely lost many songbooks that she's collected over her 50 years teaching music students.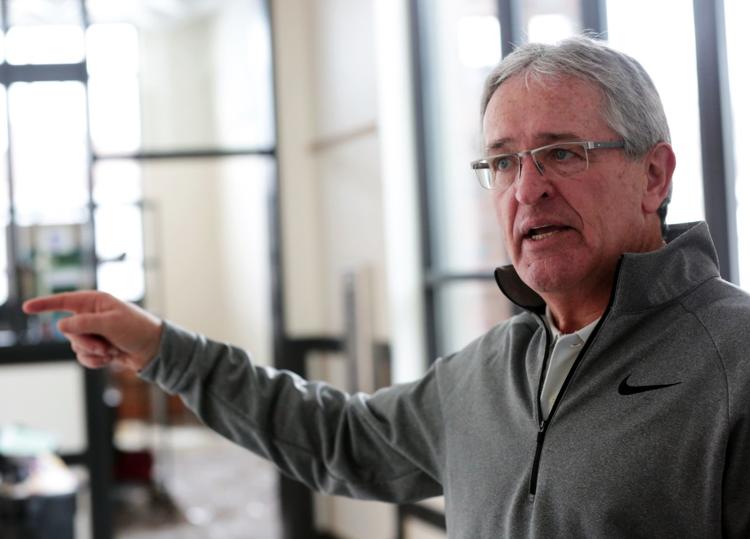 Harrington said he's already received an overwhelming amount of support, from Billings Public Schools officials offering their help to Granite Fitness volunteering its gym facilities for the school's athletic teams and Eckroth Music providing free repairs for instruments that were inundated in the choir room.
"Everybody, the principals, their spouses, were here," he said. "We had parents and grandparents, families, coming here and hauling stuff out last night. The community has been wonderful."