Dress for Success helps women one outfit at a time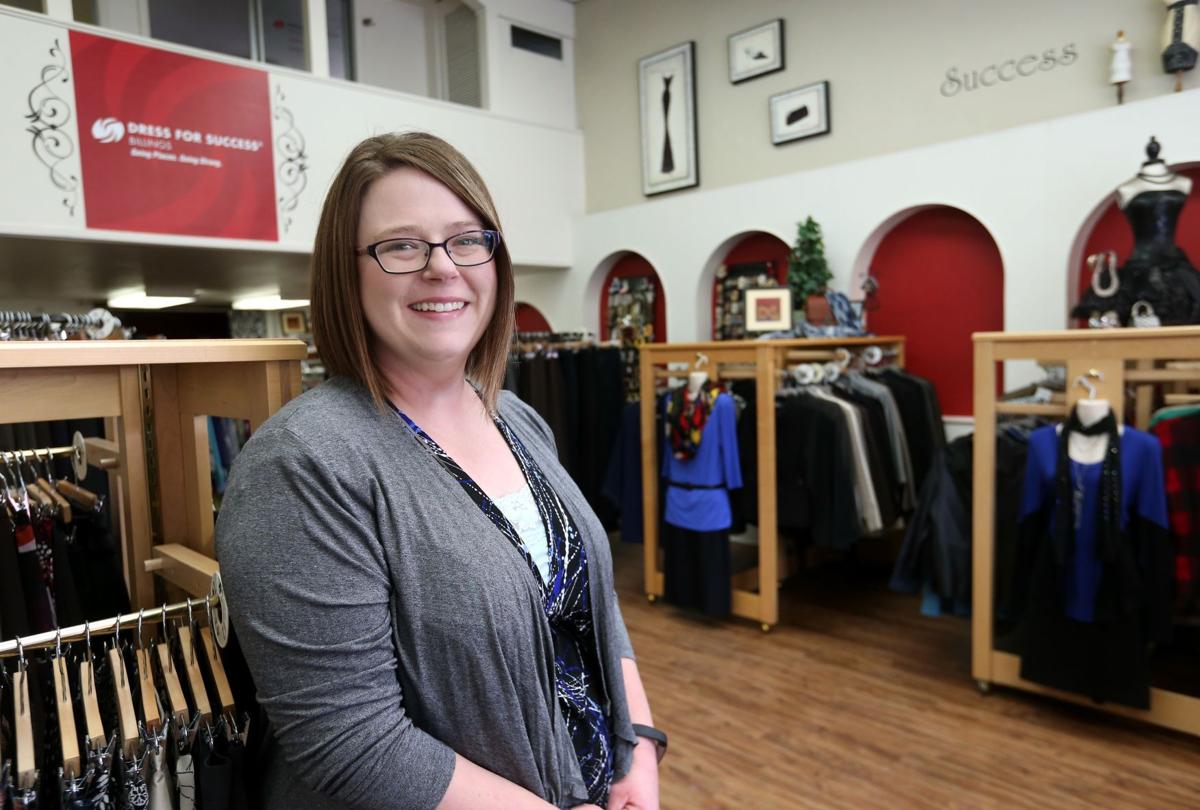 Inside Dress for Success Billings, an airy downtown boutique filled with racks of tastefully arranged women's clothing and jewelry, little miracles regularly happen.
The clothing, most of it described as "lightly worn," is donated to the shop at 304 N. 29th St. The clients, some low-income and many low on self-esteem, are getting ready for a job hunt.
With help from volunteer personal shoppers, women select an outfit from a variety of fashionable clothes, jewelry and shoes. They can even get new makeup and an updated hair-do.
A transformation happens both outside and inside, said Jodie Hart, one of the nonprofit's volunteers.
"When the client looks in the mirror and sees herself in clothing that makes her feel presentable in a way she hasn't known how to do, or didn't have the finances for, there's a lot of tears," Hart said. "When they're finally able to talk, they're usually very thankful and surprised and they actually begin to believe they can apply for jobs that they thought were out of reach."
Suiting up
Dress for Success is an international organization that, according to its website, "empowers women to achieve economic independence by providing a network of support, professional attire and the development tools to help women thrive in work and in life."
Since its start in 1997, Dress for Success has expanded to nearly 145 cities in 21 countries and has helped more than 925,000 women.
The Billings affiliate opened in 2000. Over the past 17 years it has served 7,000 women, said Briana Rickman, executive director of Dress for Success Billings.
Its initial focus, and still a big part of its work, is what Rickman calls "suiting" — helping women referred to the program find an appropriate outfit for a job interview. About 35 percent of the referrals come from Passages and the Montana Women's Prison, and probably another 40 percent from HRDC (Human Resources Development Council), Rickman said.
"We also work with women who are victims of abuse and women who have been stay-at-home moms for 15 years and have to re-enter the workforce," she said. "We have women who are laid off after 30 years and have to find a new skill set and we work with a lot of single moms and a lot of homeless women."
The Billings affiliate is also starting to work more with college students who are entering the workforce. The only requirement for clients is they have to be referred to Dress for Success by one of its partnering agencies.
Cultivating skills
Once she gets a job, a woman can return and get three to four additional outfits, clothing appropriate for her job. And after she has been employed for 30 days, she can return and pick out one final outfit.
But the clothing is only one aspect of how Dress for Success helps women, Rickman said.
"I really believe professional development is just as important as clothing, if not more so," she said, in her upstairs office at the downtown store.
The Billings affiliate opened a career center a couple years ago, which focuses on helping women develop resumes, conducts mock interviews and sometimes helps them search for a job. The center also has access to an online training portal, where clients can earn training certificates to broaden their computer, business and customer-service skills.
Since Rickman was hired last May, she has worked to expand the opportunities available to clients. In December, the first of what will be quarterly professional development workshops was offered to clients.
After attending a workshop, each attendee is invited to join a monthly networking group. At those sessions, members will hear talks that range from professional growth, budgeting and financial planning, stress management and healthy living to how to be a successful working mother.
A mentoring program was also added in January, which pairs clients and professional businesswomen in the community. The volunteers will help guide clients through their journey of getting and keeping a job, and give them support to move forward in their lives.
"These mentors are women who have done a lot in their careers and will be valuable to the women looking to better their lives and their families," Rickman said.
Dress for Success Volunteers also visit Passages, a women's pre-release center, weekly to staff a computer lab. The volunteers teach computer skills and help residents create resumes and fill out job applications, find housing and other services they'll need once they are released.
Jan Begger, chief operating officer for Alternatives Inc., which runs Passages, said Dress for Success has been a tremendous help to the residents.
"I think it's really nice for them to see professional women as role models who are helping them through this journey," Begger said. "I don't know what we would do without them."
Walking with confidence
Adela Awner, job development manager at Passages, said one of the first things the staff does after a woman comes to prerelease is give them a referral to Dress for Success. When a woman goes over to the boutique, Awner encourages them to have a good time shopping.
She praised the volunteers for their kindness in helping the clients choose the clothing and jewelry, shoes and, in winter, a coat and snow boots. They clients also get new underwear, makeup and a referral for a haircut.
"So many of the women, when they come back from the shop, they're excited and they feel good," Awner said. "And they look so nice when they put the things on."
She called their time spent at Dress for Success "such a good way for them to start out on this part of their re-entry and feel good about themselves."
Jodie Hart, a Dress for Success volunteer for three years, works with women both at Passages and at the Montana Women's Prison in Billings. Often, women leaving prison don't have a way to get civilian clothing to wear when they step out the door.
"So we started bringing clothing to the women's prison for women getting ready to be released," Hart said. 
For some women who haven't worn regular street clothing for years, the opportunity to don something nice begins to alter their self-perception, she said.
Hart also is serving as a mentor to women in the Dress for Success program, and she praises the work that Rickman has done in putting the mentoring and workshop programs in place.
"My excitement is that Briana understands what's going to help the women be successful long-term," she said.
Positive outcomes
One of the women Hart is mentoring is Janell McCurley, who first came to Dress for Success in August from Passages. McCurley stopped by Dress for Success on a recent day to talk about her experience with the nonprofit.
She was joined by Lisa Harris, another client who came to Dress for Success through Passages. Both McCurley, 35, and Harris, 39, say the clothing and the career counseling have helped a lot.
"The workshop was amazing for us, it helped us to know our strengths and weaknesses and what to say when we walked in the interview," McCurley said, wearing one of the outfits she got from Dress from Success. "So I walked in there with confidence knowing that I looked OK."
McCurley's self-confidence got her not one but two jobs. She works days packaging products at Grains of Montana, and in the evenings she is a sales associate at Herberger's department store.
McCurley is looking forward to being part of the networking group and taking additional courses. She also appreciates the support she gets from Hart.
"She's been a guide to help me along the way and helped me to have a perfect perspective," McCurley said.
Harris was appreciative of the friendliness she felt from volunteer mentor Kimberly Armstrong the moment she walked in to the Dress for Success boutique last summer.
"I was feeling low," Harris said. "But she made me feel welcome and not judged with her warm and calming attitude."
The encouragement Harris got imbued her with a confidence that allowed her to apply for a job as a server at Bernie's. She got a call back the same day and was hired.
Now Harris, who has a 2-year-old son, is hoping to go to college. She is grateful to Armstrong and the others she has met at Dress for Success.
"When you are kind of in a depressed state with all life has thrown at you, it helps a whole lot," Harris said.