When Ben Steele Middle School opens this fall at 56th Street West and Grand Avenue, it'll be the capstone project from a $122 million bond voters passed in 2013. 
For now, with crews pounding in gym flooring and installing cabinets in classrooms, it meets a familiar refrain from School District 2 officials during bond projects — "on time and under budget."
The district expects to start moving furniture into Ben Steele on July 1, and plans on getting teachers in by the beginning of August. Construction is about a month ahead of the pace set for Medicine Crow Middle School, which opened for this school year. Ben Steele's price tag is $29.3 million. 
"Even though we've had a brutal winter, we had such a jump start last summer we were prepared," said SD2 bond manager Lew Anderson. "All the big numbers are in so we knew we're going to come in under (budget)."
The 750-person capacity school is largely laid out similar to Medicine Crow. It holds slightly more students and has a larger kitchen, which cooks for surrounding elementary schools. 
Enrollment is expected to come in at about 700 students, Anderson said, slightly above the 650 projected last summer.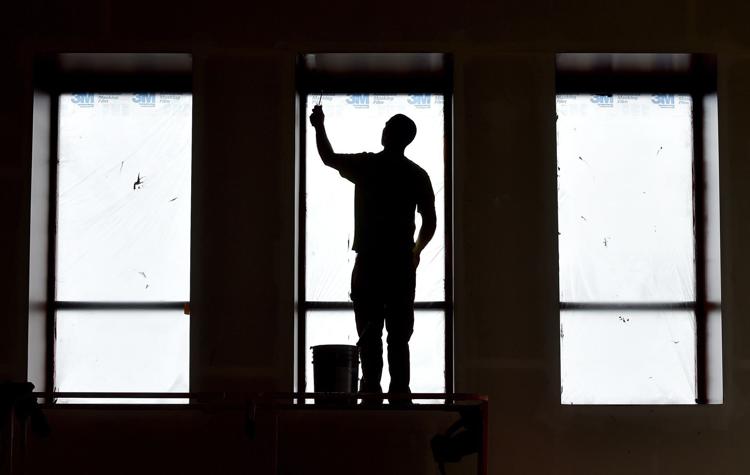 City crews will be making changes to surrounding roads to accommodate increased traffic, including adding a third lane for turning along Grand Avenue, additional sidewalks, a traffic signal and designated crosswalk area. 
The school's drop-off area is twice as long as Medicine Crow's to help ease congestion. 
The school also has a series of locked gates segmenting academic areas from the gym, library and common area, which helps facilitate after-school use. 
"We've always said, these are community assets," Anderson said. "Our job is to be good stewards." 
The School District will offer tours of the school to the public at an April 8 open house from 10 a.m. to noon. 
The school's opening will coincide with the switch to new school boundaries across the district set by trustees last year. The new boundaries rolled out in the Heights this school year, as did a grade 6-8 middle school model, which the rest of the district will adopt next school year.