It's hard to tell if Danny Hill is a preacher or a teacher when he's talking about the Power of ICU, the student support structure he pitched Friday in Laurel.
Some schools have already joined the flock; Laurel has used the program for several years, and schools from Glendive to Elder Grove have signed on for this school year. Others, like Will James and Lewis and Clark middle schools, are checking it out.
ICU, short for Intensive Care Unit, is perhaps best known for using a database that sends automated text messages to students' parents if they don't turn in an assignment, but that's the part Hill talks about the least.
"We love it when people don't see the database as a quick fix," he said.
Hill, a former teacher and principal from Tennessee, talks about school culture like it's as tangible as brick-and-mortar and rails against the effects of student apathy. He roamed Laurel's high school auditorium, wiggling between seats, peering out from over the top of his glasses.
One of the biggest school culture shifts ICU calls for is reducing the emphasis on homework deadlines. Hill argues for more grading that reflects final student knowledge, which is often test-heavy, and for giving students multiple chances to show what they've learned, like retaking a test if they bomb the first time.
That's a bedrock change for many teachers, and Hill is blunt about it.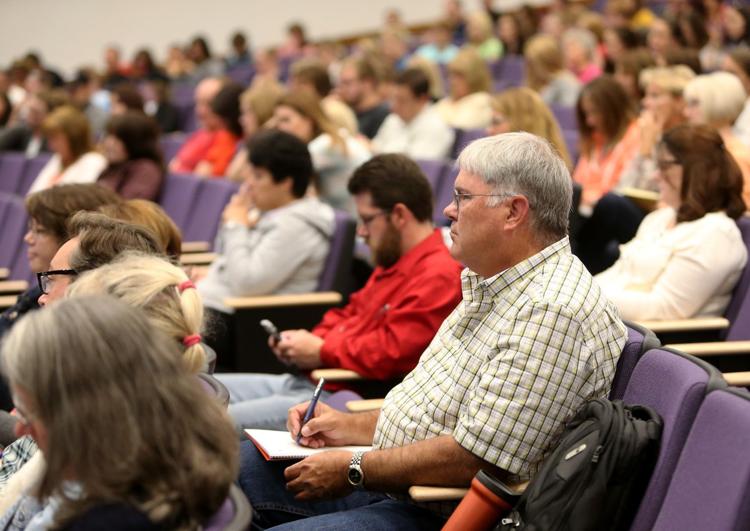 "Every change effort is met with resistance," the 62-year-old said. He uses the term "status quo" with something near contempt, and he adopted a nasally voice to represent those opposing change, repeating, "the world is flat."
"Danny's not teaching responsibility," he said in the same voice.
Laurel spotlight
Pat Cates is long-over that complaint. When he started as Laurel Middle School principal in 2014, the school had already adopted ICU, but Cates was ready to hop on board.
"You don't have classes in college about teaching responsibility," he said.
Laurel credited the ICU approach with helping fuel an astronomical increase in graduation rates since 2011, and Hill has specifically lauded the middle school's lunchtime homework program, naming Laurel a "spotlight school." If students are missing an assignment, a staff member — a "lifeguard," in ICU terminology — helps corral those students into extra schoolwork sessions.
The Laurel program was enough to convince a Skyview math teacher to bring ICU to his school, where Skyview used it on a teacher-by-teacher basis. Castle Rock Middle School adopted the program part-way through the school year, and the new Medicine Crow Middle School plans to use it.
This year, the program seems to have spread like a wind-driven prairie fire. Hill was in Fairview on Wednesday and Glendive on Thursday. Lockwood and Elder Grove are planning to implement the program this year, and educators from schools from Belgrade to Colstrip attended Friday's event.
Part of the idea behind ICU is that grades aren't a motivator for many students, so if they get a zero, there's no real accountability. It sets up a dynamic of teachers making empty "if-then threats," Hill said.
"We say to them, if you don't start doing work, you're going to be (held) back in the seventh-grade," he said. "They're apathetic, they don't care, so you're threatening the wall. We try to be nice, but it's still a threat."
Bringing in graduation or career prospects often doesn't resonate any better with students. Instead, Hill advocates for "beeps" — frequent, consistent, even-handed reminders for students to do their work, akin to dinging in a car with an unbuckled seat belt.
"What (kids) hear is, 'dadgummit, they're gonna bug me to death, I'm gonna do it right the first time,'" he said.
"It's definitely a shift in teaching," said Will James English teacher Becky Hatler. "But what we're doing isn't always working with every kid."
A major source of those "beeps" are parents. The ICU database sends automated emails and text messages to parents if students don't turn in an assignment.
"More consistent parent involvement" is an appealing component of ICU, said Will James sixth-grade teacher Trish Herring.
A few teachers asked questions about parents who didn't like the notification, of which Hill said there's usually a small percentage.
"I'd much rather have a parent complaining that they know too much of their child's education than they don't know enough," said Elder Grove superintendent Justin Klebe.
Sales pitch
Hill is insistent that ICU isn't a system or a program — he's prefers the term "approach." And if he makes a large-scale sales pitch, he positions himself as an anti-salesman.
"You don't expect the text and email to fix everybody," he said. "It won't."
He touts his education chops — "I was was in the room with kids all day long" — and apologizes for being overly animated.
He repeats that unless schools are willing to go "all-in," he doesn't want them to purchase the database. But he believes his product works better than adapting other tools like Microsoft Excel or Google Docs.
The database costs $1,999 for the first year and $999 for each subsequent year, according to the ICU website.
Stephen Schreibeis, who worked at Laurel for the district's first ICU year before becoming principal at Glendive's Jefferson Elementary, said that many small schools lack the technical expertise to create their own system.
"You don't have a lot of people with the time or skills to do that," he said.
Hill also emphasized the need for staff at a school to buy-in.
Lockwood's Eileen Johnson Middle School principal Gordon Klasna said that it's important to have teachers invested in initial implementation.
"I had teacher-leaders that came to me," he said. "This is not a top-down type of thing for us. We're lucky that way."
That's not a guarantee every teacher gets on board, he said.
"If we have to, we can have individual conversations with teachers," he said. "We just keep talking about it. It's not going away."