Elder Grove school officials were pretty sure they had picked the best expansion option to deal with booming enrollment. After a community meeting Thursday night, they feel pretty good about parents and taxpayers agreeing with them.
More than 115 people, all voters from the K-8 school district, cast votes in a straw poll after a presentation about enrollment growth that's straining existing facilities — and it isn't expected to let up.
"The first few weeks (of school) have been quite a trying time for us," principal Nathan Schmitz said, citing issues like higher-than-usual class sizes and a locker shortage.
School officials pitched three options: filling up Elder Grove's existing West End campus, building a second elementary school on a new campus, or building a new middle school on a new campus and converting the existing middle school to elementary space.
The final option met most of the goals created by a series of community meetings last year, and architectural estimates peg the cost a shade below $15 million — barely within the amount of money Elder Grove is legally allowed to bond for. Schmitz and other Elder Grove officials pitched it as the best option to deal with growth, and those at the meeting overwhelmingly agreed; 113 people voted for the new middle school.
"Everything that we're working toward is 'how do we accomodate 1,000 students,'" school board trustee Rich Pope said.
The cheapest option was the expansion of the current campus, but it would have provided only a two- to three-year fix. Officials hope a new middle school could meet enrollment demands for a decade.
Elder Grove has about 630 students this year, about 40 more than accounted for in projections that already expected growth. It's likely that the school will be over state accreditation capacity standards in the next two years.
It's one thing to win a straw poll in a school gymnasium on the heels of a passionate presentation from educators. It's another to get voters to pony up.
Schmitz said it's likely that the school board will move to get a bond to pay for a new middle school on a ballot this fall. The board's next meeting is slated for Sept. 26.
Local taxes
Like much of eastern Montana, tax raises have been a tough ask in Elder Grove. The district operates barely above its minimum budget, meaning that voters haven't approved many local tax increases. A building reserve levy that would have raised money to purchase land — say, for a new middle school — failed in 2016.
Part of Thursday's meeting included a computer station that could swiftly calculate estimates for property tax impacts of a new school. 
This time around, school officials have made the "what ifs" clear if a bond isn't passed. The school could purchase modular classrooms, which are expensive on a per-classroom cost and don't offer any long-term solutions. Combining with another school district would be a thorny process and likely result in a tax raise for Elder Grove if it did happen.
The worst case scenario for Elder Grove officials is jettisoning seventh- and eighth- graders, perhaps to School District 2. Superintendent Justin Klebe met with SD2 officials earlier this year to discuss to prospect. Elder Grove would have to pay tuition for students — an automatic local levy — and SD2 couldn't provide any guarantees about which middle school students would attend, or if they'd even attend the same school.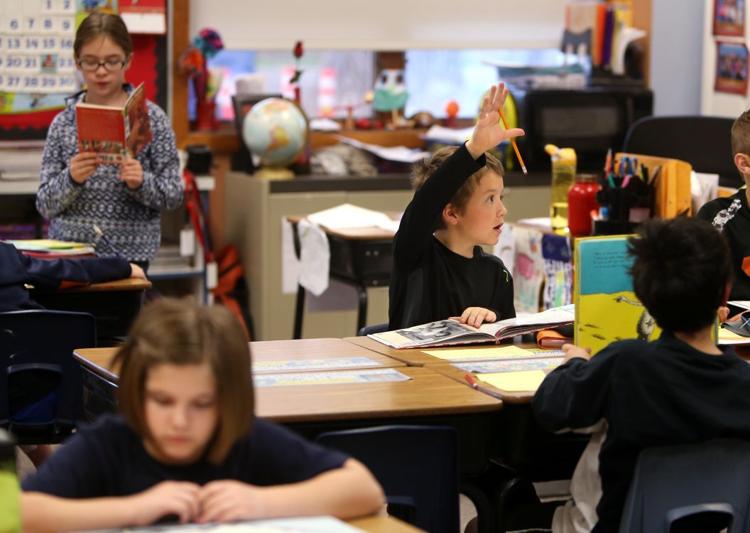 "This idea that there's a solution out there that costs us nothing … it doesn't exist," Pope said.
The alternatives generated a bit of crowd discussion Thursday night, but most questions revolved around expansion options. How would the district cope in between the time a bond passed and a building was finished? How would it make sure a new school was adequately staffed?
District officials said that passing a bond quickly was the best way to avoid an in-between crunch; they could likely make do over the next two years, even with overcrowding. For staffing, school officials said it was likely they'd offer a levy in the spring to raise local taxes to support year-to-year operating costs.
They also hope it could help with teacher retention. Elder Grove turns over an unusual number of teachers, and the No. 1 reason teachers who leave give for their decision is salary. The school pays about 20 percent less than SD2 for beginning salaries.
The school has several 20-plus-year veteran teachers, Schmitz said, but it's losing a pipeline to get there.
"We're not building up that 5-, 10-, 15-year veteran status," he said.