The hardest thing about a winter like this one is that it just keeps coming. 
Robin Dangerfield, owner of the Billings-based lawn care and snow removal business, Lawn Ranger, has finished clearing parking lots and sidewalks with his crew only to watch a new storm drop another six inches just days later. 
"You can't sleep," he said. "You have to will yourself to move on."
Billings has seen record snowfall this winter, and as the snow piles up on parking lots and street corners, businesses are working hard to keep it out of the way of customers and, in some cases, just to find places to pile all of it. 
To stay alert, Dangerfield eats oranges when he's plowing parking lots through the night and tells his crew not to spend too much time in their vehicles, to get out and use a snow shovel every so often. 
"It helps to get out of the truck," he said. "That cold air in the face really wakes you up."
Back in July, the Billings City Council agreed to try something new: plowing snow off all residential streets.
Rimrock Mini Mall is a two-block strip of connected restaurants and shops. It has a narrow parking lot that's bordered on one side by storefronts and on the other by busy 24th Street West. It doesn't take long for snow piles to crowd into parking spots and complicate navigation around the strip mall. 
That was the condition a month ago, said Ethan Kanning, property manager for the mini mall. Enough snow had fallen by the end of January that it was starting to clog up the whole parking lot. So the business paid to have the snow hauled away. 
"It's a tight lot," Kanning said. 
Last weekend's storm left another six inches, and if Billings gets hit with another similar storm, they may have to haul out snow again.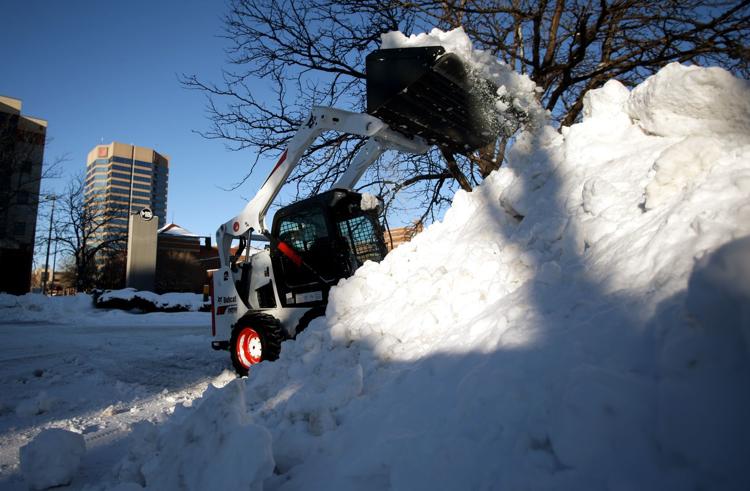 Most companies that do snow removal in the winter set up season-long contracts with their clients that outline the plowing and shoveling duties the companies will perform. It usually doesn't include hauling snow off site; that can cost extra. 
Store owners and property managers have to figure out if the potential increase in business from having a clear lot will justify the cost of hauling snow off the property. For Rimrock Mini Mall, it made sense to have it hauled off.  
"It's balancing that cost benefit," Kanning said. 
The economics of winter retail can make the decision of how much extra to spend on snow removal complicated. Discretionary spending tends to drop in the months following Christmas, as shoppers often choose to stay home over braving the weather to shop. 
The Paint Center, at the corner of 19th Street West and Grand Avenue, has a snow berm dividing its parking lot from the Rio Grande Sports Bar & Casino that's over 6 feet tall. It's wide enough that it has swallowed up an entire row of parking spots. 
"It's getting taller and taller and taller," Bob Anselmy, who works at the Paint Center, said with a laugh. 
Stretches of road along flat, treeless land in northern and eastern Musselshell County have become difficult to navigate and even impassable i…
As big as the pile is, he thinks the sub-zero temperatures have a bigger impact on customers than the parking spots lost to snow piles. 
"Business-wise, it's not (a big deal)," he said. "Cold-wise, people don't want to go out."
Jack Kuntz owns the Paint Center and acknowledged he's paid more for snow removal this year than last. It's part of running the business, he said, and he figures the expense probably evens out over the long run. 
The challenge this year, he said, has been keeping the snow piles from blocking the alley. 
"The city has to be able to get its trucks back there," he said. 
Kuntz contracts with Curb Appeal to do his snow removal. Last weekend's snowfall had crews clearing parking lots and sidewalks in the middle of the night in temperatures that dropped close to 20-below. 
That makes safety one of Travis Rykowski's biggest concerns. Rykowski is Curb Appeal's co-owner and said this winter has been one of the busiest he's had. His other concern, he quipped, has also been figuring out where to put all the snow. 
"We've had to stuff snow here and there," he said. "You're always looking for more places you can stack the snow" 
The New Year arrived with Billings blanketed by more than a foot of new snow — a snowfall that triggered the first test of the city's new resi…
Curb Appeal uses seasonal contracts with the businesses for which it removes snow and then bills them at the end of each month. He used to set up contracts charging a single fee at the beginning of the season but after one big winter he saw it made more sense to charge businesses month-to-month. 
"It's kind of feast or famine," he said. 
This winter has definitely been feast. His crews have stayed busy almost the entire season and the company will likely come out ahead when spring finally arrives. Still, he said, everyone is ready for the snow to stop. 
Rachel Lunn, with Montana Commercial Management, is the facilities manager for West Park Promenade on Grand Avenue. Keeping the parking lots clear this winter has required Herculean effort. Lunn contracts with H2 Snow and VIP Services to move all the snow from West Park. In all she uses four different companies to clear snow from the properties managed by Montana Commercial Management. The other two are Curb Appeal and Lawn Ranger.
"Those guys know their business," she said. "I really rely on them and they do a great job."
They haven't had to haul away snow from the different parking lots yet. But enough snow has fallen for its removal to wreck havoc with her winter budget. Lunn built her snow removal budget this year based on last year's snow fall, which was substantial. 
People take advantage of the recent snow while sledding at Pioneer Park on Friday. 
"We thought we'd be close," she said with a laugh. 
They weren't close and so, like many others, she's ready for the winter to end.
Rykowski with Curb Appeal has sensed the fatigue. After last weekend's big snow fall, a homeowner contacted his company asking if she could hire him to clear her property. 
It happens more toward the end of the winter, he said. Still, he prefers when homeowners call before the season starts. It's different with his commercial contracts; he's happy to add those business clients whenever they call. 
Dangerfield has had his fill. He's unapologetic about wishing this winter were over.
"I'm the Lawn Ranger not the Snow Ranger," he said.