A structure fire that engulfed a bronze-casting business in industrial East Billings on Sunday night was likely due to an electrical malfunction, a city fire official said Monday.
"There was an electrical failure in a piece of equipment that's used in their bronzing process," Billings Fire Marshal Mike Spini said after investigating the fire-gutted remains of Billings Bronze Inc. on Monday. "(The investigation) is continuing, but I'm fairly confident it's an accidental cause. There's nothing for me to believe that it was intentionally set."
The fire was first reported Sunday night and prompted a citywide firefighting response as flames overtook the 28-year-old foundry.
No one was inside the when the fire broke out.
The fire was limited to the business on the 100 block of North 12th Street, which includes a quonset hut, a pair of shops and a front business office.
The bulk of the fire was extinguished by about midnight after being reported at 10:13 p.m., Billings Fire Battalion Chief Matt Hoppel said.
The structure was likely a total loss, Spini said. He didn't immediately have a cost estimate, but noted the overall damage would significantly exceed the building itself, which also housed equipment, artwork and castings that were destroyed.
Reached briefly by phone Monday afternoon, Billings Bronze co-owner Rane Paulson said the business was at least partially insured.
Not long after the fire was first reported Sunday night, flames were erupting through the metal walls of the quonset hut as a massive plume of smoke billowed toward downtown Billings.
After determining no one was inside, Hoppel kept firefighters from entering the structure due to portions of the roof that had collapsed inward.
Five engines and a fire truck had arrived by 11 p.m., and firefighters on top of an engine ladder pumped water at a rate of 1,250 gallons per minute onto the roof.
Hoppel said the industrial business likely had flammable materials inside, and firefighters remained upwind of the smoke pouring from the structures.
Light snow and wind chills in the negative teens pelted the fire crews working to corral the blaze. The Billings Logan International Airport Fire Department showed up with a shuttle bus from the airport so firefighters could warm up inside.
By 11:30 p.m., the temperature in Billings had fallen to 1 degree, according to the National Weather Service.
Later Monday morning, firefighters were still mopping up several lingering hot spots, despite a thick coating of ice covering much of the building's exterior.
An American Medical Rescue ambulance also responded to the fire, along with the Billings Police Department.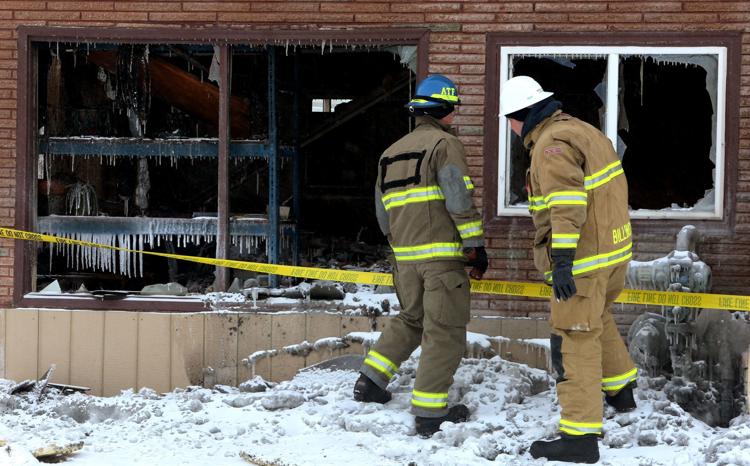 A Central Avenue structure fire that began Friday afternoon continued to smolder overnight, forcing the Billings Fire Department to leave a cr…