Only a few months after the Montana legislature opened the door for a Lockwood high school, a community group is gearing up for an election push.
Lockwood School trustees signed off on putting the first phase of a high school proposal on a November ballot at their June meeting. The vote will simply be whether to pursue a more detailed high school proposal to be voted on within two years.
Chad Hanson, whose child will be a second-grader at Lockwood, is spearheading a community group that met June 28 to discuss a campaign supporting the high school proposal. He doesn't want to wait any longer to try to capitalize on the bill's passage.
"There's a lot of momentum," he said. "People are aware of the situation."
He specifically cited dissatisfaction with School District 2's high school redistricting process; Lockwood students previously were the only students in the district to have the option of attending Senior or Skyview high schools. New boundaries set two years ago pulled that choice and assigned most students to Skyview. He also said he prefers a smaller school atmosphere.
However, the upcoming fiscal year could be especially challenging in an area of Montana often resistant to passing tax hikes.
Schools across the state will see their automatically levied mills go up after legislators cut a state payment, effectively triggering a $40 million tax raise over the next two years before the payment is eventually back filled. Individual tax bills depend on changes in individual property value and overall tax base value, but the change is likely to raise taxes for many people.
Lockwood is also using a new state law passed this spring that allows officials to automatically levy money for building maintenance and repairs, specifically to fix a crumbling roof. The levy is six mills, which will increase taxes about $8 per year on a $100,000 home.
Even before those changes, school levy elections were often tough sells in Eastern Montana. This May, a Lockwood general fund levy that would have raised taxes about $6 per year on a $100,000 home failed by only 14 votes. Lockwood's district voted much more heavily against an SD2 high school levy that failed.
The good news for Lockwood high school advocates is that the initial vote won't have a price tag attached.
The high school expansion law passed this spring requires K-8 school districts with more than 1,000 students to pass a pair of ballot initiatives in order to break away from the high school districts they feed into. The first is a conceptual vote to establish a high school district. The second is to pass a bond with the price tag of a new high school. Districts have one shot to pass both proposals every five years.
"Getting everyone to pay for it will be a different story. That's a lot more work," Hanson said.
He said supporters he's talked to don't want to wait any longer to start the process.
"They want their kids to be in there as soon as possible," he said. "They want the fourth-graders now in there, not the second-graders now."
Hanson said that specifics of a high school proposal are farther down the road, though he's heard support for things like an auditorium, career and technical education facilities and facilities to support an FFA program. He also floated striking an agreement with Billings to allow Lockwood students to attend Billings' Career Center.
Lockwood Superintendent Tobin Novasio has previously said he would prefer a "premier" facility, while acknowledging that school trustees make the final decision. Lockwood would also have to purchase land for a new building, as the current elementary and middle school campus isn't large enough for a high school.
Novasio previously estimated that after a yes vote, it could take between five and 10 years to establish a new high school district.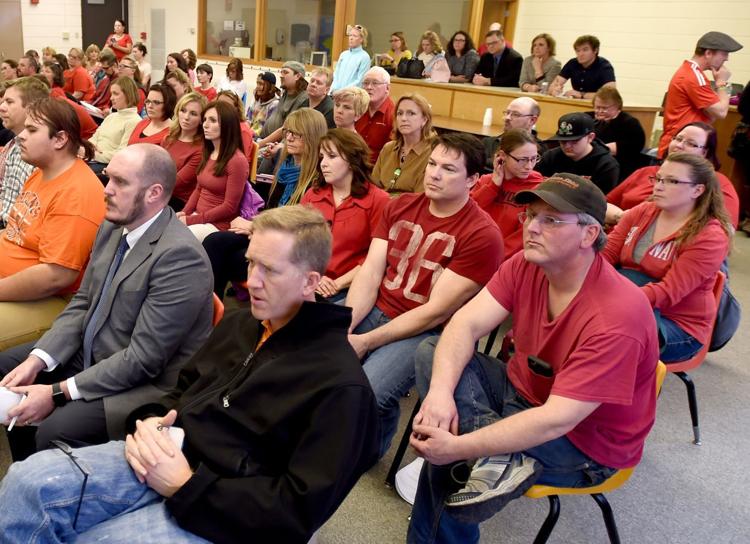 SD2 impact
Breaking away from SD2 would impact Billings' tax base; Lockwood's elementary tax base was about $24 million last school year, and it currently funnels into SD2's $268 million high school tax base.
Removing that is likely to cause a small increase in Billings taxes, according to projections by the Gazette and state legislative researchers. That assumes that all high school students living in Lockwood would attend that high school, and students within the Billings boundary would continue attending Billings high schools; with fewer students, the school budget is smaller.
School officials from both Lockwood and Billings have speculated that either school might draw students from the other district.
The prospect of a split could also complicate district planning; Billings plans to update a facilities master plan and demographic study and enrollment forecast within the next school year.
The new law does allow schools only one shot at high school expansion every five years, which SD2 School Board chairwoman Greta Besch Moen has said is preferable to waiting on legislative cycles.
SD2 Superintendent Terry Bouck said that the ballot authorization alone doesn't affect current district planning, but that could change down the road.
"It depends on whether it passes or not," he said.
Hanson said Lockwood supporters will likely form a political action group.
"I would think that our big push is going to be September and October," he said. "I think it's more education. I think the high school sells itself if they get the facts."