After approving its consent agenda and three main items of business Monday, the Billings City Council got a surprise — a letter from the city's Human Relations Commission asking the council to go on record as saying the city will have "zero tolerance for racism, bigotry and hate crimes" and will support "respect and mutual understanding among the diversity of citizens who reside in Billings."
Commission Secretary Amaya Garcia wrote the letter, according to Commission Chair Kathy Walters, and it received endorsement from the nine-member commission earlier this month.
"We are trying to get Billings to join in with other cities in the state (including Bozeman, Whitefish, Missoula and Kalispell) saying we are not going to tolerate this," Walters told the council. "This needs to be a public statement from the government."
"Billings has not been immune to recent events at the national and local level that have generated tensions, discord and mistrust among members of different groups of people," the letter states. "In some cases these tensions have resulted in individuals publicly and openly carrying out acts of bigotry or making discriminatory remarks toward members of other religion, race, gender, nationality or other groups. … If people of different groups and political affiliations cannot work and live among each other, our city will not prosper."
While not a commission member, the Rev. Rob Kirby, campus minister at Montana State University Billings, told the council that in his ministry he works with "a lot of people in minority status, and you need to know that a climate of hatred is growing in this city."
"Muslim students are told to go back to their home country, and some have been here most of their life. LGBT students get singled out just for looking like they don't fit in," Kirby said. "When you don't respond to these actions by stating unequivocally that this doesn't happen in our town, your silence speaks volumes."
Kirby urged council members "not to just nod your head in agreement, but do the hard work of drafting a statement that speaks loudly."
While the council took no action on the letter Monday, Councilwoman Angela Cimmino called accepting the letter "a gesture of goodwill." She noted that when someone painted a swastika on the Rims last November, "it was removed quickly."
But not, Kirby noted, by city officials. It was removed by a private citizen after Kirby and another hiker discovered the Nazi symbol of anti-Semitism.
Kirby urged the council to go "a step beyond" condemning law-breaking activity.
"This is proactively creating an environment of acceptance that many people are not feeling," he said. "You can help create the environment of welcome that you are talking about."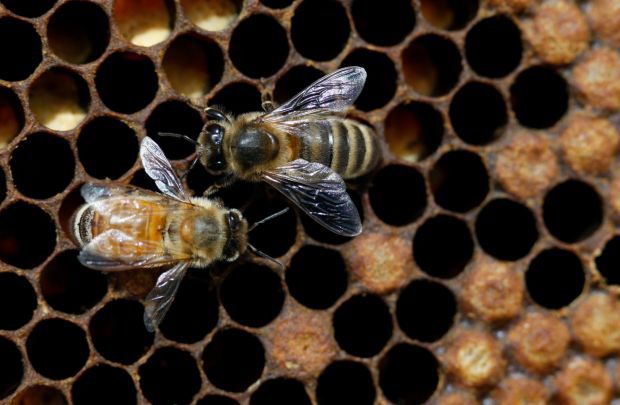 Finalizing hobbyist beekeeping
In addition to approving a resolution that will pay for the installation of a new water main to the terminal building at Billings Logan International Airport, the council also endorsed, on second and final reading, an ordinance to allow hobbyist beekeeping in city limits.
To sweeten the deal, Jeannette Vieg, a member of the Animal Control Board, placed a bottle of locally produced honey in front of each council member.
"I'm not trying to bribe you," she said with a smile. "I just wanted to say thank you for considering our ordinance."
It's no bribe, City Administrator Tina Volek assured the council.
"City officials can accept gifts of up to $50," she said.