A Montana Avenue traffic and safety study conducted last fall between North 27th and North 18th streets indicates a jaywalking rate of about 60 percent. Eighty-five percent of drivers go 31 miles per hour in the corridor's 25-miles-per-hour zone and 38 miles per hour in the 35-mph area closer to N. 18th Street.
The average annual daily traffic count was about 13,000 on the east side of the corridor and about 9,000 on the west side.
Motorists were observed during the study "weaving" in traffic, presumably searching for a parking spot. Traffic "seldom" yields to pedestrians, even for pedestrians waiting at a crosswalk.
Motorists underutilize the right-hand lane on the south side of Montana Avenue. Less than 20 percent of drivers use that lane, because the lane drops out at N. 21st Street. About half the drivers employ the middle lane.
Seventy-seven crashes — none of them fatal — were reported between 2010 and 2014. Thirty were side swipes and 17 were rear-end crashes. Most crashes occurred along the corridor's western end.
Two crashes involved pedestrians, and one was a vehicle striking a bicyclist.
Recommendations for making the corridor safer include:
Installing an overhead flashing beacon at the pedestrian crossing at North 25th Street.
Replacing red concrete pedestrian crossings with asphalt and high-visibility pavement markings.
Modifying the planter box at North 26th Street because it blocks pedestrians' view.
Eliminating the easternmost crossing at North 24th Street, the one that's used the least.
Making signs more visible by trimming trees, the responsibility of the Billings Parks, Recreation and Public Lands Department.
Adding signage and lane control striping to indicate that the right lane is eliminated at North 21st Street.
Adding signage at pedestrian crossings.
The estimated cost to implement those recommendations is $171,000. A potential additional recommendation, one not included in the cost estimate, is to install raised crossings — in essence, 22-feet-long speed bumps known as speed tables — at some of the crosswalks.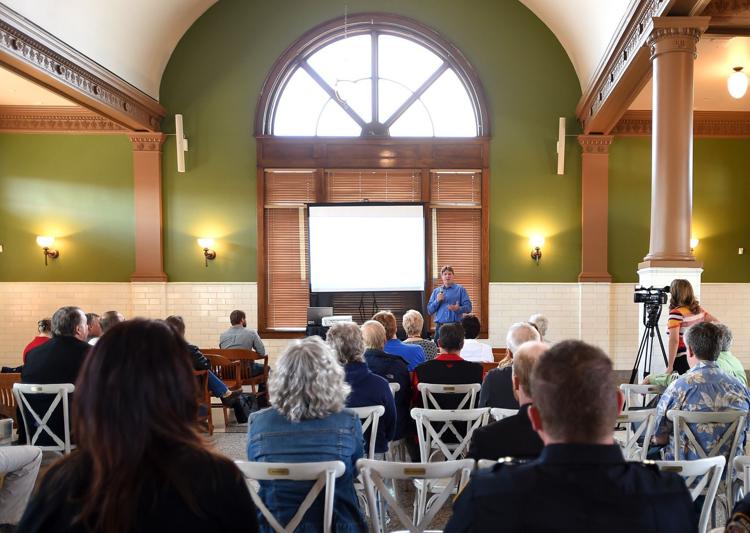 Jennifer Mercer, executive director of the Billings Depot, where Thursday's meeting was attended by about 40 people, called the speed data presented "wildly inaccurate." When she asked those in attendance if they've observed speeders exceeding 40 miles per hour in the corridor, nearly every hand went up.
"The lack of pedestrian safety and a huge parking problem are inhibiting business growth," Mercer said.
Danielle Bolan, an MDT traffic operations engineer, said she has "a lot of confidence in the speed data we collected." She noted the study focuses on the 85 percent who comply with speed limits or exceed them only slightly — not the 15 percent that may be more memorable in people's minds because they are contributing to the corridor's nickname, the Montana Avenue Speedway.
Randy Hafer said he was pleased to have new data available for the corridor, "but a number of other issues are not addressed," including the possibility of adding diagonal parking by eliminating Montana Avenue's right-hand lane.
Stefan Streeter, MDT's regional administrator, said the lane removal could have "dramatic effects" on both the Montana Avenue and 27th Street corridors, both of which are managed by MDT.
"We may have to study all of downtown traffic before we can make a change like that," he said. "It is a big network."
Some improvements can have unintended consequences. Roy Peterson, MDT's traffic and safety bureau chief, recalled adding flashing red lights to a stop sign in Butte.
"Boy, did we hear about that one," he said. "At night it lit up the whole corridor. People said it looked like a brothel."
He said adding new Montana Avenue safety features "isn't going to happen next month. We have to get some funding identified."
But the safety features being discussed "will bring attention to drivers that there are businesses and pedestrians here," he said.