An icy morning commute Thursday caused multiple crashes in Billings and elsewhere along the Interstate 90 corridor.
Traffic on I-90 west of Laurel was blocked at least three times early Thursday morning as two semi trucks jack-knifed near Reed Point and Big Timber, and another semi plowed into an SUV that had already rolled over after losing traction on the slick pavement.
"Miraculously, the driver, that was the Chevy Trailblazer, had the presence of mind, he had his seatbelt on and he was out of the vehicle and had been out of it about three minutes when the other vehicle came by," Montana Highway patrol Trooper Jerald Perman said. "He was very lucky."
In and around Billings, police officers responded to multiple crashes and rollovers, including a rollover on Airport Road across from Swords Park. The driver and passenger were both unscathed, according to Billings Police Officer Jake Best, but the crash caused traffic to back up for at least a mile on the ice-covered road.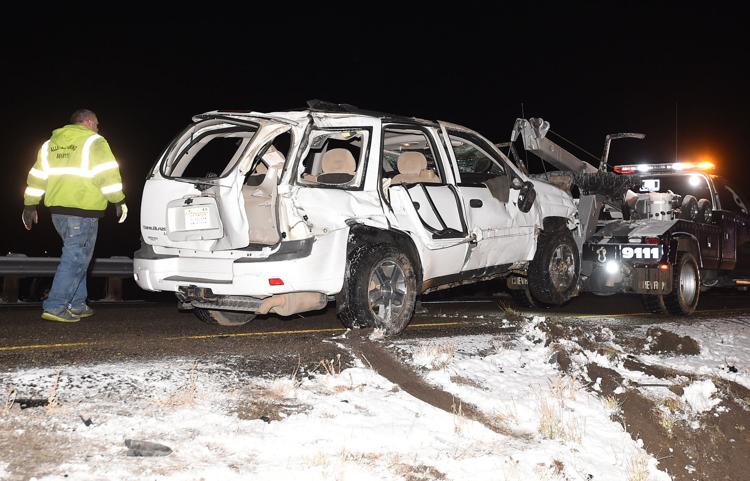 Several crashes piled up on the I-90 railroad bridge north of the 27th Street exit, where MHP Cpt. Keith Edgell said two or three vehicles slid off the road in addition to the four crashes troopers investigated within a roughly one-hour span.
"We had one gal crash right in between two patrol cars there," Edgell said, referring to the succession of wrecks as drivers reached the frozen surface of the bridge deck.
By late morning, road conditions on most local highways had improved, according to the MDT road report, but I-90 remained wet with scattered snow and slush on highways around Billings.
Black ice still remained on portions of the interstate between Reed Point and Springdale, according to the road report.
More snow is on the way this week, possibly beginning as soon as Thursday night, said Julie Arthur, a meteorologist with the National Weather Service's Billings office.
Billings could see up to another 4 inches through Saturday, Arthur said, coupled with freezing overnight lows that could produce more icy roads well into the weekend.
A cold front Saturday or Saturday night is forecast to keep high temperatures below the freezing mark into next week, with overnight lows in the teens.