It may date back centuries, but tea is enjoyed today more than ever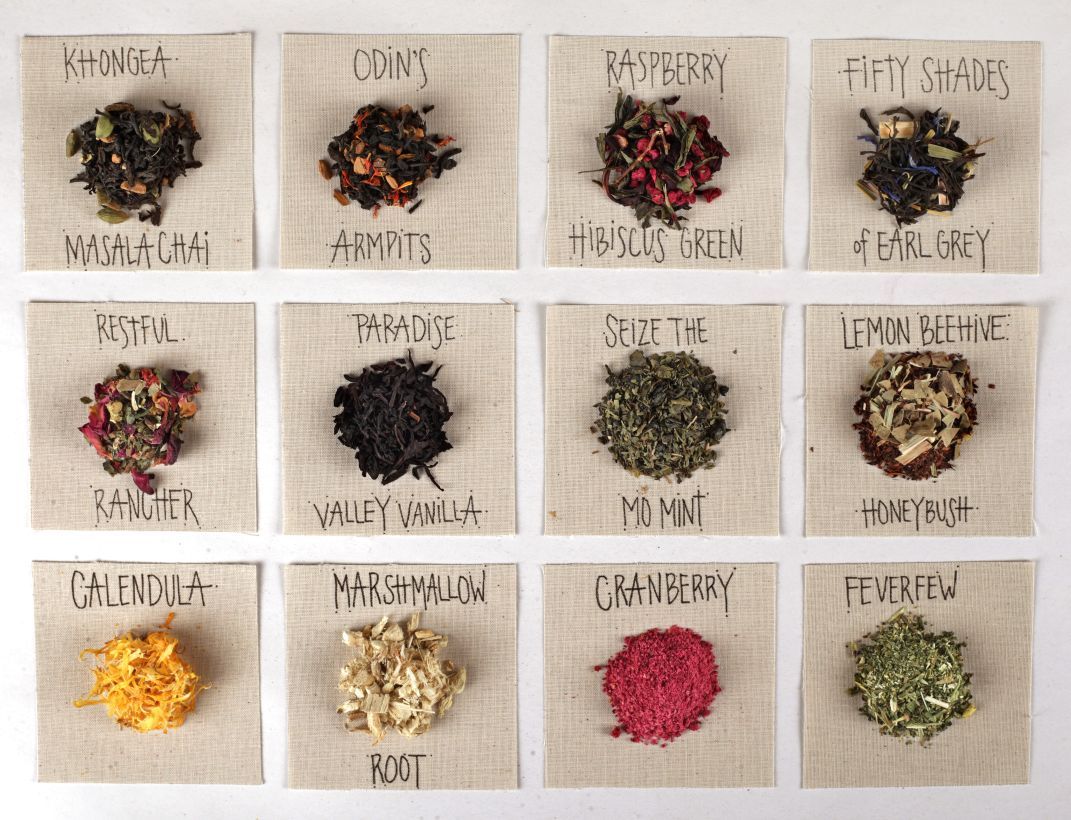 Ever wondered about the origin of tea?
Gary Robson, lover of tea, co-owner of Red Lodge Books & Tea, author and storyteller, smiled as he launched into its history. He stood behind his tea bar, holding onto a mug of one of his tea blends, Coyotes of the Purple Sage (Earl Gray with sage and peppermint).
Before he started his tale, the author of the newly published "Myths & Legends of Tea" paused to say that "some of these stories (from the book) are very much rooted in fact and some are very much rooted in folklore."
Tea's origins go back to 2737 B.C. in China, he said, when Emperor Shennong figured out that boiling water before drinking it was important, even though he didn't know about germs.
"Emperor Shennong realized that if you boiled water before you drank it, you stayed healthier," Robson said.
The ancient ruler also studied different herbs, trying them out himself to see their different effects. That took him all around his kingdom.
One day, far from home in a remote part of his empire, he went outside and asked his men to bring him a cup of hot water. It was autumn and a few leaves from the tree under which he sat drifted down into his cup.
So you've purchased your loose-leaf black, green, white, oolong tea or an herbal blend, and …
"As he sat there, his back against the tree, relaxing and looking around, he noticed this heavenly aroma rising from the cup," Robson said. "And he picked up the cup and he sipped it. And that was the discovery of tea as a drink."
Robson pointed to a tea plant, or camellia sinensis, sitting on the polished-wood bar.
"From that plant you can pick the leaves and process them differently to make green, white, black, oolong and pu-erh teas," he said.
He obtained the plant as part of the Tea Across America program. The goal is to put a tea plant in every state, and this is likely one of the only tea plants in Montana.
"North Carolina and Tennessee have the perfect climate for it, wet and humid," Robson said. "The problem with tea plants in Montana is we have no humidity."
That means he spritzes a lot of water on the plant each night, he said, to keep the plant healthy. Interestingly, if a tea plant weren't pruned for ease of picking leaves "it would grow to 30 feet," Robson said.
Tea has been part of most of his life.
"When I was sick as a kid, my mom always gave me a cup of tea," he said. "So whenever I drink a cup, memories come back."
Robson and his wife, Kathy, opened their book shop in 1986 and added the tea portion of the shop four-and-a-half years ago. Kathy Robson wasn't interested in a coffee bar.
There was already one down the street, and she isn't really a fan of the dark brew.
"I didn't want to work at 6 a.m. to sell something I don't even like," she said, between making tea drinks for customers. "It took a while to convince me there was a market for tea."
But the tea shop has been doing great, she said.
Gary Robson sees tea in the U.S. now where coffee was 30 years ago. Most coffee drinkers go into a shop knowing exactly what they want, grab it and go.
"Most tea drinkers don't really know a lot," he said. "They walk in, look at the wall and see 150 kinds of tea. They say 'what is all this,' and we start explaining."
More and more shops are opening in Billings and beyond to share the hot and cold delight of loose-leaf tea with their customers. Unlike coffee shops, there aren't pots of tea ready to pour.
"Everything is fresh," Robson said.
Tea and not tea
Over in Big Timber, Riza Gilpin and Laurie Rennie are steeped in the tea business. The two women are co-owners of Tumblewood Teas, a wholesale business that sells a variety of loose-leaf teas, tea bags and tea accessories.
The business won't compete with retail outlets in Big Timber that sell their product, Gilpin said. But they welcome drop-ins to sample the teas before they go into the stores to buy them.
Like Robson, Gilpin has been a longtime fan of tea. She was first introduced to it by her Russian grandfather.
"He taught me how to drink tea out of a glass because that's how they drink it," she said sitting next to Rennie in the Tumblewood conference room. "And then loving the taste of tea, even though at that time we were probably drinking very simple Lipton black tea."
Her English next-door neighbor taught her the British way to drink tea, with milk and sugar. And then as a teen, Gilpin started drinking herbal blends.
She started the tea business in 2009, and Rennie joined her not long after.
"She wasn't a tea drinker at that time, which was really funny," Gilpin said of Rennie. "But her palate was very, very sophisticated and she could pick a tea much easier than I could."
The bulk of their business is loose-leaf teas, some they buy and some they blend. They are expanding onto college campuses, and both Yellowstone and Glacier national parks sell Tumblewood Teas.
That's when they expanded into tea bags. It wasn't practical for the parks to use loose-leaf tea in their dining rooms, Gilpin said.
When it comes to selling tea, she explained that not everything Tumbleweed sells is actually tea.
"In this country we call anything that's brewed in hot water or steeped in hot water tea," Gilpin said. 
Tumblewood sells a number of rooibos blends, made from a red bush grown only in South Africa. It also sells herbal blends "and there isn't a tea leaf to be found in those."
There also isn't any caffeine in the herbal or rooibos blends. 
Robson sells a drink called a yerba mate that's popular in South America. It is made from a plant called the ilex paraguariensis.
Another well-liked drink featured on his menu is the tea latte, which blends tea with milk. The best known of those is masala chai, which is typically (but not always) made with black tea.
"'Masala' means spiced and 'chai' means tea," he said. "Starbucks should have called it masala tea because when they called it chai tea, they were calling it tea tea."
One of his popular varieties, the Ginger Cookie Chai, is made with rooibos and a variety of spices. He recommends the masala chai be brewed half in milk and half in water to get the most authentic flavor.
Blending teas & names
Deciding what teas to sell is a major consideration for the Red Lodge tea shop and the Big Timber wholesalers. Some of the varieties they sell are called single-origin and estate teas.
Robson buys Darjeeling tea from one of the estates in Darjeeling, India, so he's guaranteed a quality product.
"Every year the Darjeeling region produces 10,000 tons of Darjeeling, and every year 40,000 tons show up on the market," he said. "So three-fourths of what shows up isn't really Darjeeling."
Gilpin and Rennie's Lone Pine Silver is a silver needle tea from China.
"The very first spring blooms that come out, you get these fuzzy little needles on top of each plant, it's called a silver needle tea," Gilpin said of the white tea. "Those are only harvested a couple times a year, and it's a very short season, plus a very small quantity, so those become coveted."
Both Tumblewood Teas and Red Lodge Books & Tea also sell blends of their own making. How they do that is as varied as the blends they create.
Sometimes the teas come first. Sometimes the names do. Sometimes they come up with the ideas and other times they get enough requests for a particular type of tea that they'll tackle the idea.
However it happens, the process can be fun, challenging, frustrating and, most of the time, satisfying.
Take for instance Tumblewood's Lavender and Lace. Gilpin thought it would be fun to create a tea with lavender and chamomile.
"We went on a hunt to get the right lavender and chamomile, and it was a lot of trial and error — mostly error," she said, smiling. "It took us three years, I think, to get that."
Rennie tells about a rolled oolong the pair came up with, but couldn't decide on a name.
"And we were driving to Absarokee and the wind was blowing 90 mph and I said 'Rollin' with the Wind," she said, laughing. "And that was that."
The pair will bring in friends and family to drink a cup of tea and then ask them to suggest names for it, Gilpin said. And when the two business partners can't agree on a name, they'll bring in another employee to break the tie.
Their most popular tea, Cinnamon Bear, came about because so many people asked for a really good cinnamon tea.
"I was one of them," Rennie said.
They tried a lot of different kinds of cinnamon to find the perfect one.
Not every blend is a success.
"I would say that Laurie and I have been wrong," Gilpin said. "We've gone for something that we thought for sure would be great and people didn't like it, and we've gone for things that we would not drink ourselves and people love it. So it can't just be about us."
When it comes to the actual blending, Tumblewood works with a longtime friend of Gilpin's who lives out of state. They go to her with an idea and she'll play with the ingredients and come up with a blend that the two women sample and decide on.
"She's amazing, and she comes up with some dynamic blends," Gilpin said.
Robson has fun coming up with the names of teas, including Odin's Armpits, Fifty Shades of Earl Grey, and his favorite blend to drink, Gary's Kilty Pleasure, a Scottish breakfast tea.
Sometimes it starts with what flavor he's going for and then requires a lot of experimentation to get there.
"The other direction that blending can go is just saying, 'huh, I wonder what would happen if I mixed some of this with some of that,' " Robson said. "And sometimes you end up with some disasters, and sometimes you end up with something wonderful."
It's no surprise that the storyteller enjoys telling tales about his blended teas. He tells one about Mr. Excellent's Post-Apocalyptic Earl Grey, an Earl Grey lapsang souchong.
The tea balances Earl Grey and the smoky flavor of the black tea called lapsang souchong. It also includes citrusy bergamot oil, which Robson explains "repels zombies."
It adds a whole new layer to the tea-drinking experience.
"If you close your eyes and breathe deep, you can imagine yourself sitting on top of a burned-out building in the smoldering remains of civilization around you and zombies held off below you in a circle below," he said. "And you can relax."