On Thursday a lot of Billings nonprofits got a helping hand, as more than 600 volunteers fanned out across the city for United Way of Yellowstone County's annual Day of Caring.
Teams of employees from about 40 companies spent the afternoon at 24 different nonprofit organizations doing whatever they could to help out.
It's a way "to help nonprofits with projects they couldn't afford to do without the extra hands," said Teal Whitaker, campaign manager for the Day of Caring.
Some of the businesses included First Interstate Bank, which had the biggest team, Wells Fargo, the city of Billings and Billings Public Schools. They aided Friendship House of Billings, ZooMontana and the Boys and Girls Club, among others.
"It's really about uniting our community around this common goal of helping those most in need in our community," Whitaker said.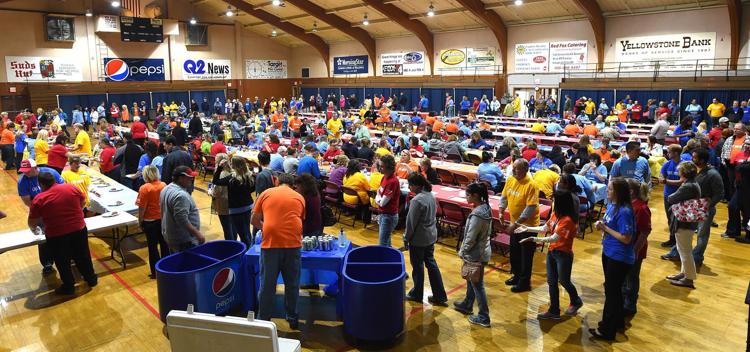 The event kicked off at the Shrine Auditorium with lunch for all the participants, who also got T-shirts to celebrate the day. Then the volunteers departed for their work sites.
Over at The Family Tree Center, 26 volunteers from Billings Public Schools split into five groups to complete a variety of tasks. Staff and directors from the Lincoln Center, along with elementary and middle school principals, cleared out a storage room, did lesson preparation for the center's respite program, did some maintenance on the playground and helped make and organize decorations for the annual Festival of Trees, which is the center's main fundraiser. 
"Their help is going to directly help support families in the community because it's helping us," said Stacy Dreesen, executive director of The Family Tree Center.
The Family Tree, which has been open since 1985, works to prevent child abuse and neglect by providing support and education to families, Dreesen said. But it also exists on a bare-bones budget, so the help provided by volunteers on the Day of Caring makes a lot of difference.
"Everything we have goes toward our programs, so there's not a lot of extra time for our staff to be doing these kinds of projects," Dreesen said. "So this is fabulous."
Brenda Koch, K-12 executive director for the district, coordinated the volunteers' efforts at the South Side nonprofit's headquarters. She sees the Day of Caring as a way for the school district to give back.
"United Way is one of our strongest community supporters, and they do so many things for our school and our families," she said.
Koch, who also sits on United Way's Board of Directors, became involved with the organization in 2011. When she found out about the Day of Caring, she urged the district to become part of it.
"Every year we love being out in the community and being able to get our hands dirty and help out other organizations that directly serve our families," she said.
Terry Bouck, district superintendent, was one of the volunteers at The Family Tree Center. Bouck said he looks forward to the day every year, both in helping the nonprofits and learning more about them.
"It's a good excuse to wear blue jeans and a United Way T-shirt," he said. "And to give back to the United Way and their different organizations that they support and that support us. We're all about the 17,000 kids and their families, so we all have to work together on that."