Vehicles piled up all over the Billings area Thursday as freezing rain fell throughout the region and prompted at least one highway closure in south-central Montana.
Montana Highway 3 from Harlowton to Garneill was shut down Thursday afternoon by the Montana Department of Transportation.
"There's ice everywhere, and people just aren't slowing down," Montana Highway Patrol Sgt. Scott Ayers said.
In the Billings area, a six-car pileup involving four separate crashes caused an eastbound portion of Interstate 90 to shut down for more than two hours near the King Avenue exit, said MHP Capt. Keith Edgell, adding that no one was injured.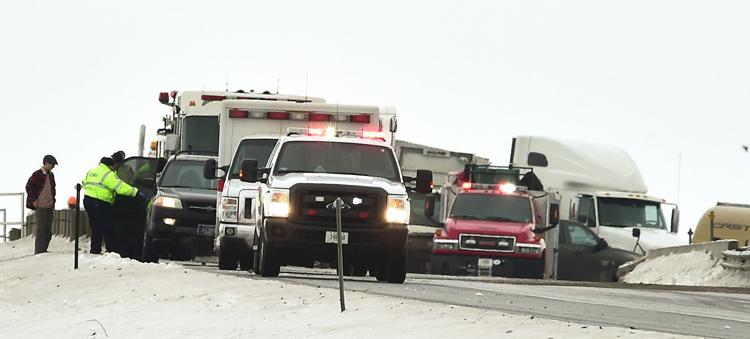 A car lost traction and slid into a guardrail as it was traveling in front of a semi truck, creating a chain reaction that included a garbage truck, a pickup and two other vehicles.
"It took us a little while just to figure out who hit who," Edgell said. "We've had our whole day tied up getting this traffic (re-routed) at the busiest intersection we have in town."
By 2:30 p.m., both eastbound lanes had reopened.
Elsewhere in Billings, several crashes on ice-covered roads snarled midday traffic. Fourth Avenue North was temporarily backed up after a crash left a car sitting in the middle of the busy road's intersection with North 27th Street.
Thursday's unusual weather event was caused by a low-lying mass of Arctic air pushed into the region beneath a warmer system of moisture from the south, said NWS meteorologist Wright Dobbs. Several hundredths of an inch of ice had built up at the National Weather Service's weather station at the Billings Logan International Airport by early afternoon.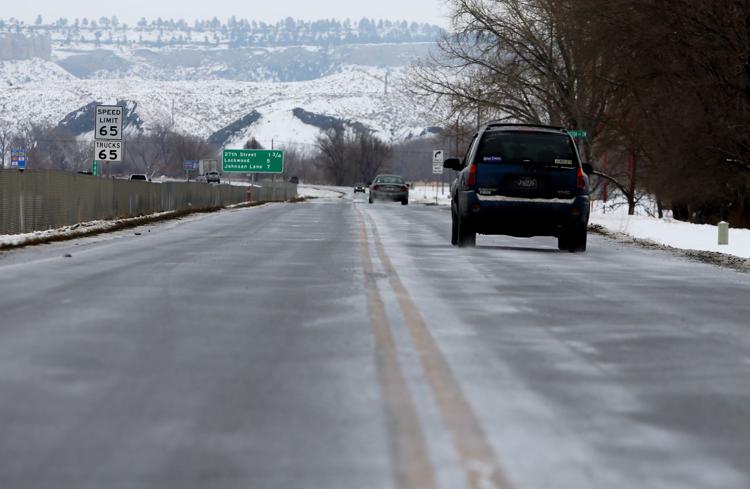 "That's enough to cause impacts and people sliding around. Freezing rain is a very rare event for Billings," Dobbs said. "The snow in these clouds melts into rain, and when it hits the ground it's freezing immediately."
Freezing rain was being reported as far north as Judith Gap and as far east as Broadus and Ashland, he said.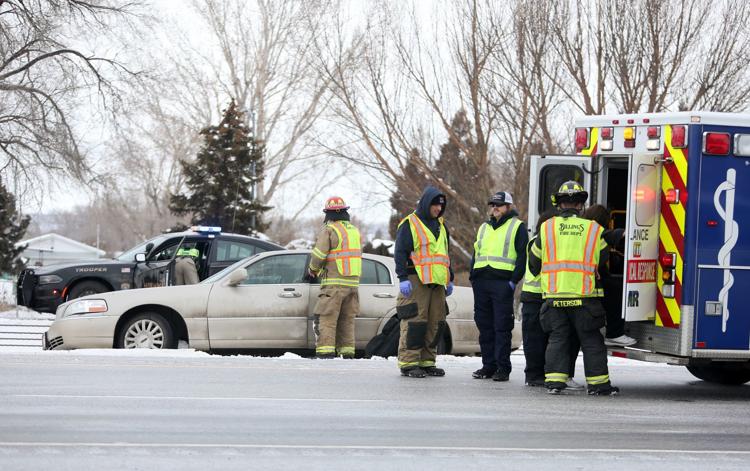 The heaviest snow in the area was expected to fall between 4 p.m. and midnight. 
Parts of Eastern Montana reported significant snowfall and impacts to roadways. Miles City and Forsyth picked up 6 to 8 inches of snow by Thursday morning, Dobbs said, with more than a foot is expected through the duration of the storm.
By 3:30 p.m., MDT reported "severe driving conditions" for the majority of Montana Highway 59, stretching north and south of Miles City. Severe conditions were also present throughout Custer County's portion of Interstate 94, and on Montana Highway 200 from Sand Springs east to Brockway.
Throughout the day, at least four separate crashes or slide-offs involving semi trucks occurred on Eastern Montana's portion of I-94, according to MDT's road report.
School District 2 in Billings announced afternoon buses would be running late because of road conditions. The district has no school Friday or Monday for a pre-planned break.
Several athletic events in the area have been canceled, but the state wrestling tournament in Billings is still on.