Before a visitor could get near the steers being shown by siblings Cooper and Brighton Lane of Huntley just before Saturday's Junior Livestock Sale at MontanaFair, Brighton, 13, was distributing glossy photos of her black Angus cross, Doc Holiday, and her brother's Polled Hereford, Moose.
With all the fuss being made over the 222 animals being sold Saturday, trading cards — for lambs, goats, pigs, rabbits, poultry, cattle and other creatures — may indeed be in order.
"They're a lot of work, but they're worth it," said Brighton, a member of the 4-H Huntley Eagles and the champion junior beef showman. "We're kind of like a family," she said of her fellow 4-Hers. "You can always count on them to do what you need."
"I'm going to miss him," her brother said of his steer, who bears the same nickname bestowed on Kansas City Royals' third baseman Mike Moustakas. "He weighs 1,464 pounds, and he carries it well."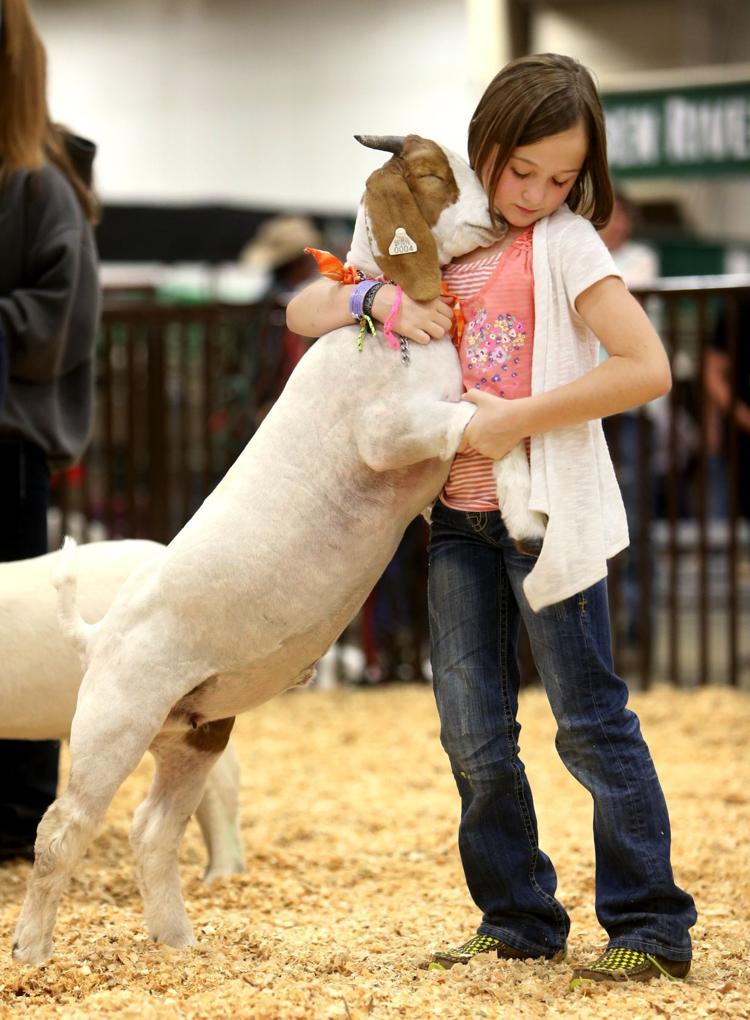 Another sister and brother team, Justyce and Gavyn Bickel of the 4-H Shane Ridge Rustlers in Joliet, were prepping their half-brother Boer goats, Duke and Tucker, for sale.
"My stomach drops" while he's showing Tucker, said Gavyn, 13, the reserve junior goat showman, "but she's pretty confident."
His eight-year-old sister was showing the champion medium weight goat and was named champion beginning goat showman.
Asked what she'll do with Saturday's sale proceeds, Justyce grinned. "I'll use the money on future projects," she said, "and my college fund."
Dyann Romeijn, the mother of 12-year-old Ella Romeijn, marveled at how supportive and helpful the Lockwood Humble Bees club has been for her daughter.
"She's shy and introverted," she said. "It's helped her to speak up in public and do projects, demonstrations and interviews."
Her daughter was showing a lamb named Honor, having left Justice at home. Ella said she had little idea how Honor would do in front of the judges, but appreciated what club leaders had taught her during weekly showmanship tutorials.
"She's very crazy. She runs around a lot," she said of her lamb, adding she was excited to be participating in her first livestock sale.
Kiarra Kennedy of the 4-H Shepherd Tumbleweeds was readying her 275-pound champion medium weight barrow, Raisin, with what the pig loves best — a belly rub.
"He's a cool little barrow," the 11-year-old said. "The judges are looking for a shorter, compact body with heavy muscles, and he's got it."
Raisin got his name because of the shape and color of his spots.
"He's a goofball, but it's going to be hard to say goodbye," she said. "He will plop down like a dog for a belly rub," which Raisin did practically on cue.