A community discussion on overcoming hate brought scores of Billings residents to Grace United Methodist Church on Sunday afternoon, following a week in which racist symbols were spray-painted on a local middle school and a half-dozen homophobic flyers were anonymously posted inside the church.
"You may not be trans, you may not be black, you may not be Native American, but it is your problem as much as it is anyone's who is being targeted by that literature, and we need to make it our problem," said state Sen. Margie MacDonald, a Billings Democrat who was one of several local leaders speaking to the crowd of roughly 150 people at Grace Methodist.
The event was organized by the local anti-hate organization Not In Our Town. Many of the speakers and those in attendance, including MacDonald, were part of the original Not In Our Town movement that fought back against a wave of racist activity in Billings 25 years ago.
And while the event was in part a celebration of those past successes, it was held in a place of worship that had been targeted with anti-gay literature just days earlier.
On Thursday afternoon, church volunteers arrived at Grace United to prepare for an evening event when they found a handful of homophobic flyers posted up inside the church, Reverend Sarah Beck said Sunday. Emblazoned with the words "Stop the Fags," the flyers attempt to cast gays as sexual predators and carriers of sexually transmitted diseases.
"It was kind of shocking," Beck said after the event.
But, she added, "We're not going to stop doing what we've been called to do, what we think Jesus would do."
Beck's church is known for preaching tolerance and has advocated for LGBTQ rights, including in its support for Not In Our Town and the proposed nondiscrimination ordinance that came before the city council in 2014.
Beck thinks her church may have been targeted as a result of the rainbow flag that hangs vertically in one of Grace United's front windows.
"It's easy for some people to walk into a church" if they already associate it with a welcoming environment, Beck said, "but some people need a special invitation if that hasn't been their experience with the church."
The flyers didn't include the name of any specific groups, but they did include a QR code that, when scanned, produces a link to the Family Research Institute's website.
Based in Colorado Springs, Colorado, the anti-gay organization funds research "on issues that threaten the traditional family, particularly homosexuality, AIDS, sexual social policy and drug abuse," according to its website. The organization has been labeled a hate group by the Southern Poverty Law Center.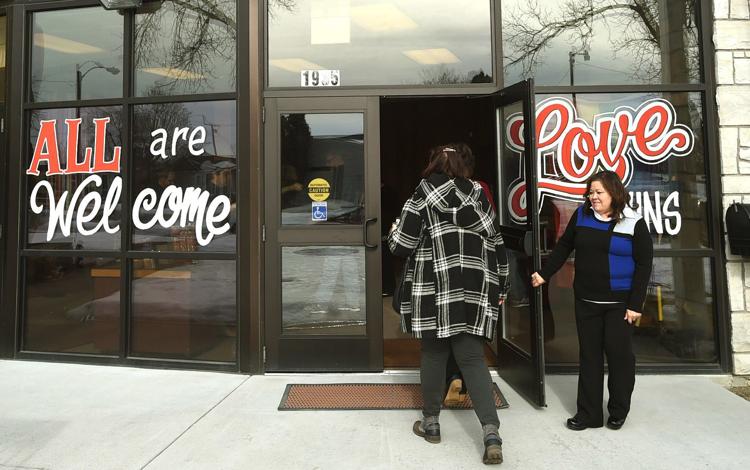 Partly in response to the recent incidents, attendees were invited to take the microphone and offer their thoughts on how to continue embracing tolerance as a community.
"What are your ideas on how we fight hate?" asked Not In Our Town board member Taylor Tellez. "Hate is our enemy, so how are we going to be soldiers?"
Mayflower Congregational United Church of Christ Pastor Steve Gordon drew hearty applause and echoed the comments of several others in urging the crowd to push for a nondiscrimination ordinance in Billings.
"A lot of people put a lot of energy into the nondiscrimination ordinance and it lost by one vote. I think that was an insult to Not In Our Town," Gordon said. "Our leadership needs to be brave. Our leadership needs to be strong on this."
Following months of public hearings and debate, Billings City Council narrowly voted down a proposed nondiscrimination ordinance in 2014, with former Mayor Tom Hanel casting the tie-breaking vote against the measure. Had it passed, Billings would have joined several other Montana cities that have passed ordinances to criminalize discrimination, including Missoula, Bozeman, Helena and Butte-Silver Bow.
Speaking briefly to the attendees, Mayor Bill Cole agreed that city leaders need to embrace an environment of tolerance and love, but said afterward he would not support the NDO if it came back up for a vote. During his campaign, he questioned whether the city should legislate on social issues and stated that enforcing such laws could generate additional costs for the local government.
"I think there is always a role for the city council and mayor to speak out against hate," he said, but added he believes that "education and love are the keys" to combating discrimination.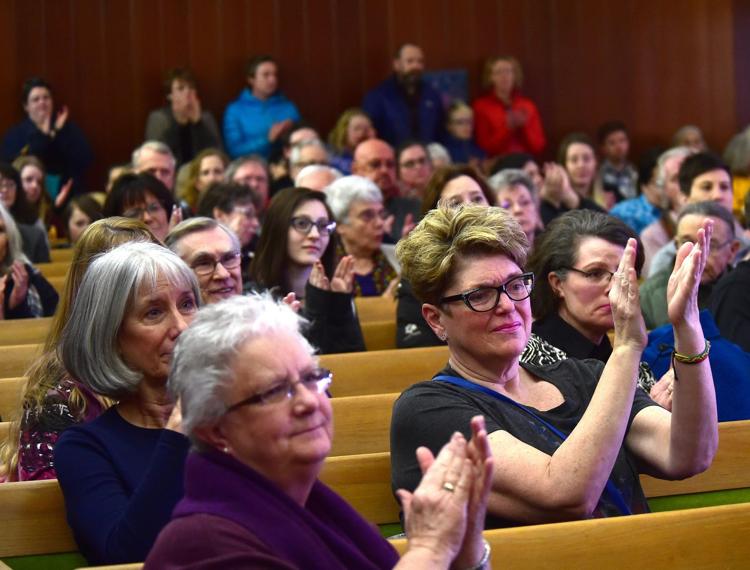 While many in attendance were clear they thought more action is warranted by the city's government, perhaps a larger share of the comments focused on the role of the community to support those who become victims of hate. That's a role that Beck wants the church to continue occupying, despite the previous week's incidents.
She reported the homophobic flyers to the Billings Police Department last week, but says she has no idea who was behind it. A church group had been meeting earlier in the day, she said, and the building was left unlocked. One person was in a back office at the time, but didn't realize anyone had entered the church until the flyers were discovered.
But, she said, she remains committed to providing a sanctuary for a diverse range of beliefs, lifestyles and backgrounds, adding that the church has already received many supportive emails and messages since she posted Thursday's incident on Facebook.
"It's been kind of amazing," she said of the response. "People have been Christ to us, and we're going to continue to be Christ in the world ... This place is a sanctuary for everyone, for all people — including the people that did that."