Police have been called to the Rims at least 202 times so far this year. That's more than every other day.
And those calls are on the rise, according to estimates from the Billings Police Department.
Police responded to 142 calls in 2015 and 203 in 2016. The numbers are estimates only, as some Rims-related 911 calls don't show up on incident searches. Because there is no exact address for Rims calls, dispatch staff must use approximations, such as "at Swords Park."
While the Rims are an asset for locals, providing trails and scenic views, they present a unique challenge to first-responders in charge of public safety on the roughly nine miles of cliffs within city limits.
In July, a man was taken to the hospital after falling off the Rims late one night. It was the third such incident on the Rims in three weeks. 
In early September, a man drove his car off of the Rims in an apparent suicide attempt. 
The "vast majority" of dispatch calls to the Rims are suicide calls, said Zack O'Dell, a crime analyst with the Billings Police Department. 
"Because it has been done before, where people have driven off or jumped off and it's been in the news, it just gets into people's heads," O'Dell said. "It's centrally located, it's a high up point."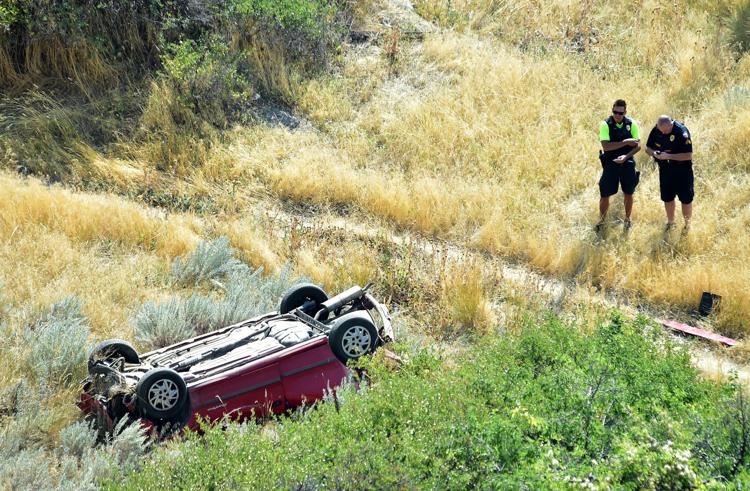 And with no physical barriers like fencing, the Rims are easily accessed by anyone at any time. 
BPD encourages anyone with suicidal thoughts to seek help. 
After suicide calls, police and firefighters respond to the Rims most often for vandalism. O'Dell said teens and others like to hang out on the Rims, and sometimes neighbors who live below the cliffs call to report property damage from people on top.
"Oh yeah, it happens quite often, unfortunately," O'Dell said.
That includes people throwing or using sling shots to launch rocks and golf balls. O'Dell said he doesn't know of any injuries to people or pets from such incidents. Graffiti is another problem on the Rims. 
Ed Regele, battalion chief with the Billings Fire Department, said Rims calls tend to rise in the summer and drop off in fall and winter.
"Because the weather starts cooling, there's less activity," Regele said. "Because folks aren't going to be hanging around up on top."
Transients who camp out on the Rims are likely to do so only when it's warm enough, finding shelter in town when it gets cold where they're less exposed to the elements. That's another reason Rims calls start to drop off this time of year, Regele said.
While suicides and suspicious activity account for the bulk of the Rims calls Billings police and firefighters receive, accidents still happen.
"Some of them are just people recreating," Regele said. "Completely innocent, and you get too close to the edge and slip."