When a visitor arrives at Beartooth Elementary, it's not principal Travis Niemeyer who greets them. Rather, a pair of fifth-graders arrive to show off their school.
Leah Hilliard and Kamlin Brensdahl point out a new mural, answer questions and explain the TV screen that lists points next to icons. 
The girls are representatives of Niemeyer's vision at the school; students who prize politeness as much as correctness, who focus on being good people and let being good students follow, and who love coming to school. 
"It's all been about reading, math, being rigorous, going-going-going," the principal said. "We can't leave childhood behind either."
His phrasing intentionally echoes a much-maligned education law, No Child Left Behind, that placed an emphasis on standardized testing and raising measurable achievement. That doesn't mean Niemeyer has abandoned assessment — Beartooth met growth goals in each cohort for School District 2 testing last year, and Niemeyer said the school could do better. And he pointed to the Ron Clark Academy as part of how that would happen. 
The academy is a private, nonprofit charter school in Atlanta. It's billed as a "demonstration school" where more than 38,000 educators have observed. Niemeyer has adopted its principals both at Beartooth, where he's worked for the past two years, and at Newman Elementary before that.
One slice of the school Niemeyer has brought back to Billings is a house system, which will ring a bell for "Harry Potter" consumers. Students are randomly sorted into different houses, which span grade levels. They get points, displayed next to icons on the TV screen by the school's entryway, but not necessarily for academic prowess. 
In Celeste Peel's first-grade class recently, a student — unprompted — grabbed a glasses case that another student had forgotten.
"That was really nice," Peel quickly noted, telling the student to add a house point to the in-class tracker. 
Starting points
Peel's students were building diagrams of a pumpkin life cycle using an iPad program. Afterward, she quickly reviewed designs in students' work. 
"Some are straight down, some are kind of curvy, some are a web," she said. 
Peel could have been talking about differences between young students. Some kindergartners begin school already reading, while others don't know how to hold a fork. Academic variation requires classroom activities that let students proceed at different paces and skill levels. 
Some students carved though the pumpkin exercise — one, when told he could move on to extra math exercises, responded with an emphatic "oh yes."
Other students took more time trying to sound out words, didn't manipulate the iPad as easily or just had trouble staying on task. 
Like young students come into school at different academic levels, they also have different levels of social and emotional skills. Their families harbor different dispositions toward schools, sometimes filled with happy memories, sometimes focused on frustration and failure. 
Niemeyer views wider skills like respectfulness and perseverance as just as crucial to success as mastering multiplication, and sees it as a responsibility for schools to focus on, along with parents. Things like holding a door or a firm grip while shaking hands get an unusual focus. 
"It takes a village, in my mind," he said. "I want them to learn things right now that they're going to need when they apply for jobs."
Houses
Niemeyer was principal at Newman Elementary when he started the house system in 2015. He faced the same challenge as any administrator; getting teachers to buy into his initiatives. 
"If it's a one-man show, none of it would work," he said.
He said teachers have readily picked up on tweaks like focusing more on their own body language and awareness of how students track them across a room while teaching and building more student movement into regular classroom activities. Several Beartooth teachers, including Peel, use a small stage-like area to hop up on while teaching, an extra tug at student's attention. 
But mostly, it involves doubling down on looking at student's overall well-being.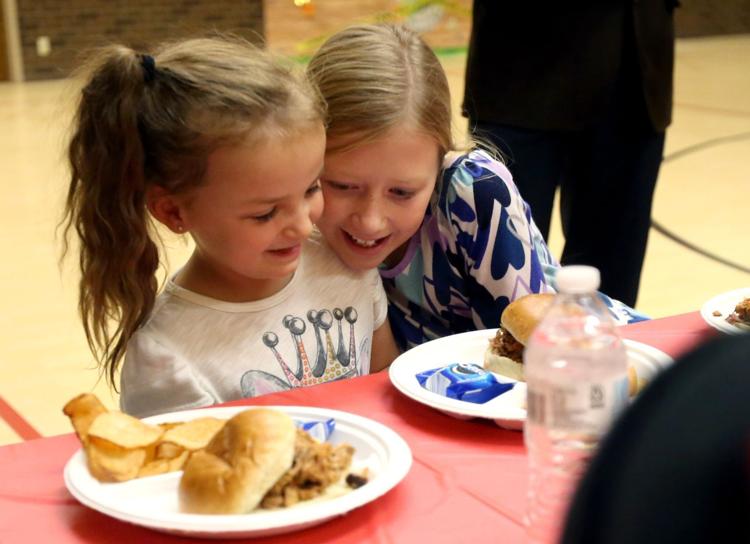 "We aren't there to be their friend," Niemeyer said. "But we are here to be that person they can count on."
The house system become a vehicle for building relationships; teachers get to interact with kids they usually don't see during house meetings, and awarding points offers blinks of recognition. And students help build relationships with one another and interact with grade levels they usually wouldn't see. Students are randomly distributed into six different houses: Reveur, Integrity, Altruismo, Amistad, Iisasshia, and Isibindi.
The names are intended to inspire. For example, Revuer roughly translates into "dreamer." Students always knew the name of their own house, but for others, a color is often used for easier identification. 
The competition helps spur student engagement, but competitiveness isn't an end goal.
"Lets just say, in the morning, if you come in, and there's people behind you, hold the door for them," said third-grader Maggie Abril. "Maybe you won't get a house point, but at least you did something."
Ron Clark
Thousands of educators swear by the Ron Clark approach with a gospel-like conviction. About two-thirds of Beartooth teachers have visited the academy's training program at its Atlanta school. Niemeyer said the visits are paid for by Title I funds, federal money allocated to schools with a high proportion of kids from low-income families, and donations.  
But the school isn't without critics. 
Tuition costs about twice as much per student as public schools in Atlanta, with revenue streams like corporate sponsorships from the likes of Coca-Cola and teacher training visits. The school selects students, and it aims for "an even distribution of learners who are considered gifted, those who have performed at grade level, and those who have a history of academic or disciplinary difficulties," according to a 2013 document. 
Tuition is $18,000 per year; most students attend the school on scholarships, but every attendee is required to pay something. The school's average family income is about $34,000. Costs to educate a student in Montana public schools vary from just more than $10,000 per student in large schools to more than $20,000 per student in the smallest, with most schools trending toward the smaller figure. 
Even then, the document from the school notes that "funding is an ongoing, challenging process for us." Teacher training programs, quoted at $425 per day in an Atlanta Constitution Journal story, brought in $1.2 million in revenue in 2013-14, the most recent annual report on Ron Clark's website. The school received about $2.5 million in donations that year, almost half of which came from companies. 
The school is as much known for its focus on "exceptional engagement" for students as it is for a 55-point behavior code, and a near-perfect track record of sending kids to college. But some Atlanta educators have questioned if the approach can be replicated with public school funding, which is about half of the $18,000 Ron Clark spends per-student.
Niemeyer believes its culture can take root in any school. 
"We're still not there. But we'll get there," he said.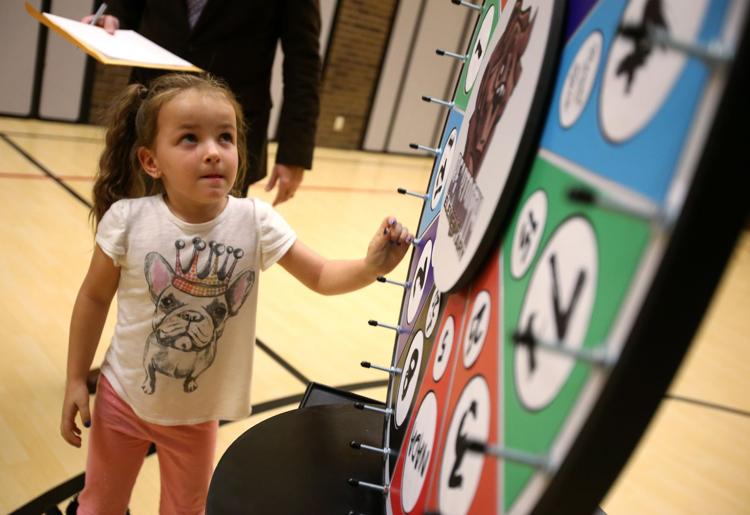 Rewards
Famous Dave's routinely donates food for a special lunch to celebrate students whose teachers cited their good work, socially or academically, especially for kids who might fly under the radar. 
"They do it so queitly, they do it so subtly," Niemeyer said. "You have to point out the great things that they're doing."
Niemeyer riffed off teacher recommendation for students while handing out certificates, often adding his own personal anecdotes. They then spun a game-show style wheel with points to earn for houses, with twists like a "share" option where they also have to pick a house to donate points to. 
Kindergartener Carson Wellard wasn't so sure about getting called out of class. His teacher had to lead him from class to the gym, where he was still aprehensive about this lunch setup. 
Third-grader Makayla Ecker jumped up from the table and scrambled over to Wellard, assuring him that there was nothing nefarious about the lunch. 
Ecker and Wellard aren't in the same houses. They just happened to know each other from church, and Ecker helped tutor Wellard last year. 
"You can sit by me," she announced.