More than 100 people Tuesday night attended the Billings Public Library's panel discussion "Confederate Monuments: From the National to the Local," during which four local history professors talked about the historical context and meaning of America's monuments to the Confederacy.
Participants in the hour-and-half event were Montana State University Billings history professors Emily Arendt and Joseph Bryan, and Rocky Mountain College history professors Tim Lehman and Jenifer Parks.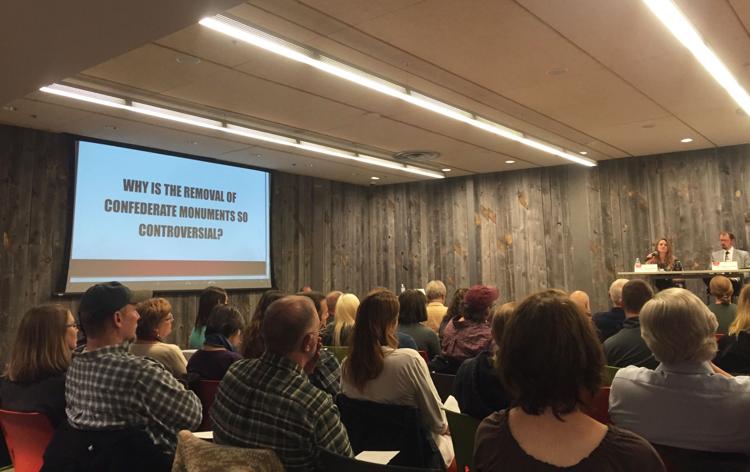 The purpose of monuments is to anchor historical memory within society and as a result memory can become imposed and a part of collective identity, Bryan said.
After the Civil War, the south was reeling from devastating losses. Two-fifths of southern livestock were destroyed, along with a quarter of fighting-age white males, Arrendt said. Railroads and other infrastructure also suffered severe damage.
Confederate monuments, she said, are closely connected to the development of the "Lost Cause Mythology," which attempts to alter the story of the Confederacy and its defeat by depicting Southerners as honorable and inevitable victims who fought and died to preserve their values in the face of an oppressive monolith in the form of the Union.
This narrative does not match up to historical fact, she said. 
Often, she said, the cause of the Civil War according to this mythology is "states' rights."
"Spoiler alert," Arrendt said, "slavery was the cause of the Civil War."
The intention of many monuments to the Confederacy to both revise history and re-frame the reality of a defeated culture reliant on racially based chattel slavery is evident in historical trends in monument building, Arrendt said. Data shows a spike in monument construction during Reconstruction and the Jim Crow Era, followed by a dip, and then another spike during the Civil Rights Movement.
Monuments' locations also matter. Parks, who said she grew up in southern Georgia, relayed a story about a monument in the town of Andersonville, which lies adjacent to Camp Sumter, commonly known as the Andersonville Prison. It was there, under the command of Confederate officer Henry Wirz, that 13,000 Union soldiers died during the 11 months of the camp's operation, "mostly of disease caused by starvation and unsanitary conditions," Parks said. The prison is now the location of the National Prisoner of War Museum. In the town of Andersonville, less than a mile away, the Daughters of the Confederacy erected a monument to Wirz in 1909, she said.
"Inscriptions on that monument and another nearby show an attempt to make Wirz out as a hero and suggest that he was an example of scapegoating," Parks said. "They called him a victim of judicial murder. There's another historical maker in town that furthers this narrative and says he 'Gave his life for the South.' So now a war criminal has become a martyr and a victim."
Building monuments isn't cheap, either. The Confederate Memorial Fountain in Helena cost $2,000 when it was built in 1916. "Rich people or people with access to money, people in control of public funds, get to build monuments," Lehman said.
"The monument imports to Montanans a history that's not really theirs," Bryan said. "So it then transmits to successive generations a history that becomes grafted on that's not necessarily their history. And that seems a little bit problematic." 
Ultimately it's not up to historians to decide the fate of monuments, Bryan said.
"There's a little bit of a misconception of what historians' task is," he said. "We're not here to answer the should question. We're not here to necessarily say what should be done. We're here to essentially equip everybody with the correct kind of information to then make decisions."