Flu activity in Montana remains widespread, according to the latest report released Friday by the Montana Department of Public Health and Human Services.
As of the end of the first week of January, 425 new cases were reported in 38 counties, the DPHHS said, and all but three counties have verified at least one case of influenza. Altogether, 1,441 cases have been confirmed and 239 people have been hospitalized, including 47 in the most recent report.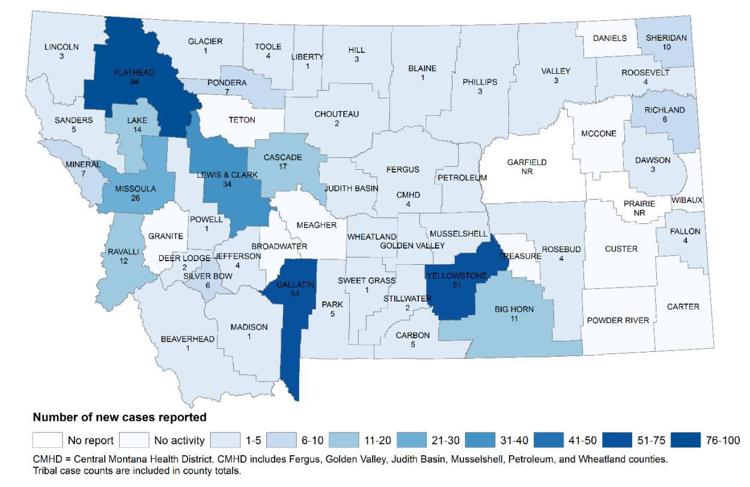 Overall, 12 people have died from influenza. Eleven of the deaths involved adults over 65 and one, an adult under 65.
A total of 237 cases have been reported in Yellowstone County. Kim Bailey, communicable disease program manager for RiverStone Health in Billings, said not every flu case gets counted.
The numbers are based on tests performed on patients in doctors' offices.
"A lot of other people don't go to the doctor, or they go and are clinically diagnosed, not tested," Bailey said. "We're sure the numbers are way larger than that."
So far the number of influenza cases this fall and winter aren't out of the ordinary, she said. The season started a little earlier than normal.
"We know some other parts of the country are experiencing a severe outbreak," Bailey said. "Here it's not looking that way at this point."
According to the Centers for Disease Control and Prevention, this year's immunization is about 30 percent effective. That might not seem like much of an endorsement for flu shots, but Bailey calls them "the best protection you can have."
"It decreases the severity of it and also helps to protect the vulnerable people in our population, the elderly and very young, and people with chronic illnesses," she said. "And women who are pregnant, too."
Bailey reiterated some common-sense steps for people to take while the flu season continues. Stay away from others who are sick and when you're out in public places, keep your hands away from your face until you can wash them.
People who are ill and can't stay home should cover their cough, to keep from spreading the illness to others. They also should frequently wash their hands and stay away from others, when possible.